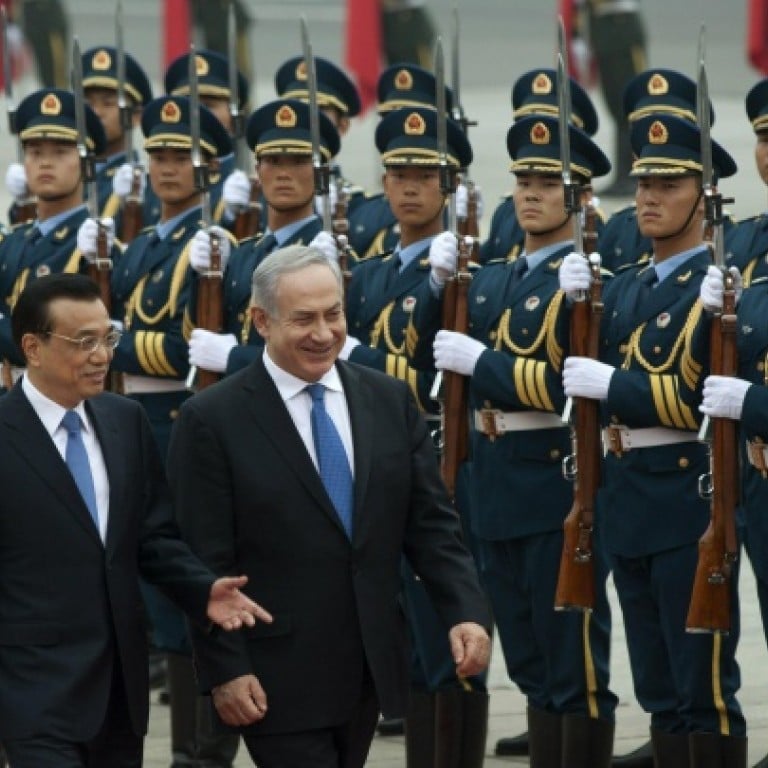 China and Israel set up task force to boost trade
Premier Li Keqiang seals deals with Benjamin Netanyahu to deepen economic ties, as Beijing seeks to play a greater role in the Middle East
China and Israel set up a task force yesterday to deepen economic co-operation and boost trade as Beijing seeks to expand its influence in the Middle East.
The agreement was reached during talks between Premier Li Keqiang and Israeli Prime Minister Benjamin Netanyahu in Beijing.
Li and Netanyahu then presided over the signing of five deals covering the aerospace industry, agricultural research, financial co-operation, science and technology, and Chinese language instruction. Details were not immediately provided.
Netanyahu, who arrived in Beijing yesterday after a stop in Shanghai, is on a mission to strengthen ties with his nation's third-biggest trade partner and press for tougher action against Iran and Syria.
China's imports from Israel totalled US$5.3 billion last year and its exports to Israel reached US$2.8 billion, says Israel's Central Bureau of Statistics.
Li vowed to deepen co-operation with Israel in four areas - trade, technology transfer, agriculture and public works - and said China would encourage Chinese companies to participate in Israeli public works projects.
"We are a small country, but we have a great concentration of technological prowess in many disciplines, and I think we can co-operate by scaling up these technologies for the benefit of both countries," Netanyahu said.
Netanyahu arrived in Beijing a day after Palestinian Authority president Mahmoud Abbas departed. President Xi Jinping told Abbas on Monday that China supported the peaceful co-existence of the Palestinian territories and Israel, and called on the international community to provide important guarantees of progress in the Israeli- Palestinian peace process.
Li did not mention Abbas in his talks with Netanyahu, but he did say that negotiations were the only way to settle disputes between Palestinians and Israel, and called on each side to accommodate the other.
The near-simultaneous visits to China by Abbas and Netanyahu underscore China's desire to play a greater role in the Middle East, a region Beijing has long seen as a key source of energy.
Talks between Israel and Palestinians on the issue of statehood have been deadlocked for four years, despite pressure on Israel from the United States, Russia and the European Union, long the major players in Middle East diplomacy.
US Secretary of State John Kerry said in Rome yesterday he would return to the Middle East later this month for talks with Abbas and Netanyahu, as he seeks to revive peace talks.
"We all believe that we are working with a short time span. We understand the imperative to try to have some sense of direction as rapidly as we can," Kerry said as he sat down for talks with Israeli Justice Minister Tzipi Livni, who is responsible for peace talks within the cabinet.
This article appeared in the South China Morning Post print edition as: Task force to boost Israeli trade