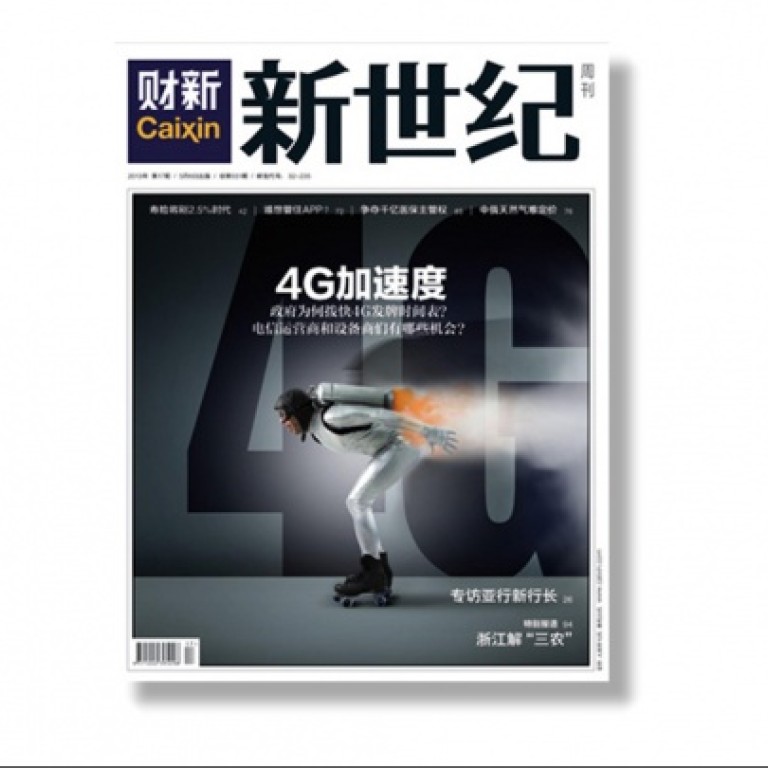 China's press censors in spotlight as Caixin Century Weekly suspends legal section
Heavy hand of media minders felt as Caixin Century Weekly suspends its legal affairs section after carrying report on probe of official
The legal affairs section of a leading magazine is missing from its latest issue, sparking discussion about whether the publication came under pressure following a report about an official being allegedly investigated.
Reports about legal affairs in the May 6 issue of were instead run under other sections.
An insider from the magazine, who spoke on condition of anonymity, said the legal section had been suspended due to "some pressure" that required the magazine to focus more on economic reports rather than legal affairs.
He said reporters for the law section were still working as normal, but that law-related reports were being merged into other sections.
The names of six reporters for the missing section were still printed in the latest issue, but two law-related reports - one about issues related to competition in the internet industry, and a small piece about a legal dispute between software company Qihoo 360 and internet giant Tencent - appeared in the economy section. A report about a lawsuit over chromium waste, brought by two environmental protection NGOs against a chemical firm in Yunnan , was put in the environment and technology section.
Liu Jing , a public relations officer for Caixin Media Group, told the that the section had not been "cut" but that the magazine was simply making "normal adjustments" to the pages.
But some mainland journalists questioned whether the section's absence may have been the result of a report on the deputy party secretary of Jilin province, Zhu Yanfeng .
Caixin.com
the magazine's website, cited sources on March 31 saying Zhu had been probed by the party's top graft-busting agency in connection with problems related to the missing assets of Jilin-based First Automobile Works Group (FAW), of which he was formerly president.
However, Zhu made a public appearance the following day, and the report was quickly pulled from
Caixin.com
and other news portals.
The print edition of the weekly didn't carry the report on Zhu.
The magazine has several regular sections, including current affairs, economics, finance, society, assets, environment and technology, and the law section.
The suspension of the law section has raised concerns, especially after another monthly magazine, , which carried a lengthy report about torture at a women's labour camp in Liaoning province, said last week that it would postpone its May issue for one week. That decision came after the provincial government said the report was phoney and contained "malicious attack rhetoric" characteristic of the outlawed Falun Gong spiritual movement.
This article appeared in the South China Morning Post print edition as: Pressure on press as legal pages lost