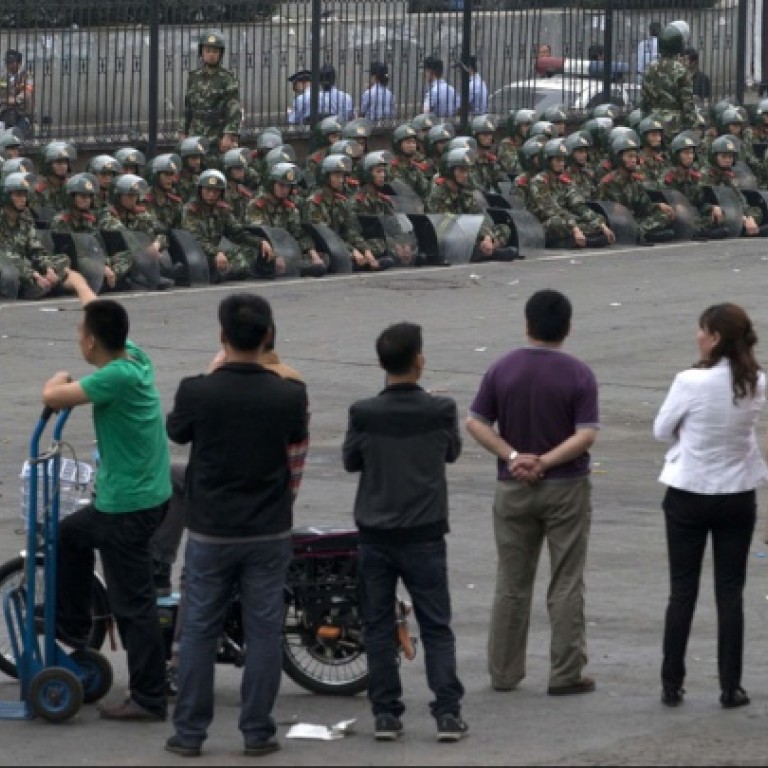 Migrant workers protest in Beijing over woman's unexplained death
Hundreds of migrant workers staged a rare mass protest in Beijing yesterday, demanding an investigation into the mysterious death of a 22-year-old woman from Anhui .
The official microblog of the capital's Public Security Bureau confirmed that the mass gathering had taken place, saying it was sparked by the death of a migrant worker from Anhui who was found dead on Friday after falling from the five-storey Jingwen Commercial Building, a wholesale garment market in Beijing's southern Fengtai district.
Police said the woman, who worked in the market, was recorded by surveillance cameras entering the building alone on the night of May 2.
The owner of a shop in the building confirmed yesterday's protest.
"I'm told by my fellow shop owners that relatives of the young woman, including her parents, in their 40s or 50s, burst into anger when they were not allowed to review the video footage filmed by the closed-circuit television system before her death," he said.
He said he had not taken part in the protest and that he was in the dark about the details of the case.
News of the protest circulated widely on the weibo social networking site - a Chinese version of Twitter - but the mainland's internet censors swiftly removed reports and images, and banned internet searches for keywords such as "Jingwen".
Some internet users said that the Anhui woman had been raped by six security guards from northern China before falling from the building. But a preliminary autopsy report released by Beijing police showed no evidence to substantiate such a charge.
Dozens of armed police with riot gear were sent to the scene of the protest to maintain order and control traffic, following pictures posted online showing that the protest had caused traffic jams in the area.
Many protesters held pictures of the young victim.
This article appeared in the South China Morning Post print edition as: Workers take to streets over unexplained death