Focus
Get more with myNEWS
A personalised news feed of stories that matter to you
Learn more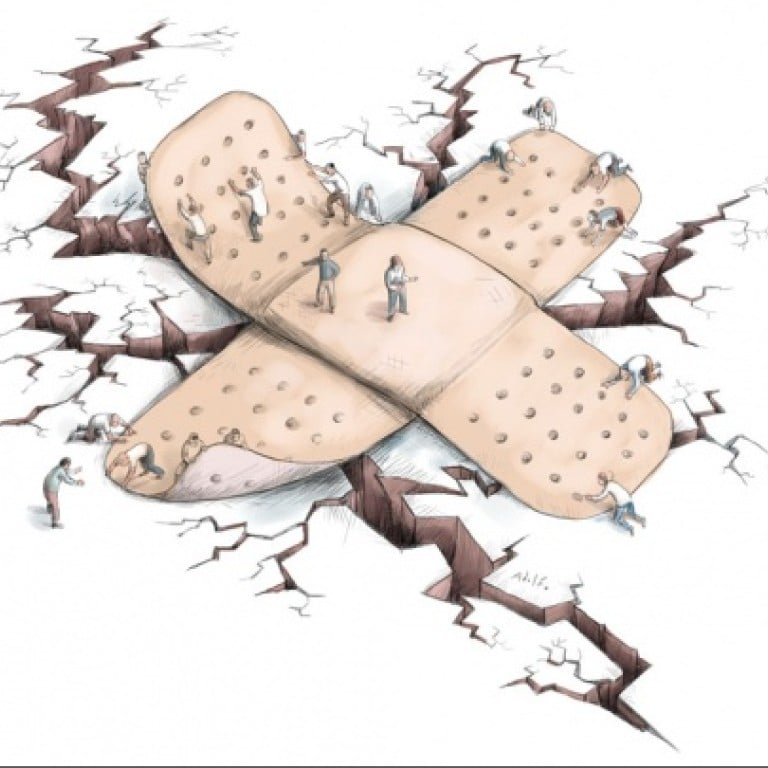 Lessons from the school of hard knocks
Shock and soul-searching triggered by the 2008 Sichuan earthquake forged a better prepared community, as last month's quake shows
The earthquake that rocked the Yaan region of Sichuan last month delivered a telling report card on what authorities have learned from the quake that devastated the same region this month five years ago. And it's mostly good news.
More than 87,000 people were killed in 2008's May 12 quake, and 51 counties and cities in Sichuan, Gansu and Shaanxi suffered terrible damage. Some 5,300 of the dead were pupils killed when school buildings, supposed to be stronger than other buildings, collapsed, highlighting flaws in construction management.
The response to that quake exposed a basic lack of knowledge about coping with such natural disasters, a situation that had greatly improved by last month. Those engaged in various relief roles praised the quicker response of rescuers this year, along with more comprehensive relief measures and a freer flow of information.
But the Yaan quake, while 30 times less powerful than the 2008 quake, also offered a glimpse of some persistent problems, such as a lack of co-ordination and co-operation between government and non-governmental relief efforts.
"The improvement is very obvious, especially from the non-governmental perspective," the director of the China Philanthropy Research Institute at Beijing Normal University, Wang Guangyao, said.
The quick response of non-governmental organisations last month set a record, said Wang, who was in charge of disaster relief in 2008 as director of the Civil Affairs Ministry's disaster relief department.
Within two days of the quake, the One Foundation, a charity founded by movie star Jet Li and registered in Shenzhen, had received more than 41 million yuan (HK$51.4 million) in donations.
A report by professors from the Chinese Academy of Governance who visited Yaan's Lushan county found the volunteers there, mostly from NGOs, were better trained and better equipped than those who responded five years ago.
The government response was also swifter last month, with the first official announcement of the earthquake sent out in a microblog post a minute after it struck.
The People's Liberation Army in Sichuan formed a command centre within 10 minutes and 1,200 armed police set off to the quake zone 20 minutes later.
Fifty-eight minutes after the quake struck, central government ministries had activated a contingency plan, and Sichuan's provincial government held its first press conference four hours after the quake, compared with 22 hours after the 2008 quake. The widespread use of social media meant that additional information was emerging from the quake zone around the clock last month.
Professor Peng Zongchao , of Tsinghua University's school of public policy and management, said the response to last month's earthquake proved the effectiveness of the many drills staged after the 2008 quake, as well as efforts to improve the quality of school buildings and other infrastructure.
He saw staff working for Sichuan's electricity network conducting earthquake drills last year and said such drills were now common in other industries and in schools in the province.
"We always think of rescuing people from a disaster but it is also important to have connected roads, the transport of heavy equipment and the resumption of power and water," Peng said. "The quick resumption of power in Lushan proved the effectiveness of such drills."
Sichuan's Department of Housing and Urban-Rural Development said last month that none of the public buildings built after the 2008 earthquake - including school buildings in Lushan and Baoxing counties and the Lushan County People's Hospital - collapsed in last month's quake, which claimed 195 lives.
Eleanor Lam, the Sichuan-based head of field operations for Hong Kong Red Cross disaster relief projects for the families affected by the 2008 earthquake, said villagers were now more aware of how to survive a quake and its aftermath. "They now know that even if their house was only slightly damaged, they need to rebuild it and make it much stronger by adding reinforced concrete," Lam said.
But despite the improvements since 2008, rescue operations were still chaotic last month, with widespread criticism of the lack of co-operation between government and non-government agencies.
"We were welcome after the May 12 earthquake but this time we were not," said writer Li Chengpeng , who set up a team to distribute necessities such as food, water and tents to the quake zone. Li said one police officer had asked him to leave and not to give food to several elderly men.
A national rescue team official said rescue operations last month had been "chaotic and not as scientific or efficient as they should be" because too many non-local volunteers had been stranded in Lushan county or on roads leading to it and they sometimes "got in the way".
Two days after last month's quake the State Council banned unauthorised rescue efforts in the quake zone, saying an influx of volunteer rescue squads had led to communication difficulties and traffic congestion.
Li said government and non-government rescue and relief efforts could have complemented each other because they each had their own strengths.
"The government ones can make roads across the face of a mountain and build a bridge over a river, but they have limited capabilities, while we non-governmental ones are better at details and individual attention," Li said.
Peng said the government should encourage such efforts, even though last month's quake was much weaker than the one in 2008 and had affected a much smaller area.
"People responded quickly and responded in the same way as after the May 12 earthquake," he said. "Their response was based on real needs, not on the magnitude of the earthquake."
He said another lesson that should be learned was the need to train residents in rescue operations, because first responders had a much bigger impact than professional rescue teams brought in from elsewhere.
A report by the Chinese Academy of Governance said 170,000 people took part in rescue work last month and 87,000 people were rescued - 70,000 of them by themselves or neighbours.
"The country should educate residents about disasters and conduct necessary self-help drills," Peng said.
This article appeared in the South China Morning Post print edition as: Lessons from the school of hard knocks