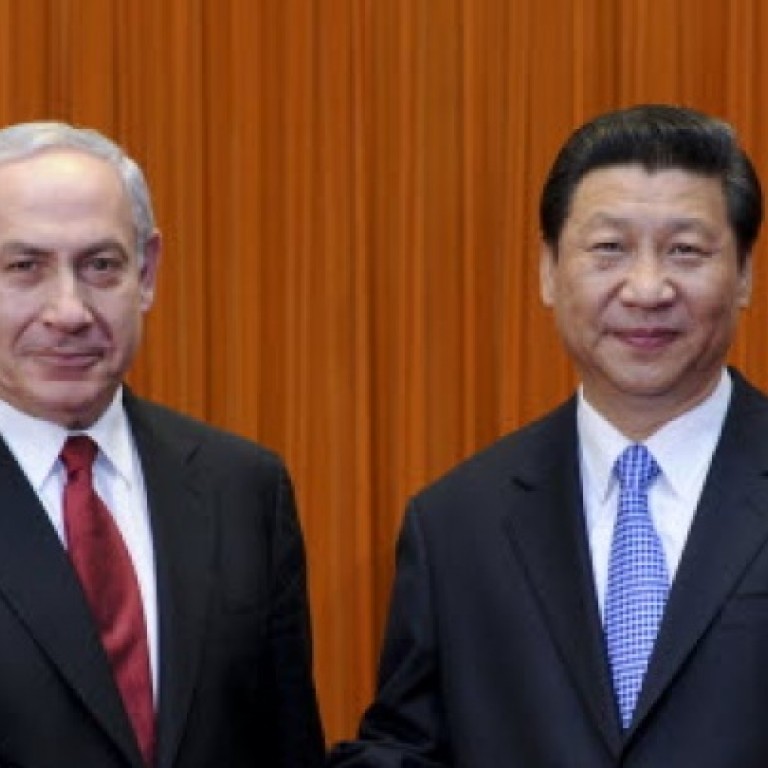 Xi urges Netanyahu to re-start Middle East peace talks
China's President Xi Jinping urged Israeli Prime Minister Benjamin Netanyahu to restart peace talks with the Palestinians as soon as possible, days after he tried to convince Palestinian leader Mahmoud Abbas to revive discussions.
Xi's comments to Netanyahu and Abbas this week reflect China's intent to strengthen its diplomatic role in a region where its influence has historically been weak. On Monday, Xi floated China's "four-point proposal" for peace with Abbas, who was visiting China in the same week as Netanyahu.
The moves by China come as the United States is engaged in a fresh diplomatic campaign to revive peace talks, which collapsed in 2010 over Israel's continued expansion of settlements.
Netanyahu - the first top Israeli leader to visit China since former prime minister Ehud Olmert in 2007 - met Xi on Thursday, part of a five-day visit to China aimed at boosting bilateral trade with China.
"I hope the two sides can make joint efforts to take practical measures to gradually build up mutual trust, to restart peace talks as soon as possible and achieve substantive progress," Xi told Netanyahu, according to a statement carried on the website of China's foreign ministry late on Thursday.
"Only by protecting the legitimate rights and interests of all countries, having respect for each other's concerns can there be true realisation of regional peace and stability," Xi told Netanyahu.
Xi, who took office in March, did not outline any specific proposals for the resumption of peace talks to Netanyahu, who did not meet Abbas in China.
Netanyahu told Xi that "Israel is well aware of the pain caused by war, welcomes and desires peace, and is willing to achieve peace through negotiations," according to the Chinese foreign ministry.
Netanyahu's remarks come amid reports that he has quietly curbed new building projects in Jewish settlements, in an apparent bid to help US efforts to revive peace talks with the Palestinians.
China has traditionally had a low profile in Middle East diplomacy, but is keen to assert its role as a force in international politics.
Beijing has maintained close relations with the Palestinians for decades. In recent years it has also cultivated ties with Israel, though Israel is wary of China's links with Iran.
China, Iran's top oil customer and a permanent member of the U.N. Security Council, has opposed unilateral sanctions on Tehran such as those imposed by Washington and the European Union, and has called repeatedly for talks to resolve the stand-off over Iran's nuclear programme.