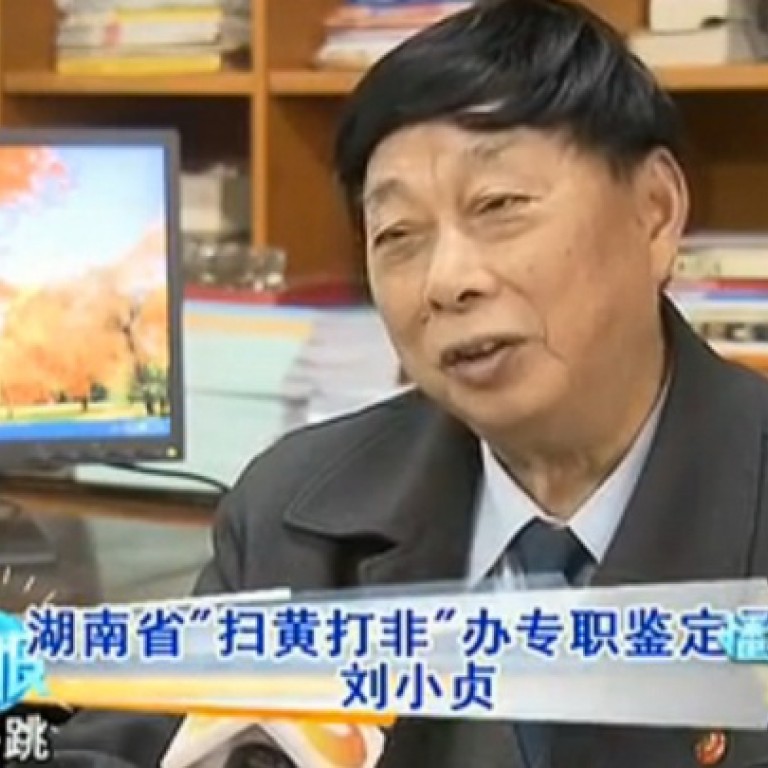 'You have to watch it even if you don't want to,' says senior pornography censor in China
A month after Hunan's anti-pornography department busted a provider of indecent videos, provincial television got a rare interview with one of the officials in charge of looking through the seized material.
At first, the experience was "awkward, my face and ears turned red and my heart skipped a beat", Liu Xiaozhen, a 70-year-old member of the investigative team, said as he 
recalled
 his first day on the job.
Liu is a member of the Hunan provincial "eliminate pornography and illegal publications" office. Such departments exist throughout the mainland, and because of their indecorous duties, officials usually keep quiet about their work.  
Liu is a long-time professional. In 2008, he 
received a national award
 of excellence for writing an essay about his profession.
He and three colleagues have the task of looking through the 700 DVDs confiscated in April. They have to do it within a week and then classify them as either "pornographic", "obscene" and "others", he said.
The distinction will help the public prosecution on what charges to press against those arrested in the bust.
"You have to watch even if you don't want to watch," Liu said in the report. "But when you're in this job, you have to watch very closely, and once you've watched, you classify." He could not be reached in his office for comment on Monday.
The requirements for becoming a member of his team do not seem high. One has to be married and to have undergone training, the Hunan news report said, showing an office with a dozen middle-aged men, whose faces had been blurred out.
The provincial team has confiscated 13,000 indecent products in the first quarter of this year, the
People's Daily said
last month.
Last month, a rural county in Hunan
had declared a "people's war"
 against forged sex photos. Local crooks had perfected their skills in photoshopping local officials and businessmen's faces into obscene pictures to blackmail them.