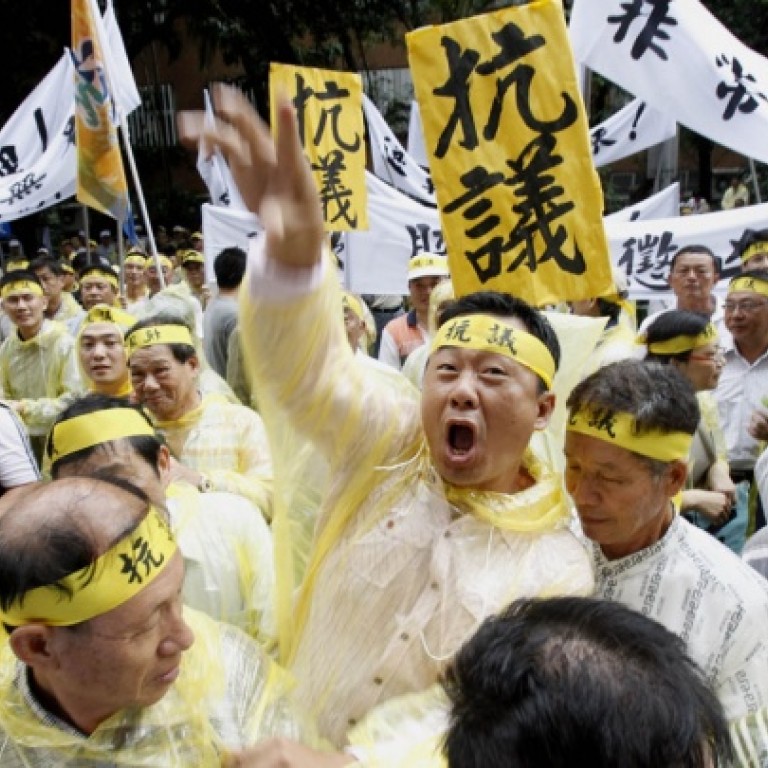 Taiwan's military drills in disputed waters to step up pressure on Manila
Navy and coastguard to hold joint exercise on Thursday 'in waters south of Taiwan' to show island's resolve over Philippines' killing of fisherman
Taiwan would stage military drills to step up pressure on Manila over the killing of a fisherman last week, it said yesterday as angry protesters burned the Philippine flag in front of Manila's representative office in Taipei.
Deputy Defence Minister Andrew Yang said Taiwan's navy and coastguard would hold a joint exercise on Thursday in "waters south of Taiwan" to show the island's determination to safeguard its fishermen operating in Taiwan's territorial waters.
"The navy will send two more frigates to join other vessels already on patrol in waters south of Taiwan for a joint exercise on May 16," Yang said before briefing legislators on the row.
He did not identify the exact location, but legislators said later it would be around waters claimed by both Taipei and Manila as part of their exclusive economic zones, where three Taiwanese coastguard vessels and a navy frigate were on patrol. The navy said it also has another frigate regularly patrolling the area.
During Yang's briefing to the legislature, Kuomintang lawmaker Lin Yu-fang demanded to know whether it was possible for the military to stage another exercise in the contested waters before the end of the month. Yang said it "should be no problem" for the military to stage a joint drill with the coastguard before the end of May "if the Philippines fails to respond to our demands" by tonight's midnight deadline.
On Sunday, Taiwanese President Ma Ying-jeou demanded that the Philippines meet the deadline for making a formal apology for the armed attack and to agree to pay compensation, conduct a thorough investigation, punish those responsible for the killing, and negotiate a bilateral pact to prevent a recurrence of fishing disputes. The Ma government said it would impose labour and other economic sanctions if Manila failed to respond.
Hung Shih-cheng, 65, one of four crew on a Taiwanese boat in the contested waters, about 164 nautical miles southeast of Taiwan, was shot dead on Thursday by Philippine coastguard members on a fishery bureau vessel. More than 50 bullet holes were found in the 15-tonne Taiwanese boat. The Philippines admitted the attack but said those aboard the fishery bureau vessel were defending themselves after the fishing boat tried to ram it. Manila expressed its sympathy and regret over the incident, but refused to make a formal apology.
The Philippine representative to Taiwan, Antonio Basilio, returned to Manila yesterday to report. Before leaving he said his government fully understood the feelings of the Taiwanese public and regretted the incident.
Taiwanese Foreign Minister David Lin said Manila's "regret is unacceptable" and that Taipei, which had informed Washington of the incident and Taiwan's stand, wanted a formal apology.
Public outrage intensified yesterday with hundreds of fishermen and their supporters demonstrating outside the Philippine representative office in Taipei. Manila and Taipei do not have formal diplomatic relations.
Taiwanese hackers launched a cyber attack against Philippine government offices in response to an attack by Filipino hackers on Taiwan's government offices.
This article appeared in the South China Morning Post print edition as: Sea drills to step up pressure on Manila