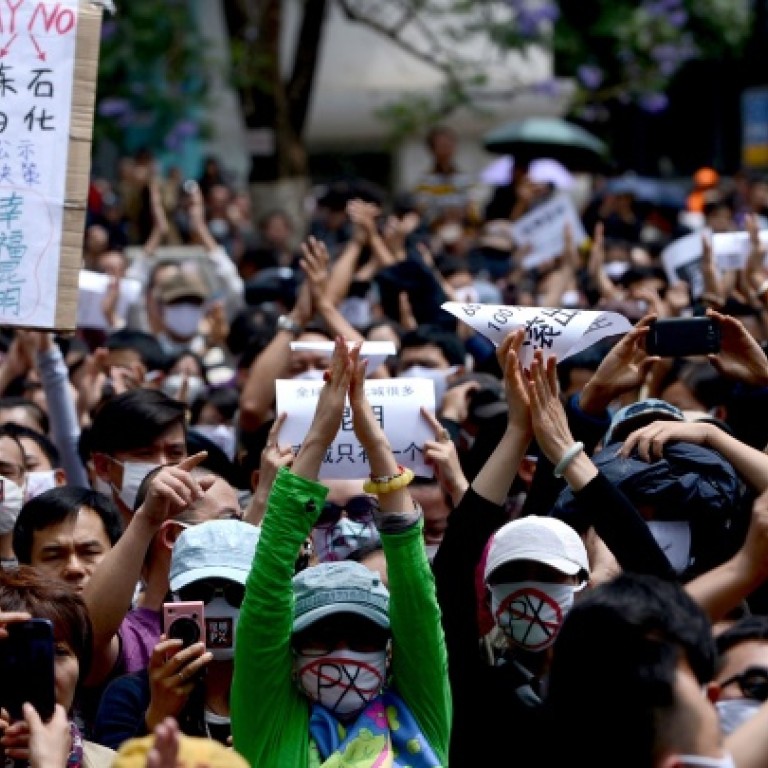 Officials vow to stop rally over Kunming chemical plant
The rapid release of information on the project removes the need for a protest, police chief says
The authorities in Yunnan's provincial capital, Kunming, have attempted to thwart a big rally planned for Thursday to protest against a petrochemical refinery and a related paraxylene (PX) plant in nearby Anning , warning such a gathering would be illegal.
Deputy mayor Zhao Ligong , who is also Kunming's police chief, told some concerned residents and a local green organisation at a meeting on Sunday that "any public gathering on May 16 would be illegal, and no approval [for the protest] would be granted even if an application was made", people who attended the meeting said.
Zhao said because the government had accelerated the release of information since a protest by more than a thousand people on May 4, there was "no need for another protest", an NGO worker briefed about the meeting said.
Meanwhile, neighbourhood committees and police bureaus have been mobilised to target a wider group of people who have who expressed their opposition to the project online.
"On the surface, the government is trying to display some openness by holding a press conference, small-scale group discussions with locals, vowing to hear public opinion. But on the other hand, it has intensified stability maintenance efforts by asking more people to 'have tea' with police," said one resident who asked not to be named.
He has been ordered to "have tea" - a euphemism to describe some form of questioning - this morning, and told to attend a community event at the same time as the planned protest.
An official notice that surfaced online yesterday shows that provincial authorities have asked governments at all levels, their affiliated institutions, colleges, government-run companies and other organisations to organise study sessions about the project, owned by China National Petroleum Corp.
Issued with an attachment that gives details about the project's facilities, the notice said the aim of the study was to equip all cadres with a "sound, scientific and accurate understanding" of the project. It asked them to be actively engaged in explaining and promoting the project and eliminating public doubts.
A teacher at Yunnan Nationalities University said on his microblog that his department had organised a staff meeting at which the pros and cons of the project were introduced. Teachers were asked to make sure their students understood the issue.
Kunming mayor Li Wenrong promised on Friday that the government would call off the PX project if most residents opposed it. And officials at Sunday's meeting pledged to gauge public opinion about the project through surveys, hearings and discussions.
But some residents said the petrochemical refinery, which could worsen Kunming's water scarcity problem and air quality, also posed greater environmental concerns and that a protest was still possible on Thursday.
This article appeared in the South China Morning Post print edition as: Officials vow to stop rally over chemical plants