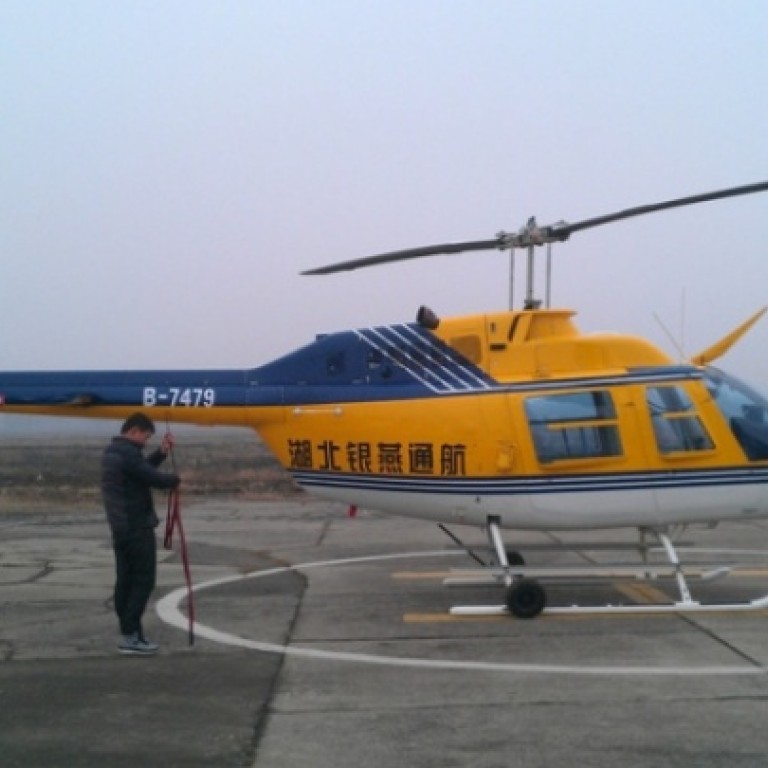 'Pilot missing after Shandong helicopter hijacked by 20 men'
First case of helicopter hijacking in China reported
A helicopter - planning to spray pesticides in China's northern Shandong province - was allegedly hijacked after taking off on Tuesday afternoon, according to witnesses and online accounts.
In what the media called the "first case of helicopter hijacking in the history of modern China," a suspect was arrested on Wednesday morning, while the pilot remains missing, media reports said.
A spokesman for Hubei Yinyan General Aviation, the owner and operator of the aircraft, told the South China Morning Post on Wednesday she could not comment on the incident.
About 20 men had approached the pilot and ground crew when it was preparing to take off at a forest park in Xiajin township of Dezhou city, sources said. They then allegedly assaulted the crew. One man boarded the plane and forced the pilot to fly it to an unspecified destination, the sources said. 
A park was used as a temporary landing area for the plane, which was due to participate in eradicating the American White Moth. The insect, also known as the "forest locust," has a tendency to eat leaves from trees and farm crops.
A CCTV report on Wednesday quoted a local government spokesman as saying the hijack was caused by a business dispute between two companies. It said at least two people had been arrested.