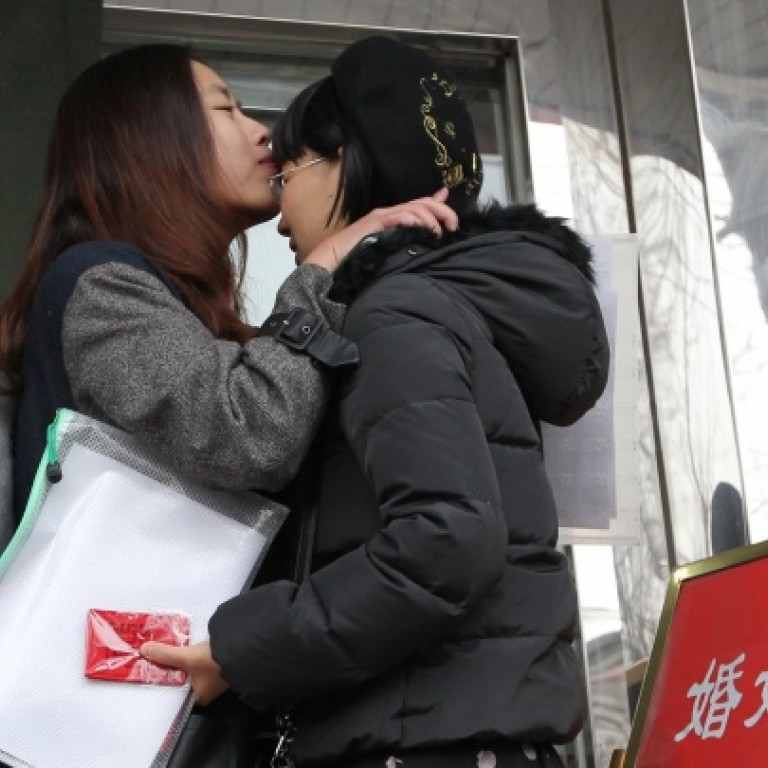 Lawyers petition NPC commission to legalise gay marriage
The petition by 10 activists comes ahead of the international day against homophobia and laments the lack of protection for same-sex couples
Ten rights lawyers petitioned a key National People's Congress commission yesterday, calling for legitimising same-sex marriage on the mainland, ahead of today's annual International Day Against Homophobia, Biphobia and Transphobia.
The lawyers, from law firms across the mainland, signed a joint letter calling for the law committee of the NPC to study the legalisation of gay marriage.
"The most effective way to eliminate discrimination against homosexuality is to acknowledge same-sex couples' rights to marriage," said Huang Yizhi, one of two female Beijing lawyers who organised the campaign.
She said that such a step could help the public become more accepting of the gay community, while also fostering social stability. Huang previously represented a gay client who was discriminated against while trying to donate blood in 2010.
The lack of legal protection for homosexuals has forced many of them to hide their identity, or even marry a member of the opposite sex, just to comply with social norms. This creates serious social problems, she said.
Statistically speaking, the gay community accounts for about 4 to 6 per cent of the global population, or about 40 million homosexuals in China. In an earlier sign of people advocating homosexual rights this year, more than 100 parents of gay and lesbian children wrote to the NPC in February asking the body to legalise same-sex marriage.
Homosexual relationships are not recognised under mainland law, meaning that people in such relationships face discrimination in matters such as hospital visits, inheritance, adoptions and home purchases.
"The whole world is changing," said Peng Kun, a Shenzhen-based lawyer who also signed the letter. "China, as a country that is gradually opening up, should work to respect the rights of the sexual minority.
"It's hard to evaluate the effectiveness of our campaign, but it is important for us to create more noise, from a legal perspective, to give legislators and the government something to think about."
Hu Zhijun , a gay-rights activist from the Parents, Families and Friends of Lesbians and Gays group, said the mainland should pick up on the global trend of recognising the equal rights of homosexuals.
"It's a matter of attitude," Hu said. "I believe we are making progress every day, no matter how small it is."
He noted that the phenomenon of "gay wives" and "gay husbands" had been common in the mainland, where homosexuals sometimes marry heterosexuals who may have no idea that the marriage is a lie.
The theme of this year's international day against homophobia is combating homophobia on the internet.
This article appeared in the South China Morning Post print edition as: Lawyers urge NPC to allow gay marriages