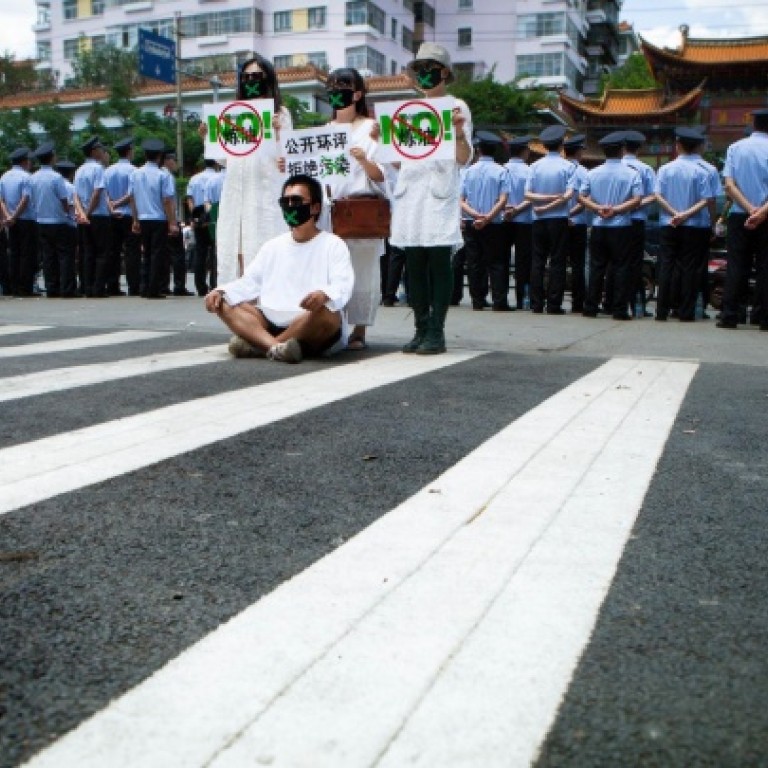 Hundreds join second protest in Kunming over oil refinery
Protesters in Kunming defy warnings by police, but disperse after question and answer session
Hundreds defied police orders and took to the streets of Yunnan's provincial capital Kunming yesterday to protest against an oil refinery project.
Ignoring warnings that any gathering would be illegal, they started congregating near the provincial government headquarters at about 10am despite a heavy police presence.
They dispersed only after the city's mayor talked to them.
At least one demonstrator was briefly detained when he unfolded a banner, witnesses said.
It was the second demonstration in Kunming about the controversial project this month, after more than 1,000 protesters took part in a rally on May 4.
One protester said yesterday's turnout was smaller, following reports the authorities had tried to prevent the demonstration.
The protesters called for the cancellation of the refinery project, about 30 kilometres away in Anning , which is owned by the China National Petroleum Corporation.
The project received the final go-ahead from the central government in March and will have an annual refining capacity of 10 million tonnes.
The protesters also expressed their opposition to a plan to produce the carcinogenic paraxylene (PX), a downstream product of the refinery.
They began to march at around 2pm, attracting onlookers and passers-by as they moved towards a popular shopping and entertainment area under close police watch.
They were eventually guided into a road with less traffic, where they were greeted by Kunming mayor Li Wenrong .
Li started with a bow to the protesters, apologising for failing to communicate adequately, before taking questions from protesters.
They asked why the police had been asking people "for tea" - a euphemism for questioning - simply because they had expressed their opposition to the project online.
One questioned the credibility of government environmental reviews and asked Li how Kunming could possibly challenge powerful state-owned enterprises. Li vowed to improve government transparency and to listen to the public. He also promised to open a microblog account by noon today.
He repeated that whether the PX project went ahead would depend on public opinion, but rejected a proposal from the protesters for a referendum of the city's seven million residents.
"There is no precedent for one person, one vote, being practised in our country, so it is not likely to happen," he said.
Li also evaded most questions about the fate of the refinery, frustrating some protesters who left in the middle of the meeting. Instead, he offered face-to-face dialogue with protesters next Wednesday. Only eight people signed up.
One of them, a 24-year-old, said: "I hope this can be a good beginning for a dialogue between citizens and the government on major decisions."
The rallies are seen as a sign of growing public awareness of environmental issues on the mainland and increasing courage in speaking out.
The protesters fear the massive project's huge water consumption will worsen a water scarcity crisis in Kunming and pollute the city's skies.
Kunming authorities have tried to assure them it would have only a limited impact on the environment and vowed tight supervision.
But they said an environmental review of the project could not be published because it "involves secrets".
One protester asked: "If the refinery is as clean and safe as they claim it to be, why does the government not dare to publish the environmental review report?"
This article appeared in the South China Morning Post print edition as: Oil refinery marchers go face-to-face with mayor