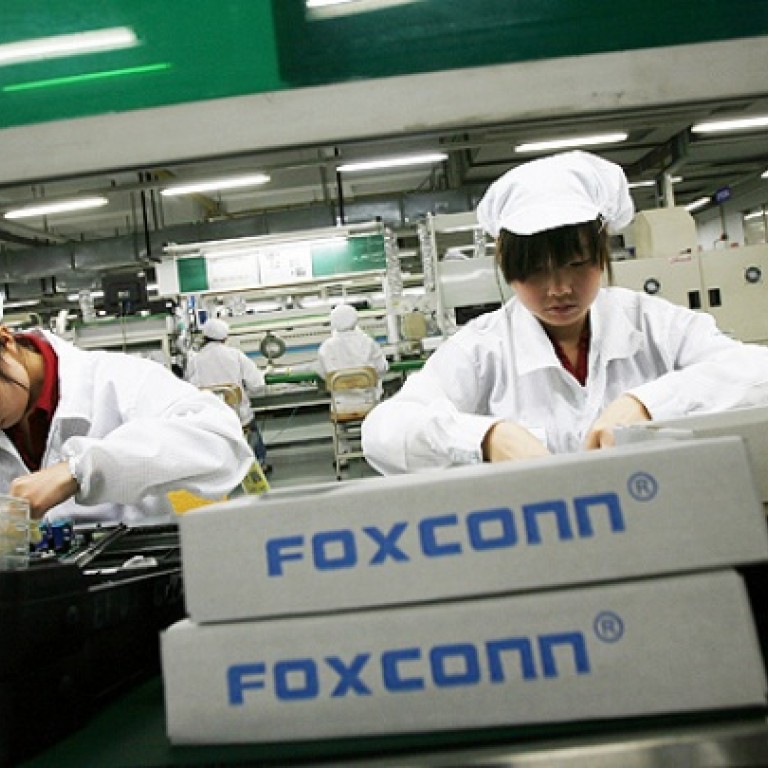 Foxconn's factories struggling to comply with labour laws
The maker of Apple mobile devices is having difficulty sticking to the 40-hours-per-week law
Foxconn Technology Group, maker of Apple iPhones and iPads, is struggling to comply with mainland labour laws on shorter working hours, according to a report by the Fair Labour Association.
The Washington-based group said steady progress had been made over the past nine months at the company's three facilities employing an estimated 178,000 workers. The FLA assessed working conditions and the treatment of workers at these three factories in Shenzhen and Chengdu in February last year.
Auret Van Heerden, chief executive of the association, said Foxconn had made a lot of progress but "we are up against the two toughest or most complicated action items: hours of work and union democracy".
Cutting hours to the legal limit of 40 hours plus an average of nine hours of overtime a week was a big task, the report said.
Workers at the three factories worked between 40 and 60 hours during every week of the period under review, with the exception of one of the factories which worked between 40 and 70 hours per week over two weeks, according to the report.
But many migrant workers who came to work in coastal industrial cities leaving their countryside homes behind, prefer working extra hours to boost their pay, one textile factory owner in Zhejiang said.
"I pay 1.5 times the standard salary if they work extra Monday to Friday and three times the sum if they work on public holidays," manager Liu Hang said.
Xiao Shengfang, a Guangdong-based labour law lawyer with Sino-Win law firm, said the extra-hour bonus is small compared with the profit that factories gain from the time slot and that is why the labour law can't be implemented effectively.
He said it was not unusual for enterprises to make workers work more hours than permitted.
A Foxconn spokesman said yesterday it needed more time to reduce overtime at its factories. "We can't say when we can meet that target now. We're trying to come up with a realistic timetable," said Louis Woo.
Apple last year commissioned the FLA to investigate working conditions at the plants, after the suicides of at least 10 employees in 2010.
Foxconn, which has more than 1 million employees, is the trade name under which Hon Hai Precision Industry owns and operates dozens of electronics manufacturing subsidiaries. Hon Hai draws about two-thirds of its revenue from assembling gadgets and other work for Apple.
The FLA report said Foxconn had resolved 98 per cent of the 360 issues it raised last year. The company has improved safety conditions, including testing fire sprinklers. Workers' participation in union committees have increased notably too.
This article appeared in the South China Morning Post print edition as: Foxconn slow in cutting hours, report says