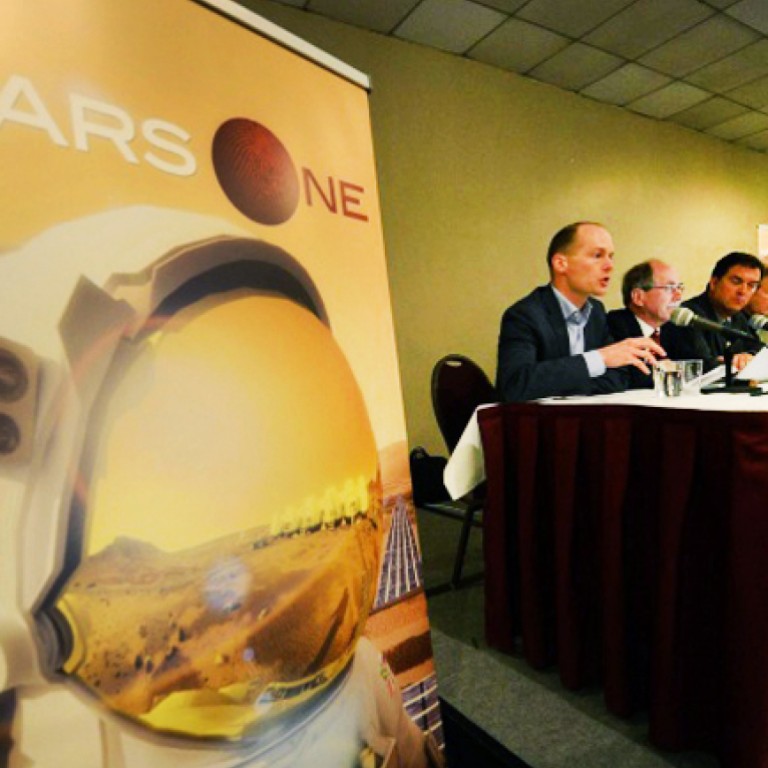 Thousands of Chinese sign up for one-way ticket to Mars
Chinese look to Mars mission to fulfil dreams - and to escape as ex-policeman's bid garners huge support
Ma Qiang is angry that mainland media have dubbed his Mars dream a hoax.
The 39-year old former policeman from Dujiangyan, Sichuan, signed up for the Mars One project in the Netherlands last month, becoming one of the first volunteers to be screened for a journey of no return scheduled in a decade.
At first, the project received little attention on the mainland, but as the number of Chinese applicants soared to more than 10,000 in less than two weeks, second only to the United States, the government apparently became worried. Starting from Sunday, major state news outlets issued a series of reports alleging the project was a business scam and that its organiser was incapable of and insincere about sending people to Mars.
"We live in a country without dreams," Ma said. "Our people should be allowed to dream for something that seems impossible today but possible with an effort tomorrow, not discouraged and scared."
Ma said he used to live like most people in mainland cities, worried about their jobs, houses or money, but the big earthquake that struck Sichuan in May 2008 totally changed his perceptions about life and death.
A well-built man who underwent training and went on missions in Southeast Asia, Africa and Europe during eight years' service in the armed and regular police, Ma joined the effort to rescue children from collapsed school buildings and saw many dead pupils pulled from debris.
He could not hold back the tears when he recalled the catastrophe five years ago.
"Life is short and fragile," he said. "No one can live forever but everyone can make their life more meaningful by taking a course for the benefit of everyone."
Ma said he was almost 40 and if the project ran to schedule he could be over 50 when the mission took off for Mars.
"I am sure I will not be the only strong, old man willing to die on Mars," he said.
The number of Mars One applicants had reached 78,000 by May 7 and Ma's one-minute introductory video and statement on the project's website ranked fifth in terms of user ratings by Monday, with more than 25,000 people giving him their support.
"I am totally unprepared for this," he said. In his self-introduction, Ma stressed his familiarity with weapons and his survival skills in tough environments. He suspected that most of his supporters came from China because they could read and understand what he said in Putonghua.
After the earthquake, Ma quit his job and opened a restaurant in a rural area, leading a quiet life with his wife and children. He said a sixth sense he developed during his years as a policeman assured him that the Mars One project was not a hoax.
But reports by Xinhua News Agency, China Central Television and other big media outlets on the mainland have questioned the project's credibility. Bas Lansdorp, chief executive of the non-profit organisation behind Mars One, was described by Xinhua as a small businessman with only one employee and no office. China Central Television warned mainlanders that the US$11 application fee was not refundable and the project could be a scam.
Negative reports also featured prominently on almost every major mainland internet portal, generating more than 10,000 comments by internet users - most of them negative too.
The Mars One project denied the allegations, with Aashima Dogra, the organisation's editorial manager, saying they were unfounded.
"We are not a hoax," she said. "We are working day and night on making this mission possible. We have the best experts on board from the world's best space agencies and tens of thousands of applicants from around the world. We are only going strong."
The project has received support from some leading figures in the scientific community.
Professor Gerard 't Hooft, an Utrecht University physicist who won the 1999 Nobel Prize for Physics, told magazine last month that he had doubts about the project early on, but after learning more about the research they had carried out, he became convinced that human flights to Mars could become a reality within 10 years.
"In a sense, this is a scientific project," he said in the interview with . "There are many scientific questions that need to be addressed, and I am sure there will be plenty of scientific spin-offs, too.
The negative press in China has resulted in a significant drop-off in the number of mainlanders applying to take part in the project, but it still has its supporters. The ran an editorial supporting the right of mainlanders to sign up for the project as a protest against environmental degradation.
"Most Americans applied for adventure but most Chinese applied to escape," the editorial said. "The terrible environment is making us desperate."
This article appeared in the South China Morning Post print edition as: Mainlanders look to Mars for dreams - and for escape