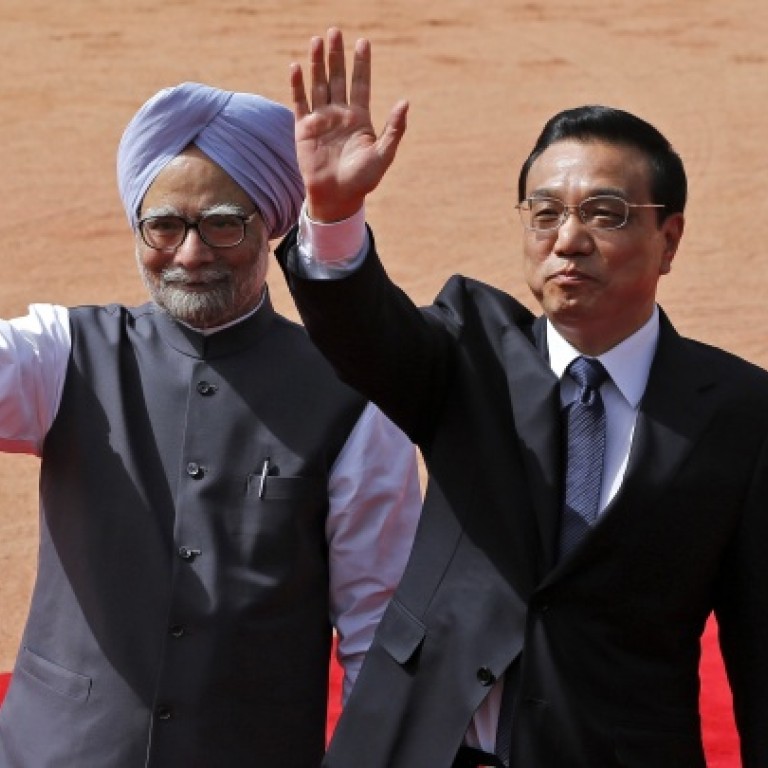 China and India put aside their differences
India and China worked hard to avoid recent disputes overshadowing Li's visit to New Delhi
China and India sought to avoid letting their differences overshadow ties during Premier Li Keqiang's maiden diplomatic trip to New Delhi this week, analysts said, despite his hosts' lingering concerns about China's involvement in South Asian affairs.
Li arrived in Pakistan yesterday after a three-day visit to India that followed the resolution of a three-week border stand-off in the Depsang Valley in Ladakh.
India alleged Chinese troops had trespassed on its territory and pitched tents on the Indian side of the border. The tensions threatened to cause the cancellation of a trip to Beijing by Indian foreign minister Salman Khurshid to prepare for Li's visit.
Li and Indian Prime Minister Dr Manmohan Singh vowed to maintain "peace and tranquillity" along their border, and agreed to hold another round of talks.
"The trip is important because both sides have discussed difficult issues, and this is the best part of the trip," said Rup Narayan Das, a senior fellow at the Institute for Defence Studies and Analyses in New Delhi. "It is a positive development."
said Li's visit "comes at a time when the new leadership in Beijing is firming up its foreign policy, and therefore highlights its resolve to better India-China relations".
"As neighbours who happen to be among the largest developing economies in the world, there is huge scope for synergy between India and China," it said. "However, the future of bilateral ties is predicated on building trust and respecting each other's positions. By acknowledging problems and differences, Li and Singh have made a good beginning."
Li stressed repeatedly that he had engaged in "candid and friendly" discussion with Singh. He said the common interests of the two nations far exceeded their differences, and India's "Look East" policy complemented China's strategy of developing its western region.
Professor Zhao Gancheng, from the Shanghai Institute for International Studies, said Li's remarks indicated that China wanted to strengthen its connection with India along the western border, especially after the withdrawal of United States troops from Afghanistan next year.
"Both nations are looking at their bilateral ties from a broader perspective, and they do not want their disputes to affect co-operation," he said.
Wang Dehua, a South Asian studies specialist from the same institute, said India might adjust its approach to China. "Both sides are aware that confrontations will only lead to harmful developments," he said.
The two nations signed eight agreements during Li's trip, including one on China sharing flood-season hydrological data for trans-border rivers. Li also pledged to set out a road map for achieving a "dynamic trade balance" with India.
Li tried to show his appreciation of Indian culture, saying he was impressed by the philosophical insights of Rabindranath Tagore and that he had watched the critically acclaimed Bollywood movie after it was recommended to him by his daughter.
Mohan Guruswamy, chairman of the New Delhi-based Centre for Policy Alternatives think tank, said Li's trip had been positive, but that broader issues still need to be resolved. "India can only be that close to China, and not more," he said. "India and China are neighbours, but also rivals and competitors."
A commentary in newspaper said the absence of any reference to Tibet being an integral part of China in the joint statement was "a reminder of many layers to this complex relationship", and that the border tensions had "muddled waters" on China's position on their border dispute.
Das said nationalism in both nations could lead to border tensions flaring up again.
"And the anxiety that China is getting closer to Pakistan and other South Asian nations still remains," he said.
This article appeared in the South China Morning Post print edition as: Differences are put aside, for now