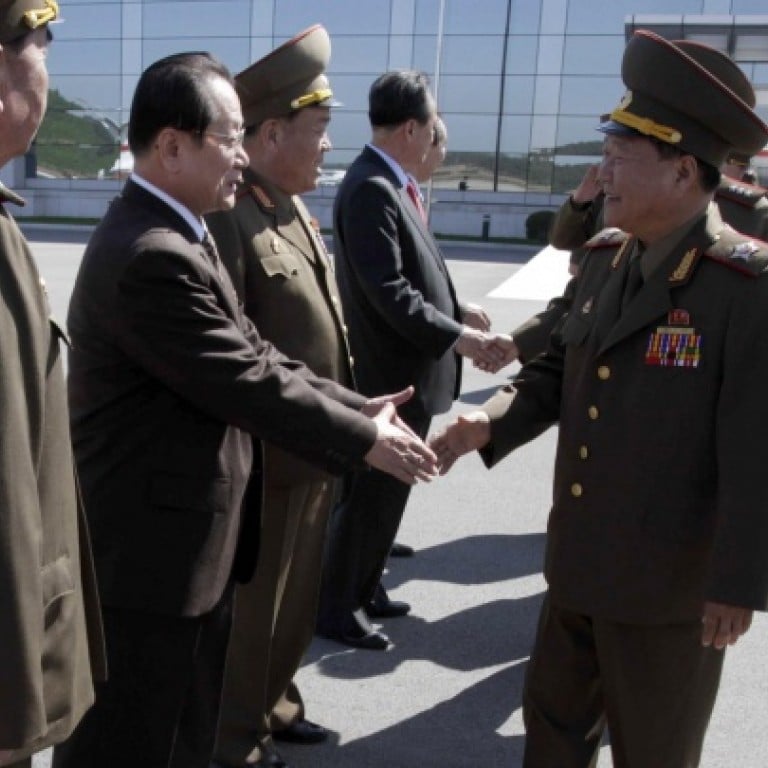 Kim Jong-un's envoy arrives in Beijing to mend strained ties
Visit from Pyongyang seen as attempt to restore alliance before Chinese talks with US and South Korea
A special envoy of North Korean leader Kim Jong-un held talks with top officials in Beijing yesterday, in the first such encounter since China joined the United States and other nations in imposing sanctions on Pyongyang over its ambitious nuclear weapons programme.
The visit by Vice-Marshal Choe Ryong-hae, a senior member of North Korea's ruling Workers' Party, comes at a politically sensitive time, just weeks before Sino-US and Sino-South Korean summits.
President Xi Jinping and US President Barack Obama will hold their summit in California on June 7 and 8. South Korean President Park Geun-hye is expected to also make an official visit to Beijing next month.
Xinhua reported that Choe met Wang Jiarui , head of the Communist Party's international liaison department. Foreign Ministry spokesman Hong Lei said only that the talks were an "exchange of views on the situation on the Korean peninsula and other issues of common interest".
Analysts said the trip was an effort by North Korea's young and inexperienced leader to repair badly damaged ties between the once close communist allies.
China supported UN sanctions against North Korea in response to a nuclear test in February. Earlier this month, the state-run Bank of China closed accounts of the North Korean Foreign Trade Bank because of its involvement in the weapons programme.
Relations between Beijing and Pyongyang were further strained earlier this month by the North Korean seizure of a Chinese fishing boat and its crew.
Shi Yinhong , a security expert at Renmin University, said Choe's trip was "primarily aimed at repairing ties which are at their lowest ebb since the Korean war ended in 1953".
Cai Jian , deputy director of Fudan University's Centre for Korean Studies, said Choe was expected to explain North Korea's thinking and "seek China's understanding before the two crucial summits, at which the North Korea issue will be dominant".
But Shi said that Beijing had apparently downgraded the visit by sending Wang, a minister-level official, to meet Choe. Still, analysts expect Choe still meet top Chinese leaders, including Communist Party general secretary Xi during his three- to four-day visit.
Choe is the third-highest-ranking official in the North Korean hierarchy and a member of the presidium of the Political Bureau of the Workers' Party of Korea, the equivalent of membership of the Communist Party's innermost seven-man Politburo Standing Committee.
Kim has yet to visit China since succeeding his late father in December 2011.
The trip is believed to be the first top-level meeting between the two countries since Politburo member Li Jianguo went to Pyongyang in late November bearing a letter from Xi, who had just been installed as party chief.
Acknowledging that North Korea had begun pushing back in recent days, Shi said that "the overall effect of Choe's trip on the upcoming summits and the present stand-off will be limited" unless Pyongyang changed its stance significantly.
This article appeared in the South China Morning Post print edition as: Kim envoy aims to mend Beijing ties