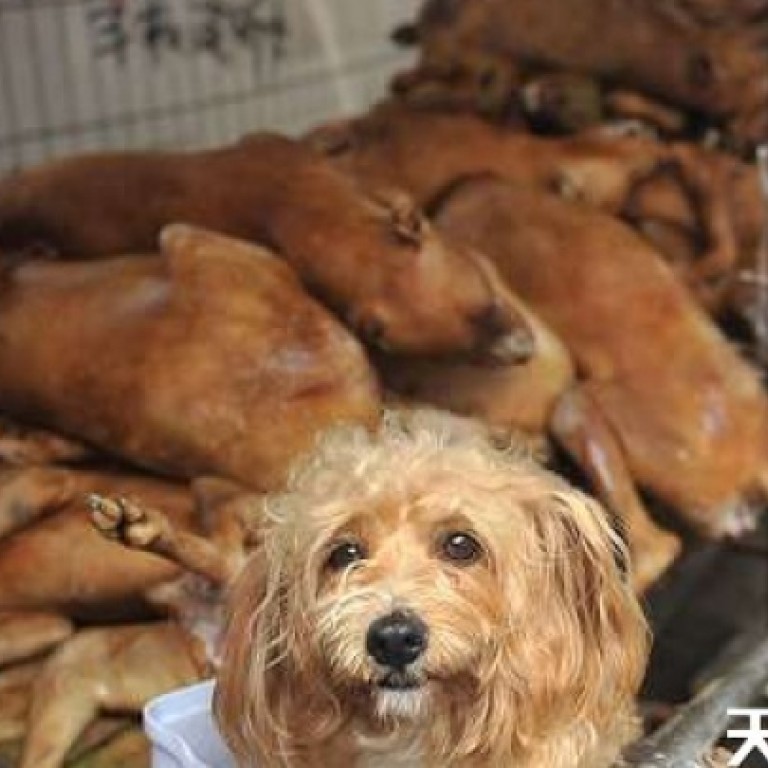 Chinese animal activists petition White House against dog meat festival in Guangxi
It is widely believed that dog meat can boost men's sexual performance - as it has been used in traditional Chinese medicine to treat impotence
China's dog lovers and animal enthusiasts, fretting over the looming  "Dog Meat Festival" - an annual event held Yulin, Guangxi on June 21-  have pulled every string possible to avert what they call "a bloody celebration."
They have protested on Weibo,
rapped against it,
and written to the mayor of Yulin demanding an end to the tradition. After all these fruitless efforts , animal lovers decided to petition the White House - an unorthodox method frowned upon by the country's police and censors.
The White House petition was headlined:
"Please help us stop the Yulin Festival of eating dogs in Guangxi province. It is bloody and disregards life" has collected 751 signatures as of Thursday since its creation on May 12.
"They use knives to kill the dogs which are alive," it reads, "Then people would like to burn the dogs, which are conscious, so they can eat them."
"This petition isn't meant for political reasons,'' explained its creator, who identified herself as "Alalei" on a pet forum. "I simply hope our government will stop turning a blind eye to this horrible tradition."
The Yulin locals traditionally celebrate the day of Summer Solstice, when the Sun reaches its highest position in the sky - by eating dog meat and drinking lychee wine, says a programme produced by the city's TV station.
A programme produced by Yulin TV station about the dog meat festival
Legend has it the eating of dog meat will dispel evil ghosts and disease. It is also widely believed that dog meat can boost men's sexual performance - as it has been used in traditional Chinese medicine to treat impotence.
The tradition is not unique to Yulin. Other cities in Zhejiang, Guangxi, and Guangdong province, among them the booming industrial town Dongguan, are also known to be avid consumers of dog meat.
Mo Yingran, a Guangzhou-based animal activist, shared with the South China Morning Post details of his secret investigation in Yulin last year.  
Mo wanted to find out who was supplying the meat to the festival. Despite the government's claim that dogs were raised by local farmers before being butchered, it is rumoured that some were stray dogs and others abducted from various parts of China.
But when Mo showed up at a market pretending to be a buyer, the seller became suspicious and refused to answer his questions.
Mo later managed to slip into the local government's headquarters, posing as a potential investor. He then presented his case to several officials. 
"They told me they had to respect local culture, and would be willing to launch a public awareness campaign to remind people of the risks of eating unhealthy meat," said Mo. The Yulin government  denied organising the event, but said they objected to scrapping it altogether.
On Tianya, a popular Chinese forum, a heated debate broke out among bloggers.
"Why do we have to listen to what westerners say?" wrote one commentator. "They eat turkey all the time and nobody says a word about it." 
"It's wrong to eat animals that are people's companions," argued another. "Even when we kill animals, we should make sure they don't suffer."
Deng Yidan, a spokesman from Animals Asia Foundation, a Hong Kong-based chartiy seeking to end cruelty to animals in Asia, said their independent  investigation found most dogs sold to restaurants were stolen from households or abducted from the street. These dogs are usually ill and, therefore, pose a grave risk to consumers.
Deng said they had written a letter to Yulin's government protesting the festival. 
"Culture and tradition should not be used as an excuse for brutality," she said.
Requests for comment from Yulin's mayor's office have not been returned.