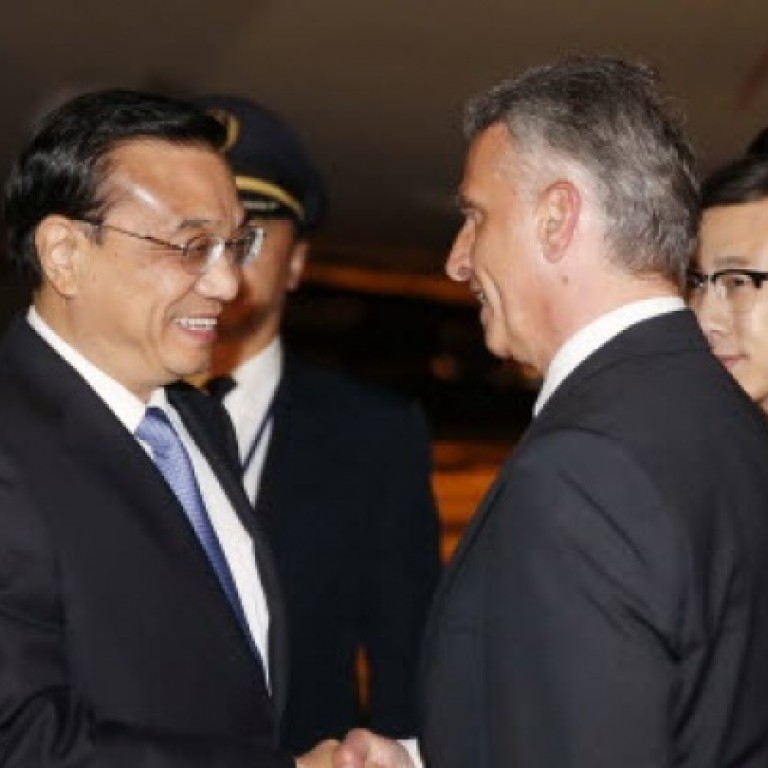 Li Keqiang starts Swiss visit as free trade deal looms
Chinese Premier Li Keqiang arrived in Switzerland on Thursday for talks set to focus on a landmark free trade deal with the Alpine country, which he has dubbed a touchstone for Beijing's growing ties with foreign nations.
Li, who is on the first stop of his debut visit to Europe since taking over in a once-in-a-decade power transfer in Beijing, flew in to Zurich late on Thursday.
He was to give a speech in Zurich on Friday to an invited audience from Switzerland's financial sector, with which he has said he wants to boost links, amid growing speculation that China could let its currency be traded in selected offshore centres.
Li was to head to the Swiss capital Bern for talks later Friday with Swiss leaders including President Ueli Maurer and the foreign and economy ministers.
In an opinion piece published on Thursday in the Zurich daily Neue Zuercher Zeitung, Li called his trip "symbolic of China's openness to the outside world".
Li, who took charge as premier in March, is on his maiden foreign tour and arrived in Switzerland fresh from talks with neighbours India and Pakistan, before visiting top European trade partner Germany at the weekend.
Economic issues are set to be high on the agenda in his meeting with the Swiss -- who are not members of the European Union – as the two countries move to sign a free trade accord that has been under negotiation since 2011.
"Switzerland will be the first continental European country, as well as the first in a list of the 20 largest global economies, to have concluded a key free trade deal with China," Li wrote.
"This will not only enhance our economic and trade cooperation, but also send the world a strong signal about the fight against trade and investment protectionism, as well as the liberalisation and facilitation of trade," he underlined.
In its first such accord with a European country, China last month inked a deal with Iceland, which like Switzerland is not an EU member.
Efforts to strike one with EU countries would be more complicated, however, because Beijing would need to negotiate with the entire 27-nation bloc, not just individual member states.
Li said the Swiss deal would have wide implications.
"It will give a new impulse to the deepening of relations and trade ties between Europe and China, bring tangible benefits for consumers and business in both countries, and contribute to the growth of world trade and the economic recovery," he explained.
After wrangling notably over Chinese taxes on imported Swiss industrial goods and Switzerland's rules on China's agricultural exports, the two countries wrapped up their technical talks earlier this month.
That opened the way for a signature, although the deal itself is not set to be inked during Li's visit, as the two sides' legal teams are still analysing it.
It will also need to get a green light from the Swiss parliament.
China is Switzerland's third major trading partner, after the European Union and the United States.
Swiss Foreign Minister Didier Burkhalter met Li and his delegation on their arrival.
"This visit will help boost ties between the two countries," the foreign minister said shortly afterwards.
The Swiss foreign ministry said that, besides economic issues, the talks with the Chinese would cover the areas of "finance, the environment, human rights and international security".
The situation in the Middle East will also be on the agenda.
Bilateral trade between Switzerland and China was worth US$26.3 billion last year, with a full US$22.8 billion of that figure represented by Swiss exports to China.
That made it one of the rare Western countries to have a positive trade balance with the Asian giant.
In contrast, German exports to China last year were worth the equivaliant of $86 billion, and imports from China, US$99.8 billion.
Switzerland's top exports to China are watches, pharmaceuticals and chemicals, and machinery, while textiles and machinery head the list of imported Chinese goods.