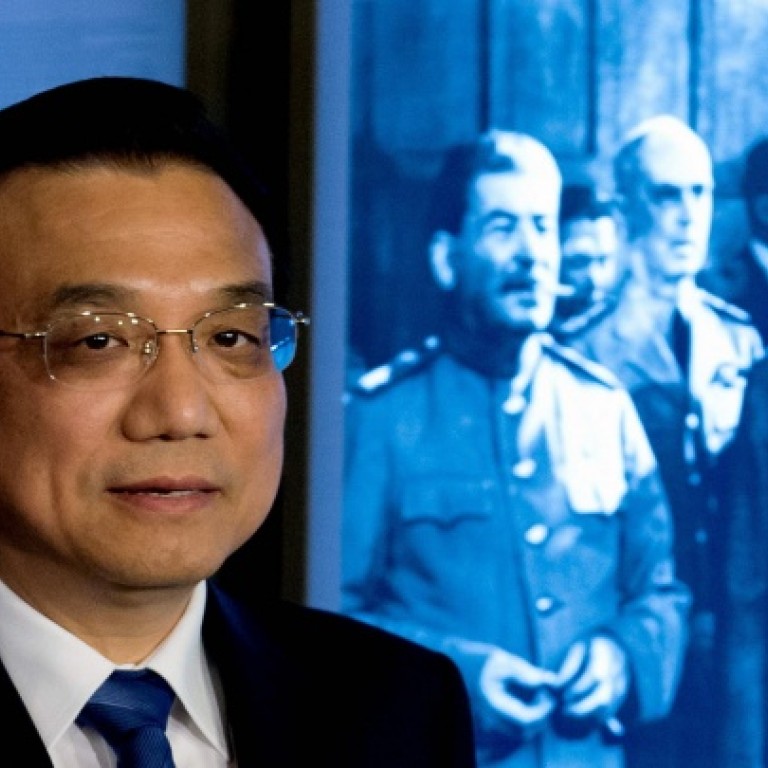 Premier Li Keqiang, in Potsdam, warns Japan on postwar vows
Premier uses visit to German city where Allied terms of surrender were dictated to Tokyo, to send stark message on recent territorial disputes
Premier Li Keqiang made use of his visit to Germany to send a warning to Japan that no country would be allowed to violate the peace achieved after the second world war.
"We should not allow anyone to destroy or deny the postwar peace order," Li said in the German city of Potsdam, site of the 1945 conference that helped define national boundaries after the Nazi defeat. It was also where terms of surrender were dictated to Japan.
Li stressed that the Potsdam agreement reaffirmed Japan should return all territory stolen from China. Specifically, he said: "Japan must return the islands they have stolen, including the islands in northeastern China and Taiwan."
Li's statement comes amid rising tension over the Diaoyu Islands, which Japan calls the Senkakus. Yesterday, Japan lodged a formal complaint with China after three Chinese marine surveillance ships sailed in waters near the islands for more than five hours. Four ships manned by Japanese right-wing activists were also sailing in the waters.
"We must at all times firmly safeguard the peace and post-war order, which was achieved at the price of tens of millions of lives," Li said as he toured Cecilienhof palace in Potsdam.
"Any attempt to deny or glorify wartime aggression during those years are nothing but a challenge to international justice, which will not be tolerated by the Chinese people and will be condemned by people all over the world", Xinhua cited Li as saying.
China Foreign Affairs University associate professor Niu Zhongjun said that the Diaoyu Islands were confiscated by Japan at the end of the first Sino-Japanese war in 1895, along with Taiwan.
"Diaoyus as part of Taiwan should have been returned to China at the end of World War Two both under the 1945 Potsdam Declaration as well as the 1943 Cario Declaration," he said.
"Li's comments were also a rebuke to the Abe administration over its attempt to amend the country's pacifist constitution and to deny enslaving Chinese women during the war."
The Japanese contend their claim to the islands stands independent of the 1895 treaty.
The premier arrived in Berlin late on Saturday for an official visit to Germany, the last leg of his first overseas trip as premier. His schedule included a meeting with German Chancellor Dr Angela Merkel. He has also visited Switzerland, Pakistan and India.
Li's itinerary in Germany also includes delivering a speech at a business luncheon and holding talks with German political and business figures.
Li said in a written statement that he hoped to foster ties with the European Union during his visit to Germany, the only EU country in this visit.
Additional reporting by Bloomberg
This article appeared in the South China Morning Post print edition as: Li warns Japan on postwar vows