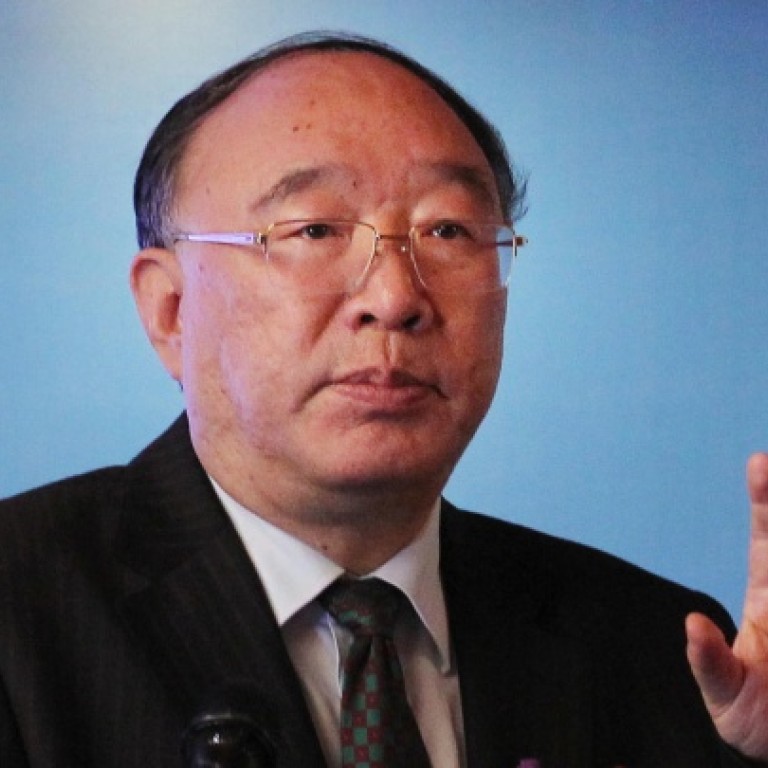 Power struggle in Beijing leaves CIC leaderless
Empty chair in sovereign wealth fund's corner office worries investment industry observers and casts shadow over economic reform plans
China's US$480 billion sovereign wealth fund may well have to wait a few more months before it gets its new chairman, thanks to a power struggle in Beijing.
The chairman's office at China Investment Corp (CIC) has been empty for about three months since former chairman Lou Jiwei , who helped establish CIC in 2007, was promoted to become finance minister as part of the Communist Party's once-a-decade leadership transition earlier this year.
During that changeover, Beijing's other top finance jobs - heading up the central bank, China Development Bank and the mainland's "big four" state-owned lenders - were all filled.
CIC was the notable exception, and the picture remains unclear, despite some names being tipped in media including a publication run by Xinhua that officially announces top appointments.
Potential candidates have so far included Jiang Jianqing , chairman of Industrial and Commercial Bank of China the world's biggest bank by market value, and Huang Qifan , the mayor of Chongqing, who vowed to support Beijing's move against his then-boss Bo Xilai .
Sources familiar with the situation have told the that some cabinet members want Gao Xiqing , currently CIC's No2 as vice-chairman and president, to be appointed as its new chairman. Yet Gao's experience of studying abroad may stand in the way of any possible promotion.
According to several sources familiar with top Beijing hiring procedures, an unwritten rule exists that disqualifies anyone who studies abroad outside an officially sanctioned programme from being appointed to a ministerial-level government job.
Gao, fluent in English and a rising star in China's pro-reform political camp, went to the United States on his own to study law in the 1980s. He returned to China to help develop its stock market in the 1990s.
Gao has also been vice-chairman of market regulator the China Securities Regulatory Commission (CSRC) and vice-chairman of the mainland's national pension fund.
But sources say some conservative leaders complain privately that his attitudes are too liberal.
The latest candidate for the top job at CIC, according to reports earlier this month in more than a dozen mainland media outlets, is Tu Guangshao , the deputy mayor of Shanghai.
Tu's main brief is to develop the finance industry in Shanghai. Before he moved to the city, he was vice-chairman of the CSRC.
Tu is regarded as being well qualified for the job, given his finance-focused background, and the has learned from its sources that he has been nominated for CIC's chairmanship by several cabinet members. But a recent Standing Committee meeting of the Politburo, China's top-level political decision-making body, chaired by President Xi Jinping, failed to reach an agreement on the appointment.
It is not clear whether Xi himself opposed Tu's nomination, but what is clear, according to the sources, is that the Communist Party's Organisation Department, which is in charge of senior government hiring, was then told to put the entire process on hold.
CIC declined the 's requests for comment on the issue.
In the meantime, CIC's private equity industry partners are wondering what is going on with the appointment - including the likes of Blackstone and Carlyle, which have developed close business ties with CIC in the hope they may be able to manage some of the fund's vast resources.
"Everybody in the private equity industry is waiting for the answer, and we have been waiting for several months already," said one private equity executive on condition of anonymity. "Can you believe there is no boss in charge, not even an acting boss, at one of the world's biggest sovereign wealth funds?"
The months-long political struggle to appoint a new boss at CIC reflects how difficult, slow and opaque important financial and economic decision-making can be in China. That has some industry watchers worried about the prospects for China's economic and political reform programme.
A mainland fund manager who declined to be identified asked: "If the Politburo cannot agree on a job appointment, how many times do they need to negotiate back and forth on other, tougher reform matters?"
This article appeared in the South China Morning Post print edition as: Palace intrigue leaves C.I.C leaderless