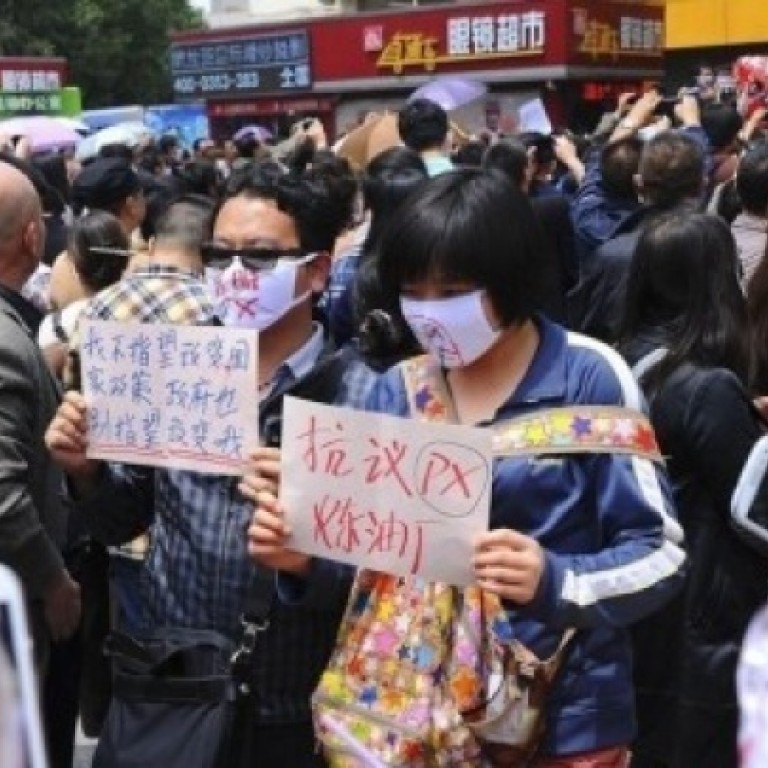 Kunming activists told to call off protest during China-South Asia Expo
Activists warned not to demonstrate against refinery project during China-South Asia Expo
Kunming authorities have been put on high alert to thwart a third demonstration against a petrol refinery and maintain social stability in the run-up to the China-South Asia Expo.
However, the Yunnan provincial capital's government also finds itself in a dilemma as it tries to put on a more liberal face in heeding public opinion.
Residents are planning a third protest on June 6, the opening day of the expo, after their call for the scrapping of the refinery project and a related paraxylene (PX) factory in nearby Anning was ignored. PX is an industrial chemical that is dangerous if inhaled or absorbed.
Mainland media have also reported a ban on the sale of T-shirts in parts of Kunming that will remain in effect until at least the end of June and the introduction of name registration for those ordering photocopies.
At the weekend, the government of Anning city, under the administration of Kunming, revoked an order that forced those buying face masks to register their identities and issued a public apology after being bombarded with criticism.
After the first two public demonstrations this month, Kunming authorities tightened up their monitoring of local activists and warned that they would use all "legal means" to crack down on demonstrations against the controversial petrol refinery in Anning, about 30 kilometres from Kunming. A text message sent to Kunming residents reads "all activities and behaviour that disturbs or sabotages the China-South Asia Expo will be cracked down on according to law".
The city's riot police, firefighters and armed police took part in a large drill on Saturday focusing on terrorism threats and mass protests, local media reported.
A worker at Green Kunming confirmed the NGO had been asked to cancel recent public events. "Not only us, many such events have been suspended because the expo is taking place soon," the worker said, refusing to comment on whether the order had anything to do with the group's previous investigation of the refinery and PX project.
A Kunming resident said his employer had asked him to sign a letter saying he would not join any rally on June 6. It had made no such demand before earlier protests. Such pressure had closed the door for any meaningful dialogue between the public and the government, as promised by Kunming Mayor Li Wenrong , the resident said.
"But this is not a decision that mayor Li can make," he said. "It is the provincial government that desperately wants to kick off this project."
This article appeared in the South China Morning Post print edition as: Protest plan puts police in Kunmingon high alert