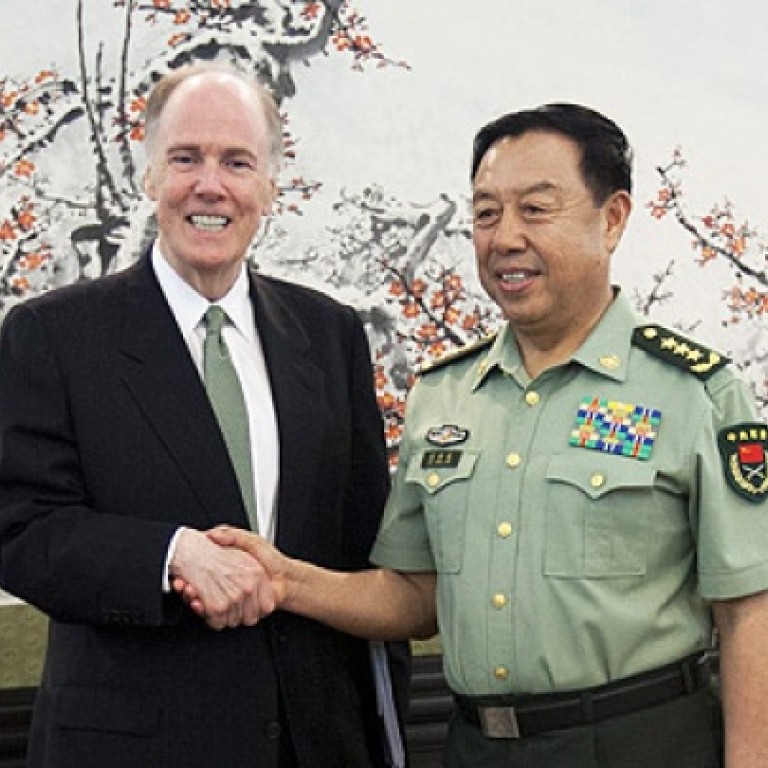 US national security adviser Tom Donilon promotes military ties in Beijing
National security adviser sets the stage for a summit between Xi Jinping and Barack Obama
US National Security Adviser Tom Donilon pushed for stronger military ties with China yesterday, the final day of a visit to Beijing to set the stage for a presidential summit next month between Xi Jinping and Barack Obama.
Non-traditional military activities such as peacekeeping, disaster relief and anti-piracy operations offer opportunities to boost co-operation and "contribute to greater mutual confidence and understanding", Donilon told General Fan Changlong , a vice-chairman of the Central Military Commission.
A "healthy, stable, and reliable military-to-military relationship" is an essential part of Sino-US ties, Donilon said at the Defence Ministry building in Beijing.
In another high-profile defence meeting, senior Chinese and US military officials in Beijing yesterday pledged further naval co-operation.
Deputy Chief of General Staff Qi Jianguo told visiting US Pacific Fleet Commander Cecil Haney that China would work with the United States to deepen military trust and co-operation, Xinhua reported.
Donilon, meanwhile, met Chinese officials over two days to hammer out plans for the June 7-8 summit, the first face-to-face meeting between the presidents since Obama's re-election and Xi's promotion to Communist Party chief in November.
Their informal summit at the private Sunnylands estate of the late publishing tycoon Walter Annenberg in southern California will come months before the two leaders had been originally scheduled to meet, underscoring concerns that the US-China relationship is drifting.
Xi told Donilon that relations were at a critical juncture, and that the sides must now "build on past successes and open up new dimensions for the future".
Building trust between their militaries is one of the main challenges the sides face in seeking to bridge relations, troubled by issues from trade disputes to allegations of cyberspying.
Although Washington and Beijing have talked about boosting military ties for more than a decade, distrust runs high and disagreements over Taiwan, North Korea and competing territorial claims in the East and South China seas remain potential flashpoints.
The US has repeatedly questioned the purpose of China's heavy military build-up over the past two decades, while Beijing is suspicious of Washington's focus on military alliances in Asia.
Steps to increase benign interactions between their militaries have been modest so far, including joint anti-piracy drills in the Gulf of Aden and a classroom natural-disaster-response simulation. The US has also invited China to take part in large US-led multinational naval exercises.
In a separate meeting yesterday, Vice-Premier Wang Yang told Donilon that the two countries must better co-ordinate their economic policies.
Wang urged both countries to acquire a deeper understanding of each other's economic development strategies and policies.
This article appeared in the South China Morning Post print edition as: US official promotes military ties