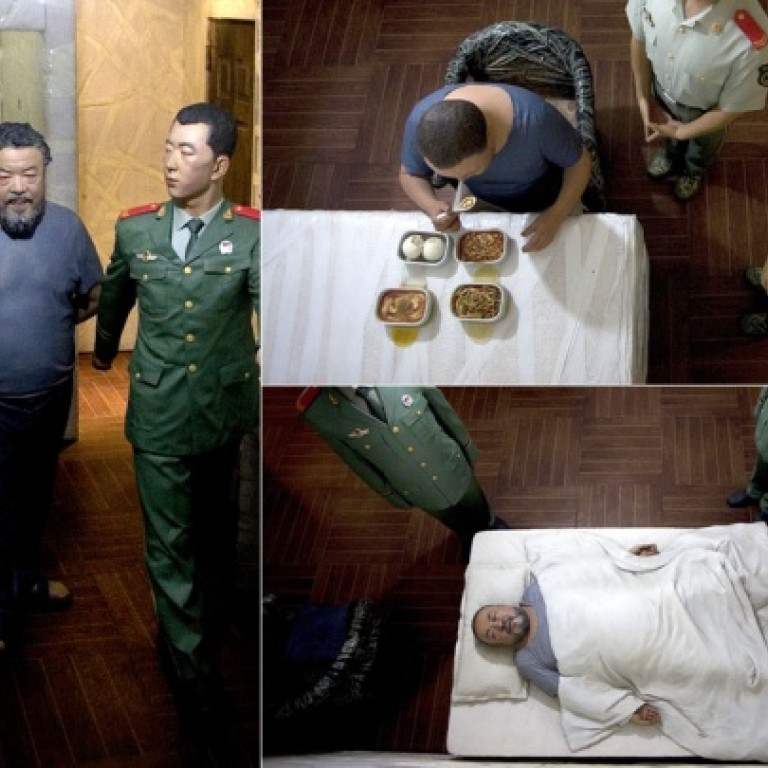 Ai Weiwei installation shows his days in detention at Venice Biennale
Whether he was sleeping, eating, taking a shower or defecating, dissident Chinese artist Ai Weiwei spent 81 days under close surveillance by two uniformed guards in a windowless cell two years ago, not knowing his fate. 
The memory of those days is what Ai showed the world yesterday in a monumental installation entitled S.A.C.R.E.D., unveiled at the historic church of Sant'Antonin in Venice ahead of the city's biennale, which will open to the public on Saturday. 
Ai's mother, Gao Ying, broke down in tears after touring her son's installation. "I am very sad," she said.
Featuring six iron boxes each weighing 3.5 tonnes, S.A.C.R.E.D. is one of two Ai works featured in "Disposition", a show on the sidelines of the biennale presented by the non-profit Zuecca Project Space in Venice and London's Lisson Gallery.
Glances into the iron cells yield views of hyper-realistic dioramas made of fibre glass, depicting different moments in Ai's 2011 detention.
Zuecca director Alessandro Possati said the works were made secretly in mainland China, shipped to Britain and then sent to Italy by truck.
"This show was strongly wanted by Weiwei … this is a very powerful work," Possati said. "S.A.C.R.E.D. is a very personal reading of his experience in captivity and restraint of freedom. The six boxes represent different moments of his daily life [during detention]. He [is trying] to communicate with us about what he experienced."
Possati said Zuecca made contact with Ai 18 months ago and that the project had been kept very secret until now because of concerns about possible repercussions due to the controversial nature of the project and the artist.
He said contemporary art, and in particular conceptual art, was about communication of thoughts. "Making a strong statement criticising and contemplating the current situation is just a mission of art," Possati said. "This is a portrayal, instead of criticism, that [Ai] was presenting through installation instead of paintings. It's not fictionalised. It's very direct, very real."
"Disposition" also features a sculptural installation entitled Straight at Zuecca's home, the Zitelle complex.
Greg Hilty of Lisson Gallery, which represents the artist, said that the work – made of 150 tonnes of steel rebar recovered from the debris of shoddy "tofu" schools that collapsed and buried more than 5,000 schoolchildren in the Sichuan earthquake in 2008 – was a very different art piece but was nevertheless connected with S.A.C.R.E.D..
"The two powerful works are different but complementary," Hilty said. "His strong protest against how the authorities handled the earthquake led to his detention."
Hilty added that the works showed Ai as a lonely, diminutive man full of doubts about his beliefs and his future, and that their content was political but also highly personal.
"People will be intrigued, given the art context," Hilty said. "The Venice Biennale is the greatest art event. [The works are] a strong manifestation of what [Ai] really cares about."
The free exhibition runs until September 15. The works may also be shown elsewhere but no firm plans have been made.
Video: Watch Ai Weiwei's debut heavy metal single, Dumbass
This article appeared in the South China Morning Post print edition as: Ai Weiwei shares painful memories at Venice Biennale