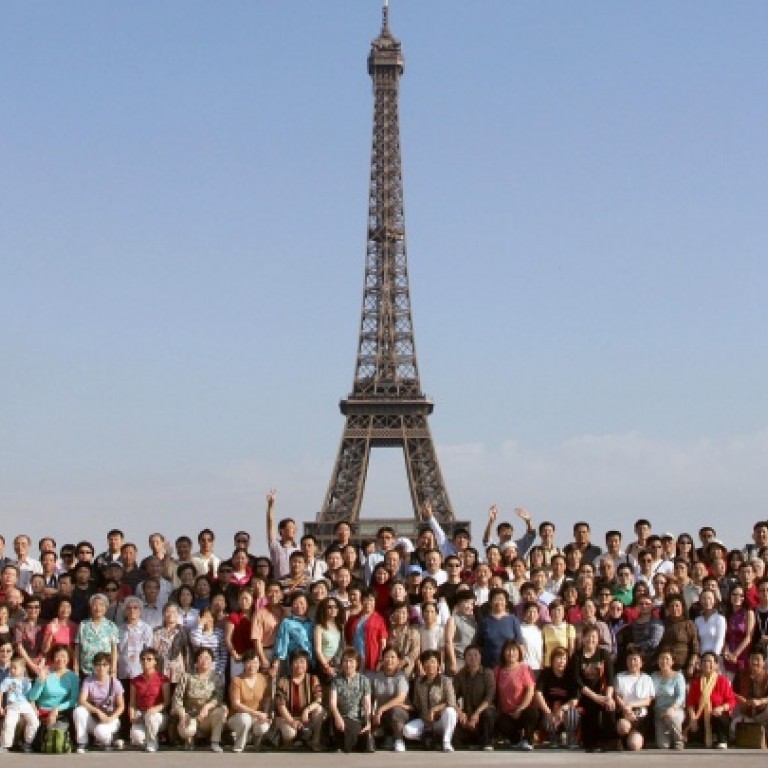 Robberies of cashed-up Chinese tourists rise steeply in Paris
Mainlanders' preference for carrying large amounts of cash makes them easy targets
A sharp increase in robberies of Chinese tourists in Paris has prompted calls for the French government to step up security and for shoppers to use credit cards instead of carrying large amounts of cash.
The number of reports of such crimes is up by "more than 10 per cent" since last year, said Li Ping , head of consular affairs at the Chinese embassy in Paris.
Two cases this week grabbed headlines. On Tuesday, a crew of China Central Television reporters covering the French Open tennis tournament had their car windows smashed and their wallets, phones and passports grabbed, mainland media reported. A source familiar with the situation confirmed the incident to the .
A day earlier, film producer Dong Dake , returning from the Cannes Film Festival, was robbed at his hotel in Paris. He was said to have lost equipment worth about 200,000 yuan (HK$250,000) and "countless photos" taken at private parties.
The Chinese embassy in Paris said they were not isolated cases.
"We have made representations to the French government," Li said. "We hope the French side will take proper measures to protect the safety of tourists and curb illegal behaviour."
France, battling with unemployment and an economic downturn, has witnessed a surge in crime. French newspaper reported that the number of reported thefts in January had risen 50 per cent year on year, while burglaries had jumped by nearly 60 per cent.
Tour operators in both China and Paris said Asian tourists, particularly Chinese, had become vulnerable in recent years because of their free-spending shopping habits. More than a million Chinese visit France every year, with each one spending about €1,500 (HK$15,000) on average.
"There are reports of tourists getting robbed almost every day," said Jean-Francois Zhou, manager of Paris-based Ansel Travel, which specialises in tours to and from China. "The criminals are not just stealing, but resorting to violent means."
Ten of his Chinese clients were robbed in October in the Louvre Museum. On many occasions, tour guides, who possessed cash for emergency use, were targeted, losing up to €20,000 each time, he said.
Li Lang, marketing manager of a Guangzhou-based travel agency, said Chinese tourists' preference for buying luxury items in cash was a reason behind the attacks. "A busload of Chinese tourists is like a van carrying gold bullion," he said. Several travel agencies had put up a blacklist of drivers and hotels suspected of being connected with criminals, Li said.
A Singaporean tourist, who did not want to be named, recalled the terror as she and her sister were robbed inside a taxi taking them from the airport to a hotel in the heart of the city on May 13.
"Two men suddenly came up, smashed the car windows and snatched our bags. We were bleeding," she said. There was further frustration when they had to spend more than three hours filing a report at a police station.
"The French police did not speak English and offered no help," she said. "They just asked us to go to the police station in the damaged taxi, even though we were hurt and bleeding."
Liu Simin , a researcher at the Chinese Academy of Social Sciences, urged tourists to be more alert about personal safety and to carry less cash.
The French embassy in Beijing said the French government was determined to ensure the safety of all foreign tourists.
"The vast majority of Chinese visitors' trips go on without trouble," the embassy said.
The Hong Kong Immigration Department said the number of cases of Hong Kong people seeking assistance while travelling in France had risen from 57 in 2011 to 85 last year. Most of them had lost travel documents, been involved in traffic accidents, or been admitted to hospital.
Joseph Tung Yao-chung, executive director of the Hong Kong Travel Industry Council, said tourists should wear fewer designer brand products when travelling in Europe.
This article appeared in the South China Morning Post print edition as: Robbers target Chinese in Paris