Focus
Get more with myNEWS
A personalised news feed of stories that matter to you
Learn more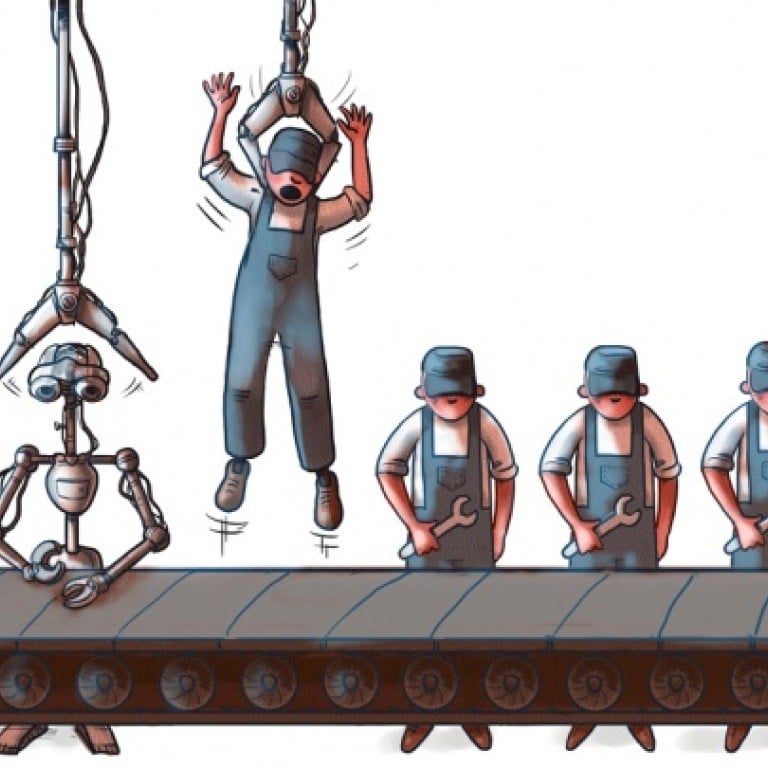 Robots on the rise in China
With wages rising on the mainland and cheaper foreign competition increasing, automated workers are replacing humans
As Liu Yilian busily hands out promotional materials at an international machine-tool show in Beijing, several industrial robots nimbly flex their long arms as they work away behind a glass wall beside her.
"My name cards have been used up," says Liu, marketing chief for Shanghai-Fanuc Robotics, the Chinese joint venture of Japanese giant Fanuc. The yellow cotton bags with Fanuc's brand name emblazoned on them are also gone, she adds, regretfully.
The interest reflects a growing interest in robotics among Chinese manufacturers, who are increasingly turning to technology to overcome the challenges of rising labour costs and fierce competition from emerging nations in South and Southeast Asia. According to Liu, the Shanghai arm of Fanuc, which dominates the global market for industrial robotics, almost doubled sales every year until cooling somewhat following the 2009 global financial crisis and outbreak of the 2011 earthquake and tsunami in Japan, which hurt the supply of raw materials.
"Even under such a difficult operating environment we still managed to achieve close to 20 per cent sales growth in China last year," said Liu.
The firm sold about 4,000 robots in China, up 18 per cent on the 3,400 it sold in 2011, she said.
Fanuc is one of a number of multinational companies, including ABB from Sweden, which are pouring resources into the Chinese market, lured by Beijing's efforts to upgrade its industries. Local companies are also entering the race.
Sino-Japanese joint venture Yasakawa Shougang Robot sold 1,800 robots last year, according to marketing head Wang Liyong . The company, founded in 1996, was only able to sell a couple annually during the early years. "That was a miserable period of time," he recalls.
Manufacturers across China are increasingly looking to robots to replace human beings in highly polluting industries, dangerous operations or areas that require high quality production.
The International Federation of Robotics says the world's robot industry developed at its fastest rate ever in 2011 with global sales up 37 per cent year on year to 165,000. Sales in China jumped 50.7 per cent to reach 22,600. By next year, China will surpass other countries to become the top market for robots worldwide, according to the institution.
State leaders have called on businesses to upgrade technology to boost their competitiveness, as the country's role as the world's manufacturing centre is shaken by rivals in emerging markets with a growing, cheaper labour supply.
Former World Bank chief economist Justin Lin predicts that the average monthly wage in China's manufacturing sector may rise to nearly US$1,000 (HK$7,760) by the end of this decade from US$350 in 2010. The increase is caused, in part, by yuan appreciation and government policies intended to boost personal income.
The rapidly rising salaries of factory workers could see China lose up to 85 million manufacturing jobs to other countries in the region, Lin says. But analysts say robots may prove the saviour - or at least delay the process.
"China … is increasingly facing low-cost competition, and as Chinese employment costs rise we can expect more use of robotics to maintain competitiveness," the International Federation of Robotics said in a report published in February.
Sun Chi , China economist with Daiwa Capital Markets, says productivity will rise with the adoption of robots as companies employ fewer staff. That will help China to retain some manufacturing businesses that might have otherwise flowed to cheaper countries such as Vietnam or Mexico. Meanwhile, employees who see their incomes rise will boost demand for services, bolstering sectors such as catering and retail, Sun says.
"Beijing should make it a priority to upgrade the manufacturing industry while boosting development of the services sector. The biggest challenge is: how much time remains there for them to get the job done?" she asks.
"If the reforms aren't carried out [in a] timely [manner], the emerging nations in Southeast Asia might eat off China's low-end industries."
Fanuc's Liu says the price of robots made by Shanghai-Fanuc ranges from hundreds of thousands of yuan to several million, offering a broad range of options for manufacturers of different sizes. Fanuc's clients include beverage giant Coca-Cola and electronics manufacturers such as HTC and Lenovo, she says.
Beijing Jinghua Glass Fibre Products, a relatively small company with about 600 employees, is also looking to expand its fleet of robots.
Zhang Minghui , director of technology and procurement at Jinghua, says the company plans to buy new robots for welding after it completes a facility upgrading. It already uses two robots for slicing.
"Using robots would be safer and also cut labour costs," he says at Fanuc's exhibition stand. "China has very good market demand for robots. Many companies in our industry have begun to use them."
The types of business using robots are also changing.
"Previously more than 60 per cent of demand came from the auto industry in China with the rest from other sectors. Now the trend has just reversed," Liu says.
More and more orders are now being placed by firms in industries such as food and beverage, machine tools, electronics, plastics, moulding, transportation, engine, manufacturing, metal processing, composite materials and die-casting, she says.
Foxconn, the largest producer of Apple's iPhone and iPad products, announced in July 2011 that it would put in place one million robots over three years to replace low-end workers. The decision came two months after an explosion in a polishing workshop at a plant in Chengdu , Sichuan . Stressful jobs that expose workers to pollution have led to a string of suicides of workers at Foxconn, putting the Taiwanese manufacturing giant under severe public scrutiny.
Beijing, as part of its efforts to become a stronger economic power over the next decade, has pledged to develop a home-grown robot industry with subsidies offered to local manufacturers as part of its industrial restructuring.
Authorities in Liaoning province recently announced a plan to construct a robot industrial base by the end of 2017, targeting an annual output of 50 billion yuan (HK$63 billion) to develop robots and other equipment. The provincial government has pledged to offer tax cuts and introduce venture capital to support the project.
Guangzhou-based GSK CNC Equipment has developed its own robots after some seven years of research, according to Li Boji, head of the company's robotics unit. The company, which has clients both domestically and overseas, is targeting a ten-fold increase in production to 10,000 units by 2015, from an estimated 1,000 this year, Li says.
He says GSK's technology remains less mature than that of its competitors, but its robots cost only half the price of imports. Meanwhile, it has a vast domestic client base - about 80 per cent of China's machine tools industry uses digital control systems made by GSK, he says.
Rene Gaytan, general manager of ABREMAQ Mexico, says his company has already ordered control systems from the Guangzhou firm, and this time he came for robots as well.
Asked why he chose China for the product, rather than Mexico's neighbouring countries, he replies: "For the price … Besides, all the products from China now have better quality than before."
This article appeared in the South China Morning Post print edition as: Robots on the rise in China