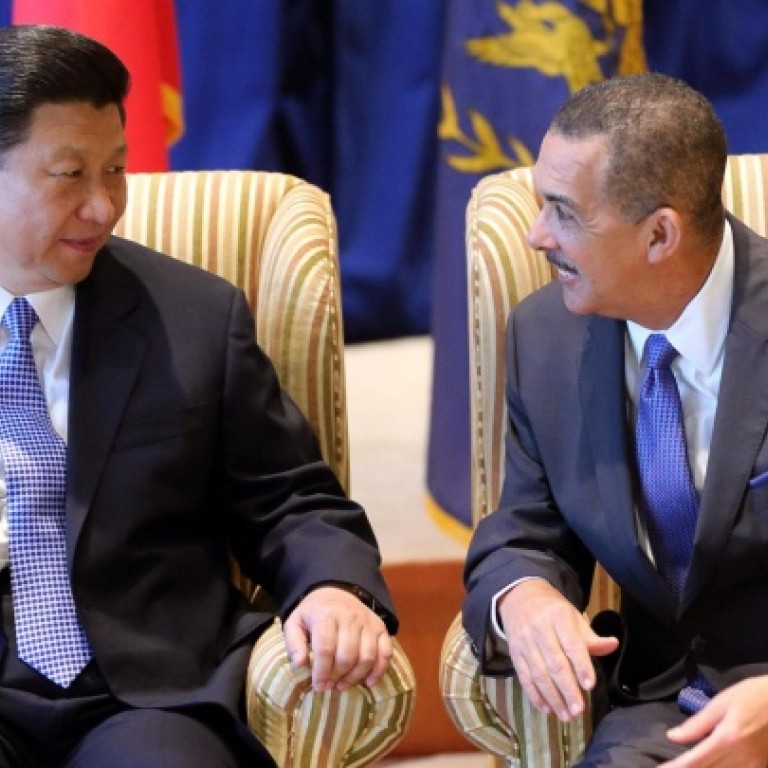 Xi Jinping plans to step up energy links with Trinidad and Tobago
In the first stop of his regional tour, the president proposes more energy co-operation with Trinidad and Tobago
President Xi Jinping proposed stepping up energy co-operation between China and Trinidad and Tobago on his first stop of a four-country regional tour as Beijing seeks to consolidate its diplomatic relations and expand commercial co-operation with Latin America.
Calling for a joint effort to advance ties, Xi said he saw great potential for further co-operation with Trinidad and Tobago, one of the wealthiest countries in the Caribbean, which has large reserves of oil and gas.
"We both agree to actively advance co-operation in key areas such as infrastructure development, energy and minerals, and also to continue to advance our co-operation in new areas of mutual and beneficial co-operation such as agriculture, telecommunications and new energy," Xi told reporters after talks with Prime Minister Kamla Persad-Bissessar and President Anthony Carmona on Saturday.
"Today is a historic day for us," Persad-Bissessar said, hailing this landmark first visit by a Chinese president to her Caribbean nation of 1.3 million, a former British colony just off the coast of Venezuela.
She stressed that China was a "key business partner and potential new market" that was increasingly involved in Trinidad's energy sector.
Xi also announced that China was awarding Trinidad a US$250 million loan to build a children's hospital. Xi and Persad-Bissessar also signed a memorandum of understanding to co-operate on a range of issues, Xi told the news conference.
Persad-Bissessar said Trinidad viewed China "as a very key business partner and a potential new market for our energy products and for alternative energy research".
She added that Xi agreed to send the Caribbean 100 volunteer medical professionals over the next three years.
Officials also announced that Trinidad planned to open an embassy in Beijing later this year and that Persad-Bissessar would make an official visit to China in November.
Chinese waterproofing firm Beijing Oriental Yuhong also signed an agreement with the Lake Asphalt company of Trinidad to build a plant to produce roofing and other waterproofing products.
Xi, on the first leg of his Latin American and Caribbean tour aiming to strengthen Beijing's trade ties in the region, next heads to Costa Rica and Mexico, ahead of a June 7-8 summit with US President Barack Obama in California.
His visit to Trinidad follows a trip to Port of Spain on May 27 by US Vice-President Joe Biden, who attended a summit with Caribbean leaders.
Xi was scheduled to leave Trinidad yesterday.
This article appeared in the South China Morning Post print edition as: Xi plans to extend links in Caribbean