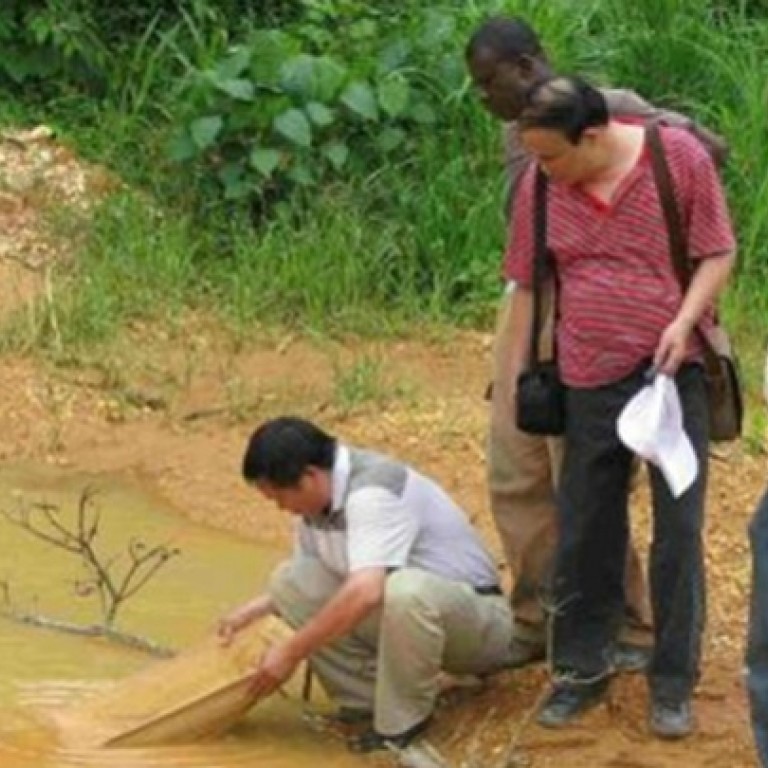 Low costs and huge profits irresistible lure for Chinese to mine Ghana's gold
Relatively low cost of setting up a mine and huge potential profits drew thousands from a Guangxi county to chase their fortunes - and danger - in Africa
Raymond Xie quit his job as an English teacher at a university in Guangxi early last year to join the gold rush in the west African country of Ghana.
The 41-year-old and his partners spent about 3 million yuan (HK$3.76 million) establishing a small mine in Obuasi, in the Ashanti region, and set about making a fortune.
Three million yuan is not enough to buy a three-bedroom flat in Beijing but it was enough to set Xie on the road to riches overseas as one of an estimated 50,000 Chinese gold miners in Ghana, most of them, like Xie, from Shanglin county.
They are among hundreds of thousands of young Chinese seeking their fortunes in Africa, South America and other parts of Asia.
Xie's mine produces about 150 grams of gold a day; after deducting costs, the profit is about US$2,900.
Three years ago Chinese miners operated about 10 small gold mines in Ghana, but that number has now grown to about 2,000. Some produce up to a kilogram a day, some only 30 to 50 grams, while others produce nothing.
Xie said most young men from his hometown in Shanglin county could only earn 1,000 yuan a month or less as a farmer, but they could make about 10,000 yuan a month in Ghana.
"After working at a gold mine for a year, many of these Chinese workers go back to Shanglin and recruit their own teams," he said. "They borrow money from banks and apply for a three-month travel visa. Then they return to Ghana and set up a new mining operation."
But life was tough in Ghana, he said.
"We have to battle deadly malaria, yellow fever and HIV here," Xie said. "We threw up all the time when we first arrived here.
"We miss everything and everyone in China. We would be willing to pay about 100 yuan for a bowl of Chinese rice noodles and we even launched a protest here in September to echo the nationwide anti-Japanese sentiment on the mainland.
"We are frequently threatened and robbed by local gangs, and also need to bribe local officials and policemen in return for necessary cover. The Chinese embassy in Ghana only has 10 Chinese employees and is little help when we are robbed and even killed.
"To protect ourselves, we buy shotguns to deter the robbers. But I have never shot anybody, even though my site has been robbed twice.
"To relax, some go to casinos and many of us go to hunt wild animals in the forest.
"Ghana is so lonely and dangerous for Chinese but also full of opportunities and hope for people like us, who are young, ambitious but have no connections," Xie said.
Despite their mixed results and the mixed reactions from African people, Xie said he and his countrymen had left their footprints all over Ghana and would not stop their adventures in the African continent.
Su Zhenyu , secretary general of the Chinese Mining Association in Ghana, said they felt there was a lack of backup and support from the Chinese government.
"Five or six villagers can collect hundreds of thousands of yuan to invest overseas," he said. "That's hard to imagine before the rise of China. And now similar stories are happening often in Africa and in South America. But what we are experiencing in Ghana shows our government has a poor budget and little concern for helping individual businesspeople like us."
Xie said China invested a lot in Ghana and other African countries and gave them a lot of aid, but only state-owned enterprises benefited.
"We have to play a lone hand here," he said. "There's no official Chinese agency helping us to understand Ghana's laws, folk customs and industrial sectors.
"By law, only Ghanaians are allowed to obtain mining licences for small-scale operations and do the work. But we are welcomed by local miners here because we can provide technical services and equipment.
"Many of us are villagers who know no English, who end up coming here and assume it's legal for them to mine on their own. Many local mine owners look for Chinese with money, show us a mining licence, and say 'come and do business'.
"If the Chinese government offered us more help to communicate with Ghanaians in economic and social fields, we wouldn't face the current tensions and violent conflicts with locals. We would like to build schools, churches and hospitals in local communities. We would like to teach local people our skills… In return, we could have long-term and peaceful co-operation in Ghana's mining sector.
"But so far it's hopeless, because the Chinese embassy in Ghana and officials from our hometown only try to persuade us to leave Ghana, leaving our equipment and investments. Why can't they help find a win-win way out? And what's the rise of China worth for Chinese individuals?"
This article appeared in the South China Morning Post print edition as: Irresistible lure of Ghana's gold