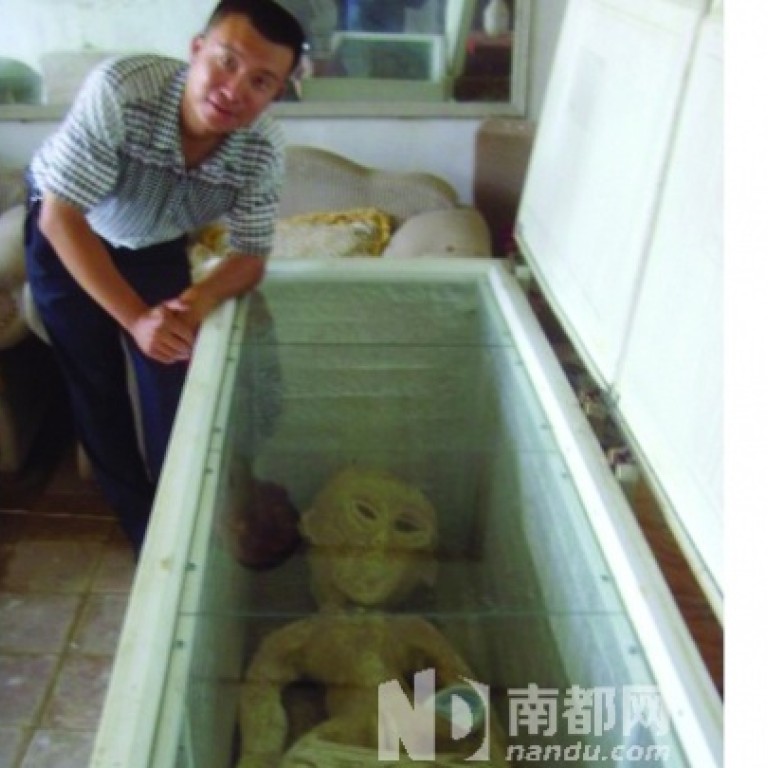 Shandong man admits his 'alien' is fake and made of rubber
A Shandong man who claimed to have electrocuted an alien before storing it in his freezer admitted he had faked the story. Instead he had assembled the extraterrestrial with rubber and wire ropes, 
reported China's Southern Metropolis Daily
 on Tuesday.
The Binzhou local, surnamed Li, said he had run into five aliens on the banks of the Yellow River three months ago. One of them had been killed by a high-voltage electric fence Li had laid to catch wild rabbits, he said.
After Li uploaded photos of the "dead alien" online, his encounter was instantly questioned and ridiculed by thousands of net users. Many others seemed simply entertained by Li's outrageous story and "amateur" alien photos.
Li at that time insisted his story was real, and said DNA tests showed the "alien" did not come from earth. He also claimed police had blocked the news and pressured him to keep quiet. 
Shandong police said on Monday that Li had admitted his story was a hoax after he was called in for an investigation. Li had spent 120 yuan (HK$150) to buy the rubber and other materials from local farmers to make the alien, said police.