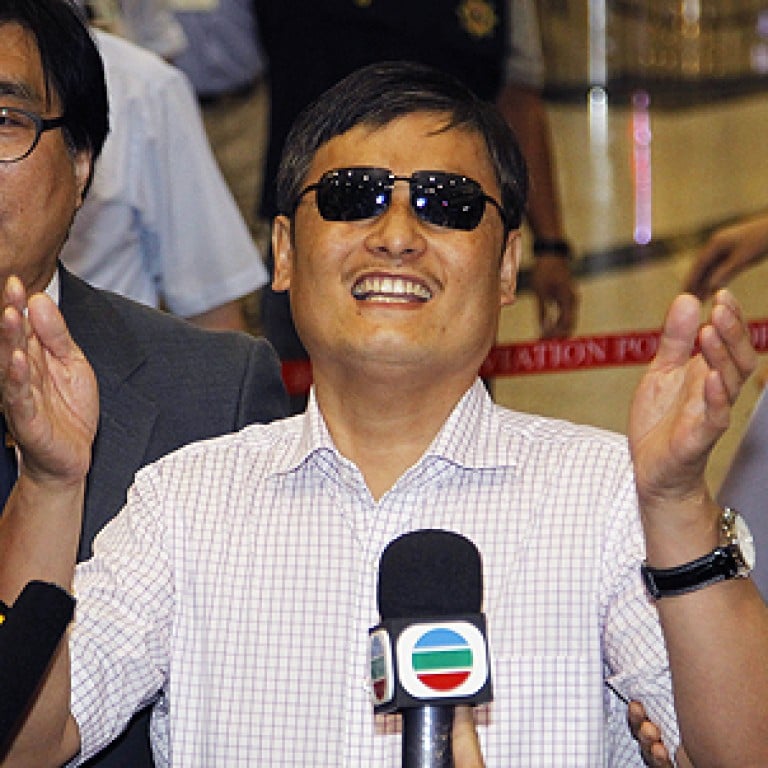 Blind activist Chen Guangcheng arrives in Taiwan on 'human rights trip'
Blind Chinese activist Chen Guangcheng arrived in Taipei on Monday on what organisers called a "trip for freedom and human rights", likely to spark Chinese anger.
Chen flew to the northern Taoyuan airport late on Sunday night from the United States, after New York University announced earlier this month that it would be parting ways with the dissident.
"I'm glad to visit Taiwan," Chen told reporters before being whisked away.
The activist, a self-taught lawyer, claimed that Beijing had applied "unrelenting" pressure on the university to end his study programme, a charge which NYU has strongly denied.
Chen, 41, had been in New York since May last year after he escaped house arrest and fled to the US embassy in Beijing, triggering a brief crisis in relations between China and America.
At least one Taiwanese university has expressed interest in inviting Chen to the island as a visiting scholar, said Yang Sen-hong, chairman of the Association for China Human Rights, which is hosting his high-profile visit.
"It is a trip for freedom and human rights. It is of special significance when Taiwan is engaging China," Yang said of his visit, referring to improving ties between the former rivals.
Relations between Taiwan and China have warmed since 2008, after President Ma Ying-jeou came to power on a platform of beefing up trade and tourism links.
It is not clear if Ma, a mild critic of China's human rights abuses, will meet Chen, risking the China detente he has initiated.
Chen is scheduled to meet the press on Monday, deliver a speech in Taiwan's parliament on Tuesday and meet with human rights and judicial reform groups.
Yang said the authorities have guaranteed blanket security protection during the visit until July 11.
"Citing a tip-off, the security authorities have alerted us that Chinese sympathisers may pose as reporters to divert media attention at the press conferences," Yang said.
The association declined to provide details of Chen's hotel amid security concerns.
Blind since childhood, Chen angered authorities in eastern Shandong province by exposing abuses of the one-child policy.
He was sentenced to four years in prison and later put under house arrest, where he said he and his wife were beaten for speaking out.
Chen will also visit a human rights park outside Taipei, accompanied by former vice-president Annette Lu, and meet opposition Democratic Progressive Party leader Su Tseng-chang, organisers said.