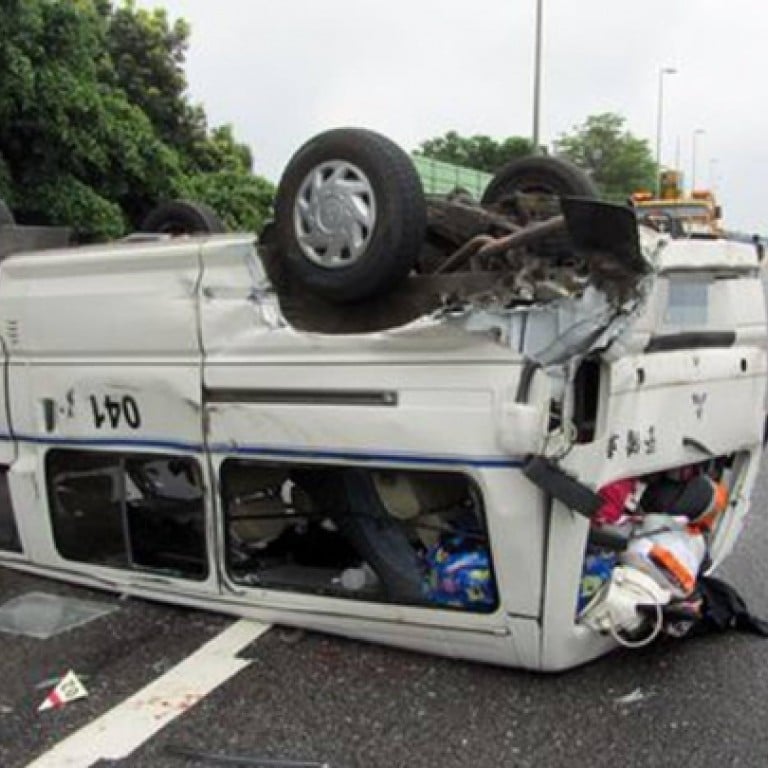 Tough new laws in Taiwan to curb drink-driving
A motorist who has three cans of beer could be jailed for two years; 10 years if causing a death
A Taiwanese driver who drinks three cans of beer and then gets behind the wheel could face two years behind bars, as well as a fine of up to NT$200,000 (HK$51,300), following the introduction of one of Asia's toughest drink-driving laws.
Government workers caught drink-driving will be demoted in ordinary cases or dismissed if the offence results in an accident causing injury or death.
Tougher drink-driving laws in revisions to the island's Criminal Code, which came into effect on June 13 after being passed by the legislature on May 31, say motorists could be jailed for up to two years if breathalyser tests show they have a breath-alcohol content of 25 micrograms per 100 millilitres or higher, or a blood-alcohol reading 0.05 per cent or above.
That amounts to three cans of regular, 5-per-cent alcohol beer or a third of a bottle of red wine with an alcohol concentration of 12 per cent.
Those caught with a breath-alcohol content of between 15 and 24mcg/100ml would be fined up to NT$25,500, transport officials said, with only those who blow less than 15mcg/100ml able to walk free.
Motorists refusing to take breathalyser tests would be forced to take a blood test and be fined NT$90,000. If such a test showed a blood-alcohol content of more than 0.05 per cent, they would be charged and penalised.
"And these apply only to offenders who have not caused any injuries or deaths," said Lin Kuo-hsin, head of the Railways and Highways Supervisory Department.
"For an offence which leads to injury, the violator will be subject to punishment of up to seven years in prison, while those whose offences cause the death of others will be locked behind bars for up to 10 years."
The Criminal Code previously stipulated a maximum sentence of five years for an offence leading to injury and up to seven years for a fatal accident.
Motorists who flee the scene of a traffic accident involving death or injury will face prison terms of up to seven years, two years longer than the previous maximum, Lin said.
The stiffer penalties were brought in following mounting calls for tougher action to tackle drink-driving and the accidents it causes.
Statistics show there were 124,620 drink-driving violations in Taiwan last year, up 11,190 - or 9.8 per cent - compared with 2011. Drink-driving accidents caused 376 deaths last year. Almost every day, TV news broadcasts feature bereaved families crying over the loss of loved ones and offenders kneeling down to beg for forgiveness or shrugging off responsibility.
The trigger for the recent public outcry was the death of a 32-year-old doctor who suffered serious brain damage after being hit by a drunk driver late last month.
Tzeng Yu-tzu was a promising and popular surgeon at the prestigious National Taiwan University Hospital. Her death caused a public uproar over the government's apparent inability to stop the daily carnage on the island's roads.
In the face of mounting criticism, Taiwanese President Ma Ying-jeou demanded last month that the authorities step up a crackdown on drink-driving and find ways to curb such offences. Public outrage also forced the legislature to revise the law, hoping that harsher punishment will discourage drink-driving.
In the first week after the revised law took effect, the police handled 1,956 drink-driving cases, with 1,319 over the limit, and 176 cases in which offenders refused to take breathalyser tests.
"This shows that many people still do not bear in mind the serious consequences of drink-driving, thinking they can get away with it without being caught," said Jack Chang, president of the Taiwan Medical Alliance for Justice and Patients' Safety.
Chang said his alliance was teaming up with several civic groups to form an anti-drink-driving foundation to promote the concept of never driving under the influence of alcohol and to educate people not to drive when intoxicated.
He said there was also a need to change the local drinking culture that encouraged binge drinking as a way of bonding and an expression of masculinity.
In Taiwan, it is common for people to be made to drink three glasses of liquor as punishment for showing up late at a social occasion. And rather than toasting the health of others, male guests must down their drinks in order to appear polite at dinner parties.
This article appeared in the South China Morning Post print edition as: Tough new laws in Taiwan to curb drink-driving