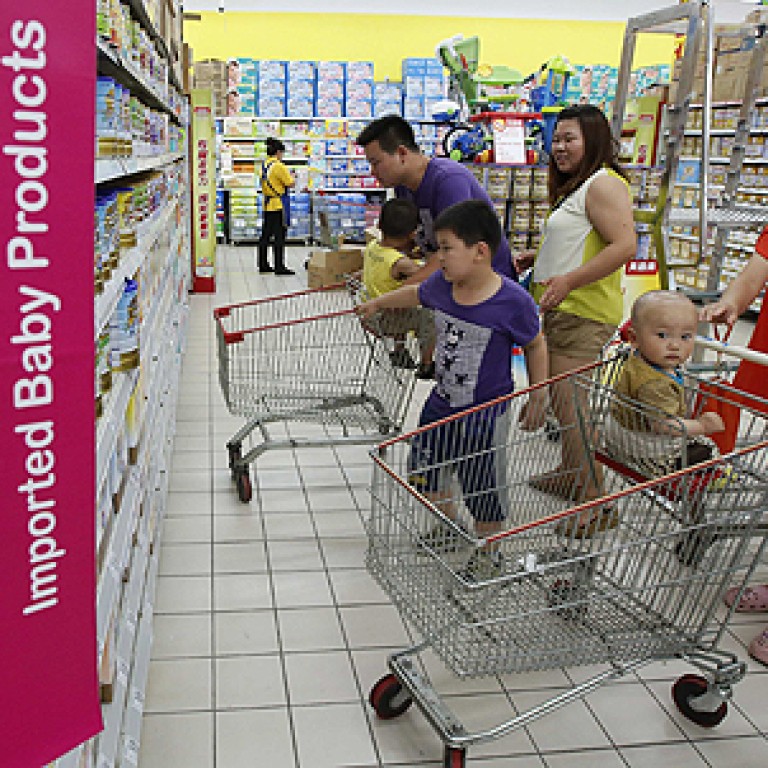 Nestle, Danone to cut Chinese infant milk prices amid probe
Swiss food company Nestle and French rival Danone are cutting the price of infant formula milk in China after Beijing launched an investigation into possible price-fixing and anti-competitive behaviour in the sector.
Wyeth Nutrition, which Nestle bought last year, said on Wednesday it had been co-operating with a probe by China's National Development and Reform Commission (NDRC) and was responding by cutting prices and improving sales and marketing practices.
Danone said in an e-mail that its Dumex business had also been co-operating with the NDRC and was preparing a price-cut proposal whose details would be disclosed later.
Both companies, along with Mead Johnson Nutrition and Abbott Laboratories, said on Tuesday they were being investigated by the NDRC.
Analysts see the probe as possibly part of a broader Chinese plan to boost consumption of local infant milk products. Mothers turned away from Chinese milk powder in 2008 when infant formula tainted with the industrial compound melamine killed at least six babies and made thousands sick with kidney stones.
China has since made efforts to crack down on persistent food safety problems that have included chemical-laced pork and infant milk contaminated with cancer-causing agents.
"Wyeth Nutrition decided to implement a price reduction of key products from July 8 through next year. The average reduction will be at 11 per cent with the biggest single product price reduction at 20 per cent," it said without giving more details.
The company said it would not raise prices on any new products over the next year.
Analysts said the investigation could result in fines and tougher rules governing imports into an infant milk market set to grow to US$25 billion by 2017. The firms could face fines ranging from 1 per cent to 10 per cent of their annual sales, the state-run Xinhua news agency quoted experts as saying.
"It is part of the whole idea of a consolidation process," said Renee Tai, a Hong Kong-based analyst at regional brokerage UOB Kay Hian. "It is pointing the same direction of supporting local producers, making it difficult for importers."
Some Chinese infant formula companies have started forming partnerships with foreign firms to try to boost brand recognition and gain technical know-how.
Foreign brands may also soon have to rely on their Chinese partners if they want greater access to the Chinese market.
The Chinese government has expressed an interest in bringing the supply chain under the control of Chinese firms as part of its goal of reducing the number of local infant formula producers to 10 from more than 200 within two years.
The Ministry of Industry and Information Technology said in June that the integration of the milk powder industry was expected to involve 10 large companies with revenues exceeding 2 billion yuan (HK$2.5 billion) in two years, according to the .
"They have to boost local consumption before they can proceed with the consolidation more smoothly," said one retail analyst at a regional brokerage, who was not authorised to speak to the media.
As part of this consolidation, China Mengniu Dairy signed a second takeover deal in a month in June to buy Carlyle-backed Yashili International in a deal worth about HK$12.5 billion as part of a plan to expand its milk powder business.
Domestic milk powder brands want to appeal to the rapidly growing middle-class, which can afford the pricier baby formulas made by their international rivals.
At supermarkets in big cities like Shanghai, a 900-gram tin of infant formula made by an international firm costs between 175 yuan and 275 yuan, compared to about 100 yuan for domestic milk powder in lower-tier cities in China.
Milk producers boasting foreign ingredients have raised prices to the same range as global brands in an effort to distinguish themselves from the local crowd.
On Wednesday, China's official Communist Party mouthpiece, the , said foreign and local players were equal before the law but foreign brands should not raise prices often without regard to the law and abuse their competitive advantage.
"From 2008, some foreign milk powder brands have increased their prices by up to 30 per cent, nearly double that of local milk powder brands," an editorial said, adding if local brands raised standards and won trust, they could replace foreign brands as the favourites.
Internet commentators on China's Sina Weibo were not so sure. "This is practically forcing Chinese children to drink locally made milk," said one Weibo user. "It's really shameful that we can't produce good milk and now we are preventing others from selling it."
But analysts said it would be surprising if the major brands took a hit on market share.
"It is hard to believe that domestic challengers are going to take over from Danone and Nestle in the next couple of years," Kepler Cheuvreux analyst Jon Cox said. "That is some time away because the issue is that consumers don't trust the product rather than the absence of local competitors," he said.