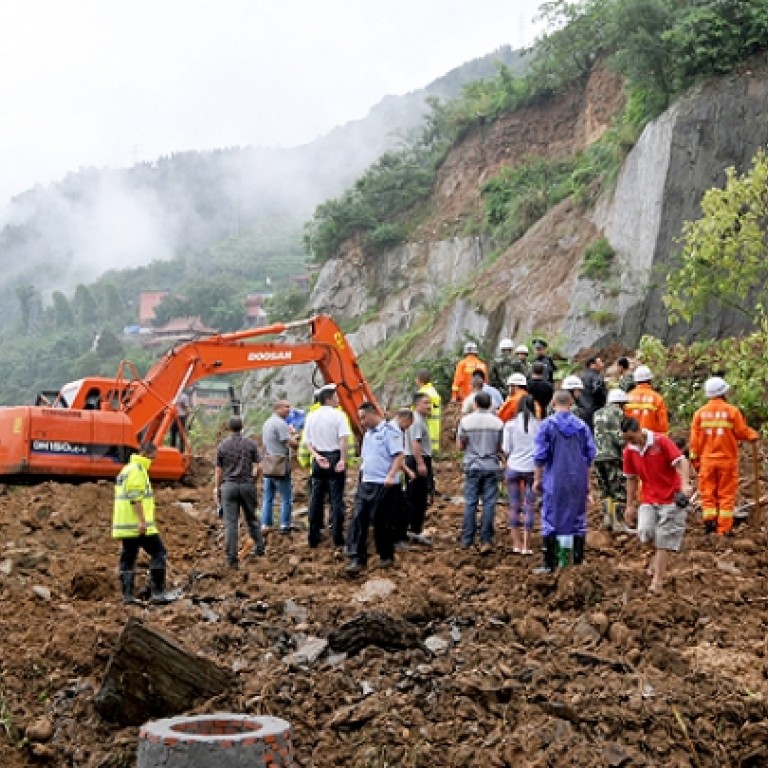 Two killed, 21 missing in Sichuan landslides
Worst rain for up to a century devastates infrastructure and towns still reeling from two major earthquakes
Landslides killed two and left 21 missing in a mountain village yesterday in Dujiangyan, Sichuan, as torrential rains struck another blow to parts of the western province still reeling from two devastating earthquakes in the past five years.
Eleven homes were buried under torrents of mud and rock triggered by strong rainfall in the tourist city's Zhongxing township, Xinhua reported.
The two victims were identified as a tourist and a local villager, Dujiangyan government said.
Rescue efforts were hampered by the continuous rain in the city, which was extensively damaged in the 2008 Wenchuan earthquake.
Two other villages were cut off by the landslide and residents could not be contacted, the news portal reported.
Elsewhere, the original Beichuan county government seat, which was left ruined and abandoned after the 2008 quake, has seen its heaviest rainfall in 50 years since Monday.
Many places were inundated by water, including a cemetery with remains of quake victims. And rain continued battering mountainous areas of the county yesterday, seriously damaging communications, the provincial government's publicity department said via microblog.
Food shortages were expected within three or four days in some townships in Beichuan, the government added.
Jiulong village, near the landslide, was seeing its heaviest rainfall in a century, according to Long Bo, who works for the village committee.
More than 10 households, located far from most homes in the village, had been affected by flooding, he said.
"After the 2008 earthquake, 50 to 60 per cent of the families in our village were relocated together, but a dozen families didn't because their homes were only slightly damaged," he said.
"Those people were worst hit by the rain this time."
The provincial civil affairs bureau said in a statement on its website that, by yesterday morning, more than 900,000 people from 40 counties had been affected, and put direct economic losses at nearly 2.6 billion yuan (HK$3.7 billion).
Rescuers in Jiangyou city were still searching for 12 people after six vehicles plunged into raging water when a bridge collapsed in Qinglian township. The bridge had reportedly been reinforced just a month ago.
In Shifang city, five people were missing and 36 others were trapped after landslides hit a phosphorus mine,
Newssc.org
reported, citing local authorities.
The Dujiangyan-Wenchuan Expressway was closed after a bridge near a tunnel collapsed. Several other major roads in the province were closed, the news portal said.
About 100 flights were cancelled or delayed at Chengdu's Shuangliu International Airport, delaying 17,000 passengers.
The Sichuan meteorological bureau expects the rain to start easing from tomorrow.
This article appeared in the South China Morning Post print edition as: Two killed, 21 missing in Sichuan landslides