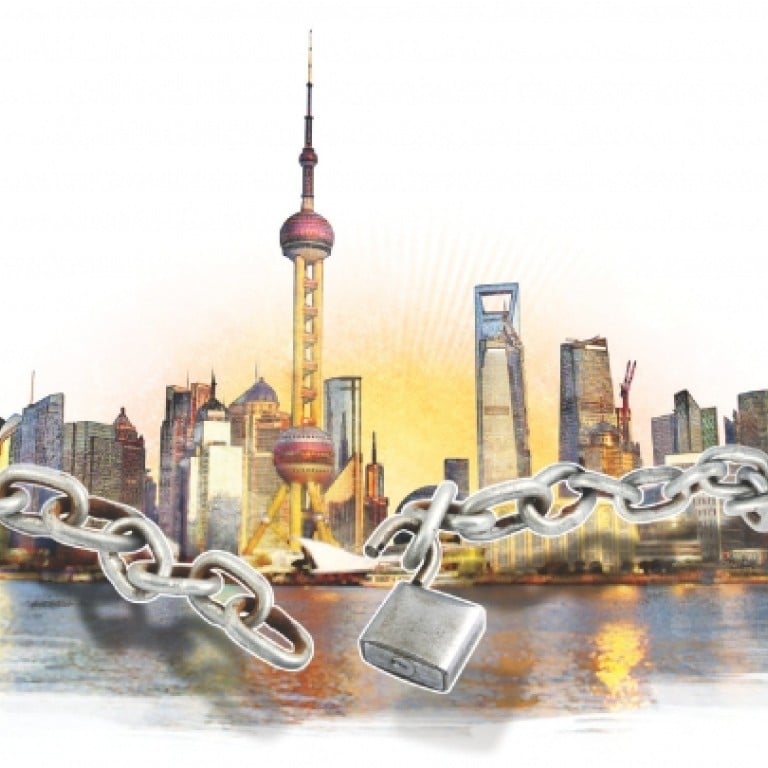 Exclusive
Exclusive: Li Keqiang fought strong opposition for Shanghai free-trade zone plan
Premier Li Keqiang fought open opposition from financial regulators in his bid to push through a landmark plan for a free-trade zone in Shanghai. It is the clearest sign yet that the nation's new leadership is determined to deliver long-delayed economic reforms.
Financial industry regulators, including the China Banking Regulatory Commission (CBRC) and China Securities Regulatory Commission (CSRC), openly disagreed with Li's plan to open Shanghai's financial services sector to foreign investors.
Three sources with first-hand knowledge of high-level government meetings told the that Li lost his temper at one closed-door cabinet session. When told of the continuing opposition to his plans, he slammed his fist on the table in frustration.
The sources insisted on anonymity due to the sensitive nature of their disclosures.
"The feedback opinions are not acceptable," say the minutes from Li's office, summarising his response to a CSRC objection in one meeting.
Behind-the-scenes debates inside party headquarters in Zhongnanhai over the Shanghai plan reflect the intense difficulties the new leadership faces in its bid to reform the nation's economic structure.
The sources, who reviewed internal cabinet meeting minutes, said disagreements over new policies were not uncommon among ministries. But it was rare for regulators to team up and fight a premier - China's second most powerful man after the president.
"He has had to fight a lot on this," said one of the sources. "You know Chinese officials. Rule number one: they don't want to lose face. So Li Keqiang is now definitely very keen to make the Shanghai plan a major achievement for his follow-up economic reforms. He will gain political capital for doing this."
Many external analysts believe Beijing's new leadership is anxious to restart a programme of economic reforms considered to have stalled under former president Hu Jintao and ex-premier Wen Jiabao .
Some have argued that President Xi Jinping and Premier Li must deliver on economic reform or risk seeing three decades of rising prosperity slip into reverse, sowing the seeds of social discontent that could cause the party to lose its grip on power.
But those reforms are not without their own challenges. They will throw long-protected areas of the economy directly into the path of efficient global competitors.
The new Shanghai free-trade zone plan, officially announced at the beginning of July, is expected to be the testing ground for major policy reforms. It would promote cross-border commodity and capital flows, with key experiments in freeing foreign exchange markets and liberalising domestic interest rates.
"The Shanghai free-trade zone is like Li's baby," said a government source familiar with the situation. "Perhaps to your surprise, the Shanghai city government didn't lobby the central government too much. It was Li who was very keen to get this done quickly after his trip to Shanghai."
After Li's trip to Shanghai in late March, his first domestic trip after taking office, he began to float the idea of a free-trade zone to Shanghai officials, who felt "overwhelmingly flattered" said another government source.
Li also asked Shanghai officials to provide him a list of the policy changes that the local government believed it would need to attract foreign investments. Dozens of policy initiatives were soon submitted to Li's office.
Within two months, Li made an initial proposal covering 21 initiatives, whose details were not officially announced. These included shortcuts for foreign banks to set up subsidiary or joint venture operations and special permission for foreign commodities exchanges to own warehouses in the free-trade zone in Shanghai,
the learned from the sources
.
But Li did not expect such fierce opposition from subordinates. For example, Li's proposal called for allowing foreign commodities exchanges to set up their own futures delivery warehouses in the free-trade zone. But the mainland's securities regulator did not support the idea, according to government documents seen by the .
"At present, the conditions for foreign commodities exchanges to set up futures delivery warehouses in China are not yet well established. The CSRC suggests relevant … information should be taken out of the proposal," the CSRC said in its feedback report on the Shanghai proposal to Li's office, the government documents show.
Li's office fought back strongly.
"Setting up futures delivery warehouses in the Shanghai free-trade zone can replace the functions of those warehouses in South Korea's Busan and Singapore to a very large extent, and the plan can also reduce the trading costs of Chinese enterprises," said a memo sent from his office in reply.
"Commodities trading in the Shanghai free-trade zone will still be considered offshore [trading], so to set up futures delivery warehouses within the zone will not have an impact on domestic futures trading, delivery and pricing system, and it should not have any negative impact on the stability of domestic financial markets," said Li's office in its official reply to the CSRC.
In another case, Li proposed to allow all domestic banks, if they meet certain capital requirements and have operations within the free-trade zone, to provide offshore banking services. In a feedback report to Li's office, the CBRC said it "disagreed with putting this suggestion in the proposal as one of the new 'opening-up' measures," according to government documents seen by the . But the CBRC added: "Shanghai Pudong Development Bank, which already has offshore banking certification for a trial business, can be an exception."
Again, Li fought back against the CBRC's concerns.
"The Shanghai free-trade zone is a proving ground for commercial banks to explore how they can manage the risks of offshore banking and then build up a system. Offshore banking will have a very small impact on onshore financial markets and the risks can be kept under control."
In the meantime, other mainland cities, facing unemployment and slower growth, are also keen to follow Shanghai's move to lure foreign capital. But Li is not understood to be interested in rushing to copy the Shanghai model for other mainland cities.
For a related Mr. Shangkong column, please read here.
This article appeared in the South China Morning Post print edition as: Li made to fight for Shanghai plan