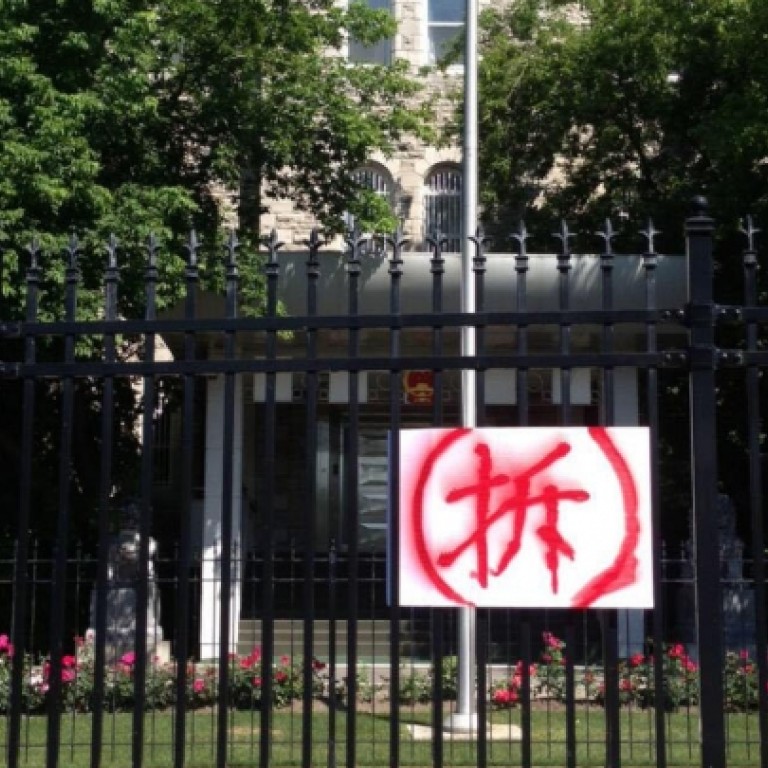 Land rights campaigners strike at second embassy
After protest in Washington, China's mission in Canada is targeted, with 'chai' character displayed on gates in battle over seizures and evictions
The Chinese embassy in Canada has become the second mission targeted with graffiti as part of a protest campaign by a US-based land rights group.
The Washington-based Sparrow Initiative confirmed yesterday its members were responsible for fixing a board with the Chinese character - meaning demolish or dismantle - to the gates of the embassy in Ottawa on Sunday.
The group also claimed responsibility for similar marks spray-painted on the gates of the Chinese embassy in Washington last week, a protest that coincided with high-level Sino-US economic talks.
The group's founder, Yang Jianli, also president of Initiatives for China, told the the actions were intended as part of a month-long campaign against land grabs and forced evictions on the mainland.
The character is a familiar sight across the mainland, where it is sprayed onto buildings marked for demolition often as part of forced evictions.
"We have to do everything possible in a peaceful way to gain support and the most visible symbol is ," Yang said.
"Eventually we will extend the meaning of the character to mean 'demolish this dictatorship'," Yang added
A person who answered the phone at the Chinese embassy in Ottawa last night confirmed that the sign had been taken down. An embassy spokesman could not be reached for comment. The mark on the Washington embassy was quickly removed after it was found on Thursday. But pictures quickly circulated around Weibo, being shared more than 200,000 times.
Emboldened by their success, the group is planning to target more embassies.
Two Chinese women now living in the United States, Ma Yongtian and Wang Xuezheng, told the that they put the marks on the embassy in Washington because they wanted to call attention to the plight of ordinary Chinese citizens.
"I hope the international media can reveal this illegal practice in China to the world," Wang said. "I hope the Chinese government can pay attention to this issue because the Chinese people just want to survive." Ma said she was forced from her home in Jilin without compensation in 2001.
She moved to the US in February because she felt she "had no hope" in China after years of petitioning the government.
Land seizures and forced resettlements have long been a major grievance on the mainland, with more than 4 million rural Chinese removed from their land each year, according to a study last year by Landesa, Renmin University and the Michigan State University.
Land conflicts caused at least 65 per cent of the 180,000 mass protests on the mainland annually, the study found.
New York-based Wen Yunchao, who was among the first to share the picture of the graffiti at the Canadian embassy on Twitter, urged internet users to join the campaign and even posted a template to assist them.
This article appeared in the South China Morning Post print edition as: Land rights campaigners strike at second embassy