Apple
Get more with myNEWS
A personalised news feed of stories that matter to you
Learn more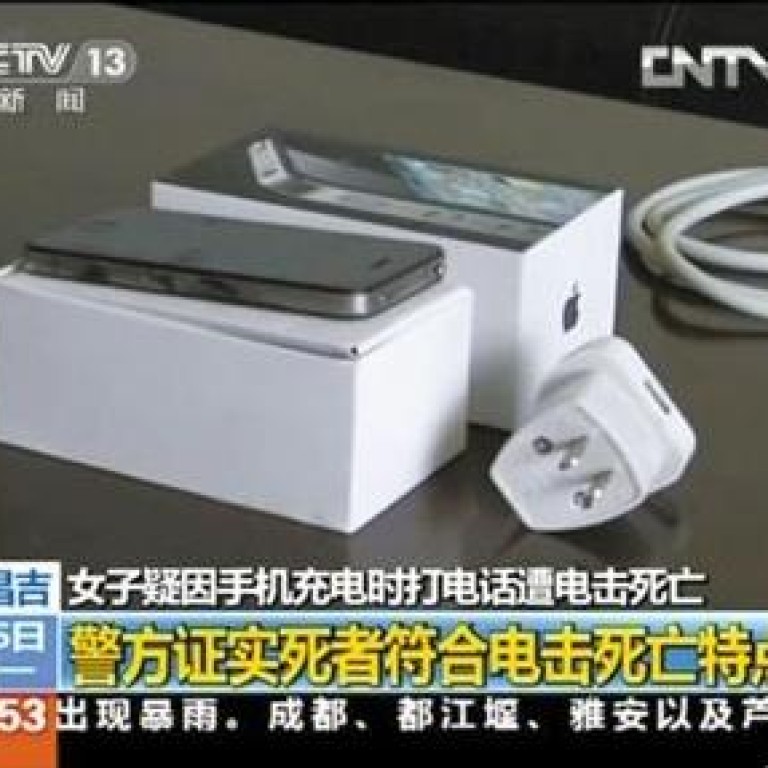 'Fake' iPhone charger cited in electrocution death probe
New details reveal victim may have been using an unauthorised charger for her iPhone 4
A woman killed by an electric shock while using her iPhone may have been using a non-Apple-made battery charger at the time of her death, Chinese state media reported.
The victim, 23-year-old Ma Ailun, had been using what appeared to be an unauthorised iPhone 4 charger, CCTV
reported
on Tuesday. According to Xiang Ligang, a telecommunications expert interviewed by CCTV, the charger Ma had been using may have been a "knockoff"' - a fake. 
"Knockoff chargers sometimes cut corners," Xiang said. "The quality of the capacitor and circuit protector may not be good, and this may lead to the capacitor breaking down and sending 220 volts of electricity directly into the cell phone battery."
Ma, a flight attendant with China Southern Airlines, had been charging her iPhone 4 on July 11 in her home in Xinjiang. She had been electrocuted after picking it up to answer a call. Earlier reports had said she had been using an iPhone 5 at the time, but CCTV investigations confirmed that the exterior of the device was a stainless steel iPhone 4 - not the aluminum iPhone 5.
Another possibility was the charger had been intended for use in Hong Kong, Taiwan or Japan, Xiang said.
"Hong Kong, Taiwan and Japan all use an electrical voltage of 110 volts," Xiang said. "Mainland China uses 220 volts. If the charger was made to accommodate only 110 volts, then it's possible it may have broken down and [overloaded.]"
Xiang's comments are not entirely accurate - Hong Kong has a standard electrical voltage of 220, although 120 voltage outlets are found in some hotels. Japan has a standard voltage of 100 volts. 
Xiang said that normally, the electric current from an overloaded charger would overheat the phone's casing, damaging the circuits inside and rendering the device unusable. In the case of Ma's iPhone 4, however, authorities said the phone could still be started normally despite severe traces of burning on its exterior. The phone's data cable, charger, and plug were all intact.
A police investigation is underway. A spokeswoman for Apple said the company was "deeply saddened to learn of this tragic incident and…will fully investigate and co-operate with authorities in this matter".
This article appeared in the South China Morning Post print edition as: 'Fake' charger cited in death probe