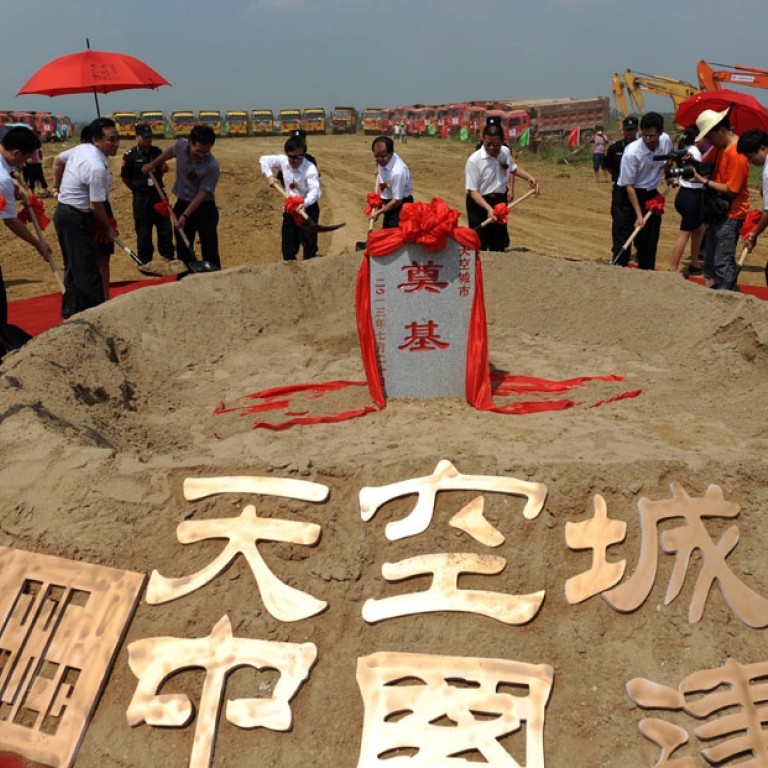 Changsha skyscraper faces brickbats and praise as safety concerns raised
Critic points to fire and earthquake risks; developer insists building has passed tests
A groundbreaking ceremony on Saturday for the world's tallest building in Changsha was greeted with praise from some mainland architects - and brickbats from others.
Some held serious safety concerns about the skyscraper, but others hailed it as a revolutionary work of prefabricated urban landscape.
The more than 200-storey structure will tower 838 metres above the Hunan provincial capital and be made entirely of factory-made modules that will be assembled by workers in seven months.
Yin Zhi , a professor of architecture at Tsinghua University and a senior adviser to the central government on urban planning, said that while "prefab" houses were common, a prefab skyscraper was "insane".
His biggest worry was safety. "What about wind? Or earthquakes? Or a fire?" he asked.
Broad Group, the developer, has been tight-lipped about the building, saying its structure was a trade secret, Yin said.
"This is strange," he said. "Buildings on such a scale always welcome peers to inspect the structure. But most people in the architecture community know nothing about this project."
Broad released a 15-page presentation of the project on Saturday, saying that the building's structure had been tested in three wind tunnels on the mainland.
Video: Advertisement for Changsha's Sky City
The project also passed a seismic engineering review by a central government committee with hundreds of tests showing its all-steel structure could withstand up to magnitude 9.0 earthquakes, according to the presentation.
But Yin said even if the building could stand those forces of nature, it could still not guarantee the safety of its occupants.
The building will have 30,000 occupants, including more than 4,000 families.
"China's best fire-fighting equipment and technology can do nothing for a fire above the 70th floor," Yin said.
"This project is a gamble. If it succeeds then it might become a landmark building. But if anything goes wrong, occupants will be in danger.
"This project is the child of hot-headed government officials and technological geeks."
Broad Group's weekend statement did not include information on safety issues such as fire.
But others were more opt- imistic. Jiang Yong , another architecture professor at Tsinghua University who specialises in building structures, said Broad had been in the prefab industry for years and knew what it was doing.
"From a technological point of view it should be no problem," he said.
Jiang's major concern was cost. He said large prefab buildings faced resistance because steel was considerably more expensive than concrete and customers were unwilling to pay the high price.
Sky City cost about nine billion yuan (HK$11.3 billion), Broad said. However, the developer revealed little about how the project would be financed. Jiang said nevertheless that the project would reshape city landscapes if it was a success.
This article appeared in the South China Morning Post print edition as: Safety worries over world's tallest building