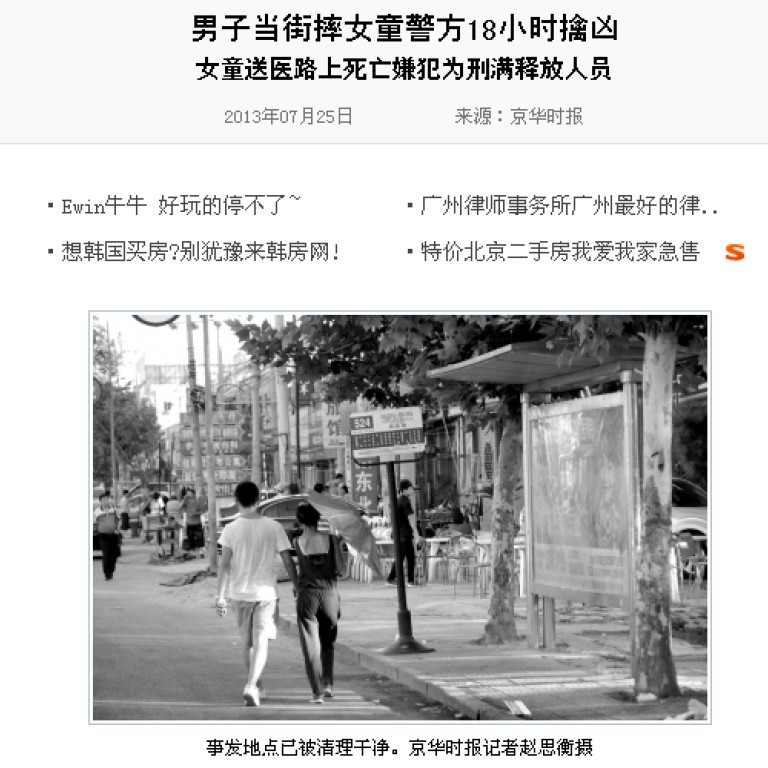 Update

|
Beijing man kills two-year-old girl following dispute over parking
A 41-year-old man, identified by police as an ex-convict surnamed Han, was seen snatching the baby from her stroller and dropping it on the pavement after arguing with her mother on Tuesday evening in a parking dispute on a street in Beijing's Daxing district,
Beijing Times reported on Thursday.
Han had been sitting in the front passenger seat of a white sedan driven by a male companion. They intended to park the car near a bus stop where the woman had stopped to check on her daughter, said the report. Han gestured for her to move, but the woman refused. Enraged, Han got out of his car and physically attacked the woman, said a witness and nearby business owner, surnamed Zhou.
"He then took the baby from its stroller and smashed it to the ground with great force," Zhou said.
A man, who had been driving the car Han had been seen in, then got out and attacked the woman, Zhou added.
The two men returned to their car and drove away. The mother, traumatised by the attack, wept and then carried the baby to a nearby hospital, which referred her to another hospital to treat the child's severe injuries.
Some newspapers said the baby died in an ambulance while travelling to the second hospital.
The suspect was arrested 18 hours later in a suburban spa club. He had been released earlier this year after serving a jail term for theft, according to Beijing police.
The news of the savage attack triggered tens of thousands of angry comments online on Thursday. 
"This man should get the death sentence for this," many wrote.
"What's wrong with our country? Where's humanity?" others asked.
Despite earlier media reports that the baby girl was confirmed dead,
Beijing News
reported on Thursday that it was still alive and being treated in an intensive care unit in a hospital in Beijing on Thursday afternoon. 
Tiantan Hospital, where the baby was sent to, could not be reached for a comment.
Update 
Tiantan hospital confirmed that the baby girl died on Thursday evening, reported Chinese media on Friday.