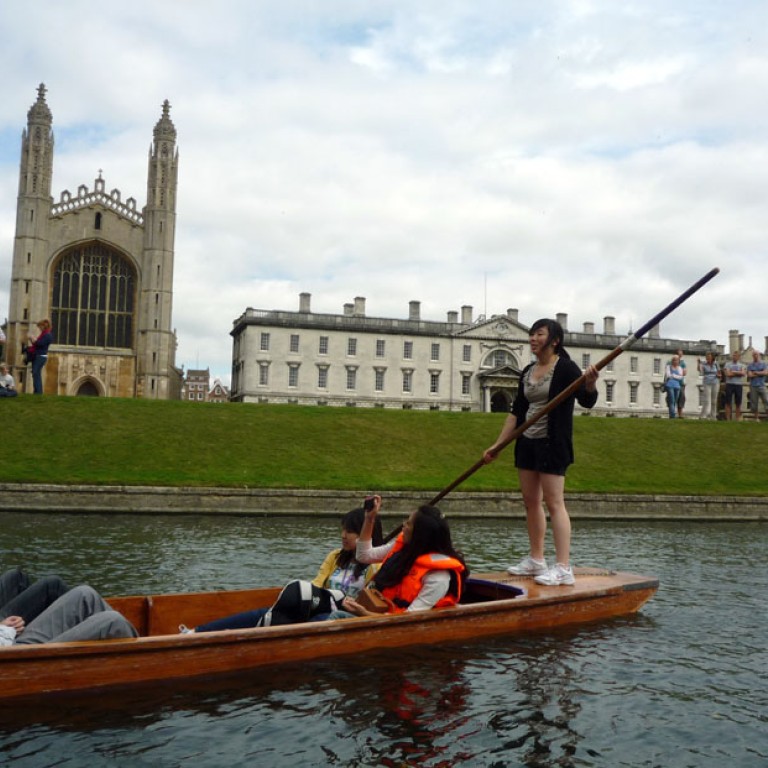 Chinese students targeted for British university growth
British government sets sights on Chinese students to reach its target over next five years
The British government has launched an ambitious drive to expand the number of foreign students going to British universities by 20 per cent in the next five years, with China being one of the targeted growth markets.
It aims to attract 90,000 extra international students to Britain before 2018 and secure contracts with overseas institutions worth £3 billion (HK$35.6 billion) by 2020.
Under the international education strategy launched on Monday, Britain will also double investment in partnerships with universities in developing countries and expand the Chevening scholarship scheme.
Last year, 10 students from Hong Kong and 89 from mainland China received scholarships to study in the UK under the British government's global scholarship scheme.
International students contributed £6.3 billion in living expenses and £3.9 billion in tuition fees to the UK economy last year . Undergraduate and postgraduate students from outside the EU need to pay twice as much for courses as home students. Income from students outside Britain and Europe now accounts for almost 10 per cent of universities' total funding.
British education exports were worth an estimated £17.5 billion in 2011. The global education sector was valued at US$4.45 trillion last year and is expected to grow by 7 per cent a year up to 2017.
"Overseas students make a huge contribution to Britain ... that is why there is no cap on the number of legitimate students who can study here," Britain's business secretary, Vince Cable, said. "Thanks to our world-class universities, our network of UK alumni who are now in positions of influence around the world is impressive, opening doors that would not otherwise be possible."
Eric Thomas, vice-chancellor of the University of Bristol, was appointed UK Education Champion to lead the export drive and chair a new International Education Council that will co-ordinate institutions taking part.
China is identified as one of the key target markets in the report, together with India, the United States, Brazil, Mexico, Indonesia, Turkey, South Korea and Russia.
Chinese students account for about 15 per cent of non-EU students in Britain, according to Chinese government figures. Last year, more than 65,000 Chinese students applied to study in the UK.
Britain also remains the most popular destination for Hong Kong students going abroad. According to the latest figures from the Universities and Colleges Admissions Service, more than 6,400 Hong Kong students applied for universities in Britain last year, representing a 36 per cent increase. And Hong Kong is among the fastest-growing markets for schools in Britain.
This article appeared in the South China Morning Post print edition as: Chinese students targeted for UK university growth