Focus
Get more with myNEWS
A personalised news feed of stories that matter to you
Learn more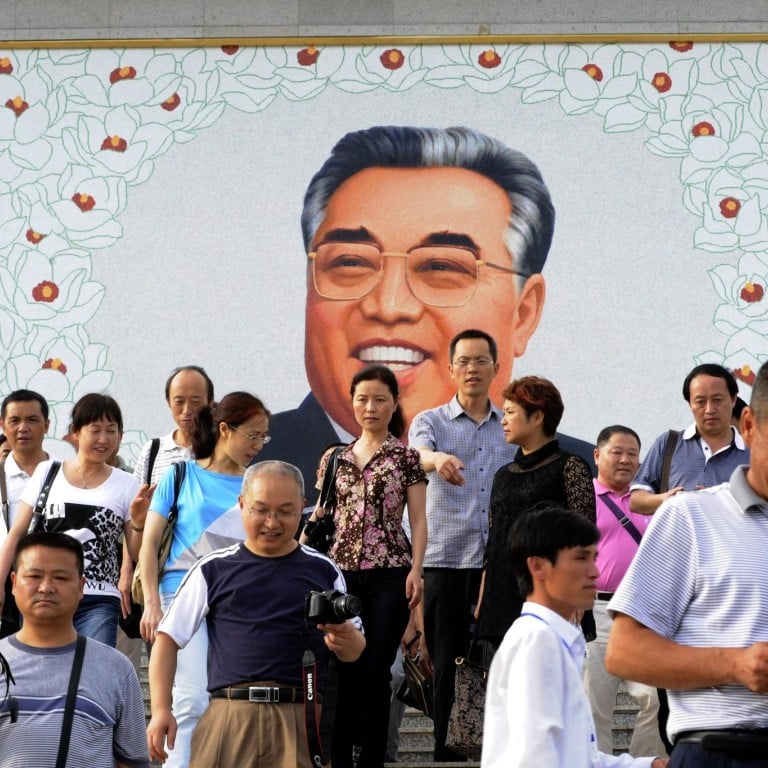 How North Korea is coping with uncouth tourists from China
North Korea's tourism workers may look down on their boorish northern visitors but they also appreciate their big-spending ways
When hordes of Chinese tourists descend on Pyongyang, there's a mixed reaction from North Korea's tourism workers: they are pleased their No 1 visitors will be splurging on everything from souvenirs to casinos, but then there's a furtive sigh of: "Here we go again."
Bad behaviour by mainland Chinese tourists in Hong Kong to Egypt, Paris to the Maldives, is well documented. But breaches of etiquette in the notoriously strict Democratic People's Republic of Korea are sometimes more obtuse.
Simon Cockerell, of Koryo Tours, which specialises in travel to the reclusive socialist state, cites as an example mainland tourists throwing sweets at North Korean children "like they're feeding ducks". "The North Koreans think that's undignified and offensive," he says.
In another faux pas: "If mainland tourists go to a school performance, they don't have any qualms about rushing to the stage and picking up a child for photos."
Cockerell says such behaviour highlights the need for what the Chinese National Tourism Administration calls an "improved degree and level of civilised behaviour" by its tourists.
Gareth Johnson, founder of Young Pioneer Tours, has encountered many mainland tour groups during the more than 40 visits he has made to North Korea while escorting young and Western budget travellers.
He describes a "stereotypical" mainland tour group: "A hundred people following a flag, all wearing caps and just being bussed about, largely to gift stores."
"And they don't really know anything about the country," says Johnson, even though the two countries are neighbours and allies, and many mainland visitors have "grown up in a similar political system".
Says Cockerell: "The mainlanders are just more forward… they just tend to be a lot louder." When faced with the reserved and conservative North Koreans, it can result in a "clash of behavioural styles".
All this is minor, of course, compared with those who break away from a tour group and go poking about Pyongyang or distribute religious literature to locals, as a minority of Western visitors have done. Such behaviour has grave consequences not only for the tourist but for tour guides and agencies.
Johnson says when people ask sensitive questions - short of speaking ill of the regime - "the worst thing that can happen is that the Koreans feel uncomfortable and stop talking. To get into big trouble, you've got to be quite stupid".
"It doesn't really annoy the North Koreans, but I think it gets them down a bit," Cockerell says. "Chinese people in general are perhaps more willing to voice their opinions on something without really thinking through how it will be taken by their hosts.
"Most Western travellers at least are aware of the sensitivities there and are probably less quick to offend their hosts. Most of the tour guides I know, they joke about Chinese tour groups' behaviour. But it doesn't matter as they've seen it all before."
But Cockerell says it has had a bearing on the level of access afforded to Chinese tour groups. He says only select Chinese can go to Mount Paektu, known for its volcanic lake and as the birthplace of late leader Kim Jong-il, while the mausoleum of Kim and his father, Kim Il-sung, are absent from their itineraries.
Conversely, there are places long accessible to the Chinese that have only recently been opened to other tourists, such as the border city of Sinuiju.
Like in any other country, cultural misunderstandings are a natural consequence of letting more tourists into one's country, according to Johnson and Cockerell.
Tourism has boomed since Beijing approved North Korea as a destination for its citizens in June 2008, and a memorandum of understanding was signed in October 2009.
Visitors had already been allowed special permits and tour agencies were already bringing tourists, but China-North Korean tourism officially began in earnest in April 2010.
That month, more than 400 people rode on the first Chinese tourist train to enter North Korea for a four-day tour.
The Chinese tourism office says 237,400 Chinese travelled to North Korea last year, 22.5 per cent more than in 2011, but a North Korean tourism official has claimed as many as 700,000 came in 2010-11.
North Korean's disdain for some of the behaviour of their northern visitors might be part of an underlying resentment, according to Barbara Demick, Beijing bureau chief of and author of the seminal book on North Korean life
"[North Koreans] always thought of themselves as richer than the Chinese or having a purer brand of socialism, and they are now very jealous of China's wealth," she says.
"I don't see tensions, but I would think that the Chinese are even less popular as individuals than the Americans. I think because the Chinese are close by, while the Americans are abstract - they're far away and there's a lot of propaganda about them."
While Chinese tourists' "misbehaviour" might not be causing too many headaches in North Korea, cultural sensitivity is an issue that Beijing is seeking to address.
"With the rapid growth of China's outbound tourists, a few who are travelling abroad have shown uncivilised behaviour and language, which had an impact on the country's international image," the Chinese National Tourism Administration says.
The administration, with the help of the Foreign Ministry, has launched awareness and education campaigns that promote, among other things, "civilised tourism and rational consumption".
There is limited data on what percentage of North Korea's economy is propped up by tourism. But there is no doubt it is having a positive impact on infrastructure in border cities and supports jobs elsewhere in the country where there are very few other opportunities to make money.
So until every Chinese abroad is on their best behaviour, North Koreans will continue to grin and bear it.
"Mostly, the reaction from North Koreans is a sort of roll of the eyeballs and a 'What can I do?' shrug," says Cockerell.
This article appeared in the South China Morning Post print edition as: Coping with uncouth neighbours