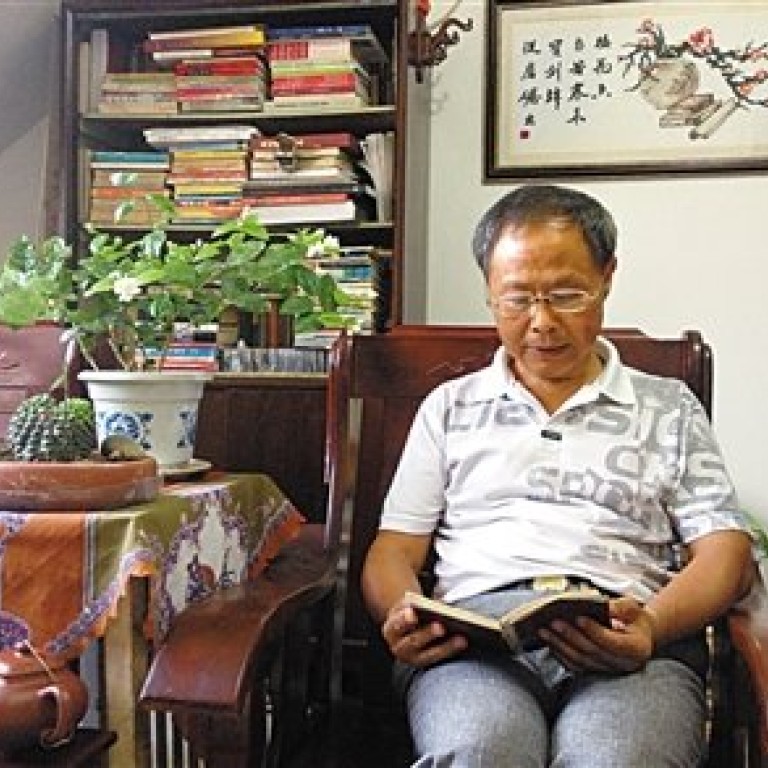 Former Red Guard regrets causing mother's death during Cultural Revolution
Zhang Hongbing accused his mother of counter-revolutionary talk
A former Red Guard is seeking repentance for accusing his mother of being a "counter-revolutionary" during the Cultural Revolution - an act that led to her execution.
Zhang Hongbing is a 60-year-old lawyer from Anhui province and a far cry from the young boy who accused his mother of anti-Maoist comments 46 years ago. Two months after the accusation, his mother was executed by firing squad, and Zhang has lived a life of regret ever since.
"I will never be able to forgive myself," Zhang said in a recent
interview
with
The Beijing News
.
Originally a member of the Red Guard, a social movement of young people organised during the Cultural Revolution, Zhang denounced his mother in 1970 after she criticised Mao Zedong's policies, burned a picture of the Chinese leader and expressed support for Liu Shaoqi, former Chinese head of state and one of Mao's political rivals. He was 16 at the time.
"I was shocked that the very image of her in my mind completely changed," Zhang said. "In my eyes, she was no longer my mother, but an enemy."
In a note that Zhang delivered to his fellow Red Guards, Zhang used his mother's full name, Fang Zhongmou, and wrote that she should be "executed" along with all other counter-revolutionaries. At the time, he felt confident in his actions and was even supported by his father. Now, however, a remorseful Zhang admits that the Cultural Revolution mindset of the era, which encouraged young people to denounce potential Communist Party traitors, completely influenced his thinking.
"At that time, my mind was a mess," Zhang told The Beijing News. "I did not regret my actions but felt only that…I must stand firm [in my decision]… In that era, we had all been coerced into an atmosphere where we could not run even if we wanted to."
According to Zhang's recollections, military representatives arrived at his house two months after he sent the letter. His mother was kicked to the floor and tied up like a "bundle of dumplings," and then taken away for trial. She was executed soon afterwards – a fate suffered by many accused of political dissent during the Cultural Revolution.
Zhang said that he felt remorse after his mother died, but still believed that he had done the right thing. His feelings slowly began to change as the years passed, however, particularly when his dreams of serving as a soldier or party factory worker failed to come to fruition. In 1976, after the death of Mao, the end of the Cultural Revolution and the dismantling of the "Gang of Four," a political faction made of several leading Communist Party officials, Zhang's decision to expose his mother increasingly came back to haunt him. He began to develop signs of depression.
"There were many times when I saw her in my dreams," Zhang said. "I would kneel on the floor, holding her hand tightly…apologising for [what I'd done]… But she never answered me… For many years, I could not help but shed tears…and howl [at night]."
Making matters worse, Anhui district courts re-evaluated the case of Zhang's mother in 1980 and made a re-trial verdict, determining that she should not have been executed and their original judgment in the matter had been completely wrong. The experience made Zhang begin to "curse himself in his heart."
After searching for a way to make amends, Zhang was influenced by the writings of Chinese author Ba Jin, who proposed building a Cultural Revolution museum to inform future generations of the atrocities that occurred during the period. Inspired by these ideas, Zhang has repeatedly
petitioned
the government since September 2011 to have his mother's burial site declared a historical relic. Anhui courts refused to acknowledge his wishes, and concluded that the burial site "did not meet the standards for classification as a historical area."
Despite repeated failures, however, Zhang hopes the courts will one day acknowledge his mother's resting place. He also says that the tragedies in China's history should never be forgotten.
"I was one of the murderers of the Cultural Revolution," he said. "People should look down on me and scold me. I should be their negative example…[and] I hope that through my reflections, people will understand what the situation was like back then."