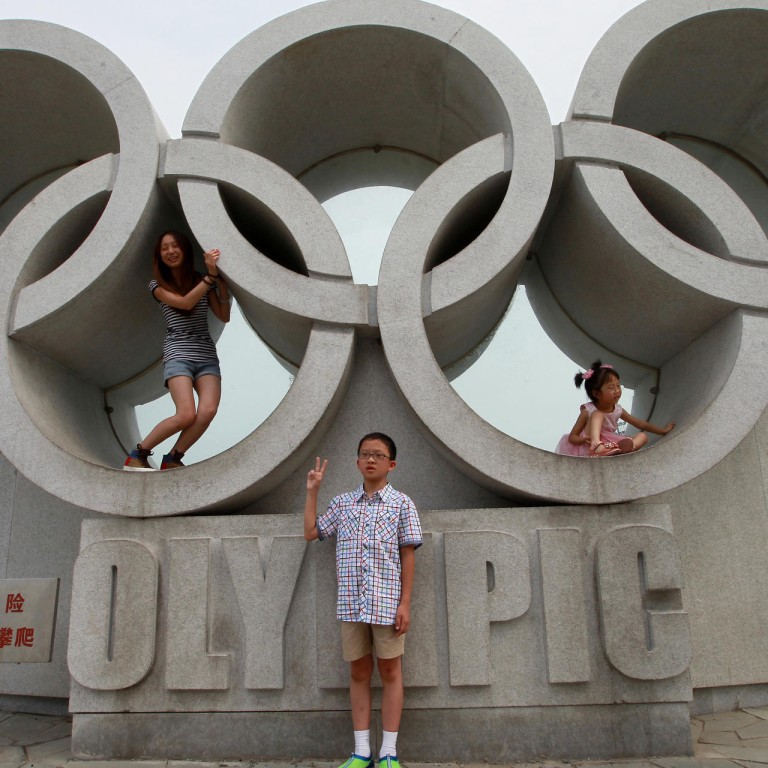 Pollution-free days of Beijing Olympics now just a happy memory
The sunny days of August 2008 are just a happy memory. Five years on, face masks are a regular sight in the capital to battle an 'airpocalypse'
Three days ahead of the 2008 Olympic opening ceremony, several US cyclists arrived at Beijing Capital International Airport wearing black face masks to protect themselves from pollution - and immediately put the issue of the city's toxic air in the spotlight.
They wore the masks for just a few moments - but the pictures lasted much longer and embarrassed a government desperately struggling to fulfil its promise to clean up the city's notorious smog ahead of the Games.
Five years on, such masks are a regular sight as Beijingers learn to protect their lungs. Shrewd consumers buy masks that filter out tiny suspended particles known as PM2.5 - little known in 2008 but now recognised as a big threat to health.
The beautiful, sunny days of August 2008 came as a relief to Olympic organisers. But for Beijing residents, they are no more than a happy memory.
The political will to push cars off the roads, relocate polluting factories beyond the city and suspend industrial production in nearby provinces went away as fast as world sprint champion Usain Bolt left town.
Five years on, Beijing is notorious for its winter "airpocalypse", when thick and choking smog lingers in grey skies for months, only eased by occasional strong wind and rain. Most newcomers develop the "Beijing cough", a dry cough and itchy throat, usually between December and April.
In the first half of this year, according to official statistics, Beijing's air quality was deemed safe on fewer than 40 per cent of days - and that is based on mainland standards, not on more stringent levels recommended by the World Health Organisation.
"Beijing's fast degradation of air quality since 2008 … has evolved into a public crisis, as more people worry about the pollution's health impact," says Li Yan of Greenpeace East Asia.
Reports of a sharp increase in hospital admissions on smoggy days, and studies revealing premature deaths due to air pollution mean the capital's filthy air figures as the No 1 reason expats give for leaving the city. They have been joined by many mainlanders seeking cleaner air elsewhere.
Even the city's tourism commission blamed frequent air pollution for a 14.3-per cent year-on-year drop in the number of visitors to the city during the first half of this year.
In retrospect, the drastic measures leading up to the Games offered only temporary respite, Li said. A long-term solution remains a distant dream.
According to a Cornell University study published in 2009, more than 300,000 heavily polluting vehicles - mostly trucks - were barred from Beijing's roads ahead of the Games. Restrictions on the use of private cars moved another 1.7 million vehicles off the roads during the Games.
Nearly ten months ahead of the Games, many factories in six provinces around Beijing were ordered to close down or partly halt production, senior officials from the environment ministry said. That came in addition to Beijing's efforts to move polluting factories - including a large iron and steel plant.
"The whole of northern China was making sacrifices for Beijing before and during the Games, but it was unrealistic, or simply not legitimate, for temporary measures to be sustained," Li said.
Environmental officials knew that five years ago. In 2008, Mu Guangfeng, from the Ministry of Environmental Protection, said "most of the last-minute restrictions are unlikely to continue".
It also took the Beijing city government a while to admit that the city's air quality had gone from bad to worse. In March 2011, the then spokesman for Beijing's municipal environmental bureau, Du Shaozhong, rejected a US study suggesting that 60 per cent of Beijing's air quality improvement during the Games had evaporated within a year. Instead, Du insisted the city had seen a steady improvement.
Earlier this year, the bureau's new spokesman Fang Li said "the good air quality during the Olympic Games would be our long-term goal", while admitting that the city faced renewed challenges to curb air pollution as its population grew and the number of vehicles increased.
Greenpeace's Li said Beijing's environment had been pummelled by the effects of a proliferation of polluting industries in surrounding provinces in the past five years.
"Therefore the idea of concerted efforts from the whole of northern China becomes more important than ever as air pollution is even worse in nearby cities than in Beijing," Li said.
With its confident approach five years ago a distant memory, the Beijing city government has set a deadline of 2030 to bring the city's air quality in line with national standards. The state politburo ordered Beijing to reduce its average concentration of PM2.5 particles to 60 micrograms per cubic metre by 2017, a difficult target for Beijing's densely populated downtown areas, vice-mayor Zhang Gong said in June. A reading of 496mcg was measured one day in January.
The central government will soon release details of a plan to tackle air pollution in the Beijing-Tianjin -Hebei region, with environmentalists hoping it includes policies to drastically cap coal consumption and reduce production from heavy industry.
It remains to be seen how far the plan goes.
This article appeared in the South China Morning Post print edition as: Beijing's Olympic legacy clouded