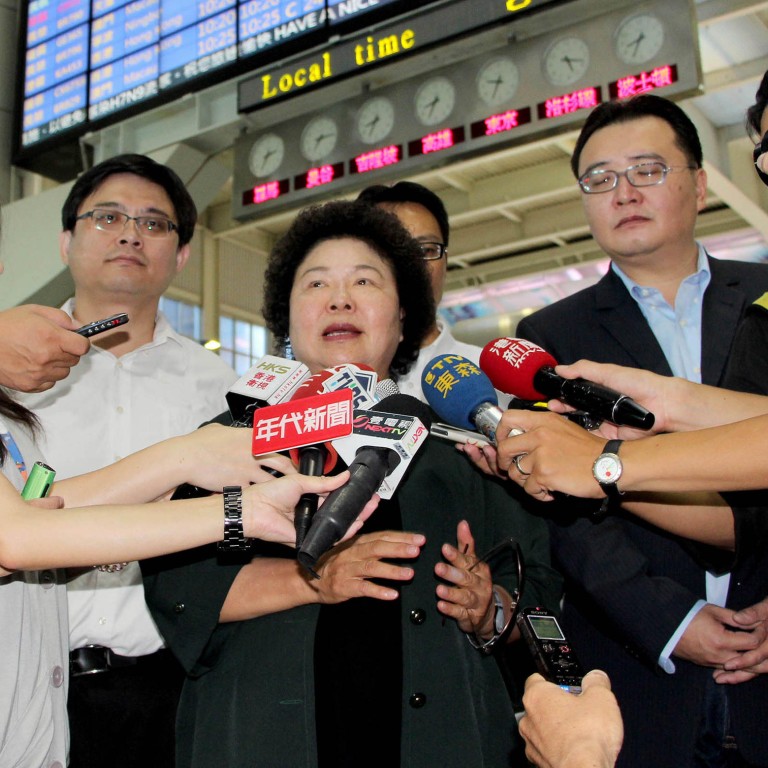 DPP star Chen Chu kicks off mainland China visit
Kaohsiung mayor's second trip across the strait shows Communist Party wants to keep line of communication with Taiwanese opposition
Kaohsiung Mayor Chen Chu, a leading figure in Taiwan's main opposition Democratic Progressive Party, kicked off her second trip to the mainland yesterday.
Observers said Chen's six-day visit indicated Beijing was still keen on improving bilateral relations with the pro-independence DPP, and the mainland's unofficial ban on visiting Kaohsiung had come to an end.
Chen said ahead of her departure she hoped Beijing would maintain dialogue with Taiwan's various political parties instead of just one - a veiled reference to the ruling Kuomintang, Taiwan's Central News Agency reported.
The mainland's top Taiwan affairs negotiator, Chen Deming, said he "very much welcomed Mayor Chen Chu's visit", the agency quoted him as saying.
Chen is scheduled to visit Tianjin, Shenzhen, Fujian's capital Fuzhou and Xiamen. She said she planned to invite her counterparts in the four cities to attend the Asia-Pacific Cities Summit, which will take place in Kaohsiung from September 9 to 11.
Chen went to Beijing and Shanghai in May 2009 to promote the World Games in her hometown - a trip which made her the highest-ranking member of her party to travel to the mainland while in office.
But just three months later, she found herself in the firing line over inviting the Dalai Lama to Kaohsiung, to pray for victims of Typhoon Morakot, which killed at least 700 people. Chen had also invited the exiled Tibetan spiritual leader to attend a screening of a documentary about Rebiya Kadeer, the Uygur leader exiled from Xinjiang, as part of the city's film festival.
Beijing objected to the invitation and the documentary, and Chen faced heavy pressure from local tourism operators, who said the Dalai Lama's eventual visit led mainlander tour firms to exclude Kaohsiung from their itineraries.
Former DPP legislator Julian Kuo Cheng-liang said Chen's current visit indicated "the misunderstanding between her and Beijing were all over".
In its announcement about the trip, Kaohsiung's government adopted the term "mainland China", in place of "China", which the DPP uses to underline its position Beijing and Taipei have a "state-to-state relation".
Lin Baohua, a Taipei-based political commentator also known by his pseudonym Ling Feng, said: "Chen's mainland trip shows the Beijing leadership is now more practical and won't focus solely on building ties with the ruling Kuomintang, but also include the DPP, which enjoys more than 40 per cent of support in general elections."
"As a political heavyweight of the DPP who has a similar background to former vice-president Annette Lu Hsiu-lien, Shih Ming-teh and other prominent DPP founders, Chen is more senior than DPP chairman Su Tseng-chang and former Taiwanese president Chen Shui-bian."
Zhang Tongxin, a specialist in cross-strait affairs at Renmin University in Beijing, said the central leadership was keen to boost exchanges with the DPP even though they realised that "it's impossible for Chen and other DPP members to give up their pro-independent stance".
But compared with ex-DPP chairman Frank Hsieh Chang-ting's mainland trip last month, Chen's two mainland trips were less significant, Kuo said.
"Hsieh's trip was aimed at enhancing communication between the DPP and the Communist Party, while Chen, as organiser of the World Games and the cities summit, is just taking care of her responsibilities," he said.
This article appeared in the South China Morning Post print edition as: Another DPP star lands on mainland