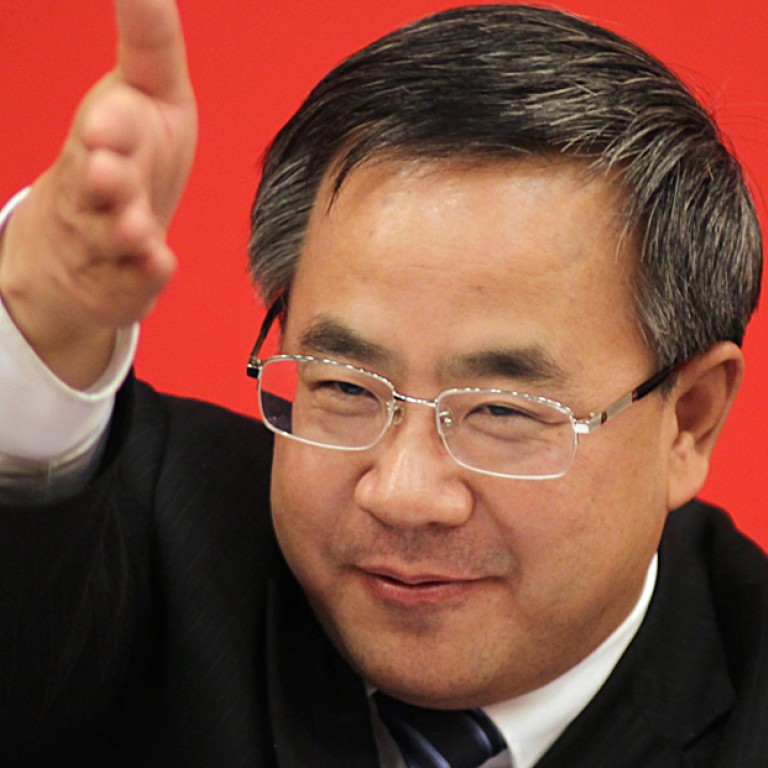 Hu Chunhua's ¥670b plan to develop Guangdong's backwaters
Hu Chunhua stresses stability and the environment in 670b-yuan plan to spur growth outside delta and protect province's status as No 1 economy
Seven months into his tenure as Guangdong's party chief, Hu Chunhua is betting that uplifting the province's less-developed regions can serve as an engine to rejuvenate the battered local economy. Hu hopes investment-led growth in these regions can once again make the province the national leader in economic output - and possibly create a chance for his further promotion.
At a provincial meeting a few weeks ago, Hu announced his plan to allocate 672 billion yuan (HK$845 billion) over the next five years for new transport infrastructure, industrial zones and new cities and towns in Guangdong's east, west and north. These areas missed out on the Pearl River Delta's boom.
The move came as Jiangsu province continued to close the gap with Guangdong in economic performance. In the first half of the year, Jiangsu's gross domestic product grew at a faster pace, narrowing Guangdong's advantage to just 86.2 billion yuan by the end of June. During that period, Guangdong's total economic output was 2.85 trillion yuan.
Unwilling to see Guangdong lose its status as the mainland's largest provincial economy, on his watch, Hu told local officials there was "no time to lose", calling the development of poorer regions a task of "strategic significance". Under Hu's plan, regions outside of the south will see a frenzy of road construction, with a plan to link all counties with highways, and increase the number of the major highways leading to neighbouring provinces to 20 from nine.
Funds will also go towards establishing a new batch of industrial zones, with the aim of doubling each county's industrial output within three to five years. The plan also includes targets to build several big cities with populations above one million, and more small and medium-sized cities with populations ranging from 200,000 to half a million.
The geographical disparity in the province is one of the most pronounced on the mainland. Dr Peng Peng , a researcher at the Guangzhou Academy of Social Sciences, said the gross domestic product per capita for 11 cities in the province's poorer regions still fell behind the national average.
Shenzhen's per capita GDP last year, at nearly US$20,000, was about seven times the size of Meizhou's .
"Jiangsu used to see similar imbalanced growth between the province's north and south, but in recent years, northern Jiangsu is catching up fast thanks to effective action by its government," Peng said. "In return, it is also contributes to the province's strong economic momentum."
Given the ambitious scope of Hu's development plan, the province must ensure that rapid growth doesn't come at the cost of quality. This could create a new set of problems, possibly to Hu's detriment, especially at a time when the central leadership is becoming more comfortable with lower rates of growth.
Some researchers at the National Development and Reform Commission have also warned that Guangdong's bold development plan should not damage the environment in the north of the province, an important "green shelter" for southern China. Guangdong's planners should react more calmly when faced with economic slowdown, they said.
Hu himself probably knows better, and has set two "bottom lines" for his plan. "Society must remain stable, and the environment must not be damaged," he told officials.
It will be to everyone's benefit if he can succeed.
This article appeared in the South China Morning Post print edition as: Bringing development to Guangdong's backwaters