Bo Xilai
Get more with myNEWS
A personalised news feed of stories that matter to you
Learn more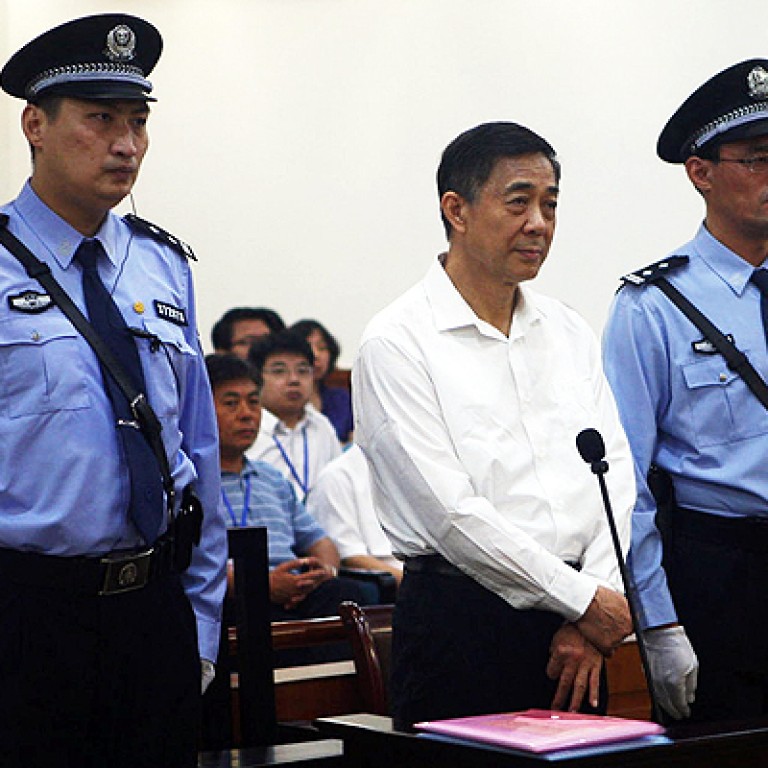 Defiant Bo Xilai claims he was coerced into graft confession
Former Chongqing party chief dominates first day of biggest political trial in decades, saying he was forced into false corruption confession
Bo Xilai put up a vigorous defence yesterday against corruption charges against him in China's biggest political trial in decades, saying he was coerced into making a false confession to graft investigators.
The disgraced princeling - once considered the country's most powerful rising politician - was making his first public appearance in 18 months.
His dramatic downfall and the magnitude of the case made yesterday's trial a global event with reporters from around the world flocking to the city of Jinan in Shandong.
Bo, 64, in an open-necked white shirt and casual black trousers, looked tired and his hair was a little greyer around the temples.
But the flamboyant former Politburo member and Chongqing party boss had lost none of his flair, strongly contesting charges that through wife Gu Kailai and son Bo Guagua he had amassed more than 20 million yuan (HK$25 million) in bribes and illicit assets.
While the trial was not broadcast live, the court released frequent and detailed updates through its official microblogs.
Bo was accused of bribery, embezzlement and abuse of power. Unlike his jailed wife, who quickly admitted murdering British businessman Neil Heywood, Bo opposed the pre-trial confession he gave to the investigators.
He said he was pressurised by the graft officials, who asked him leading questions to extract a confession against his will.
"I'm not a perfect man and I'm not always strong-willed," Bo said in a transcript released by Jinan Intermediate People's Court. "But I want to speak out the truth of my charges."
Prosecutors focused on the allegations against Bo during his time as the leader in Dalian .
Video: Defiant Bo denies bribery charge as China trial opens
They rolled out testimony from Bo's former business associates Tang Xiaolin and Xu Ming and his wife Gu. All three said Bo accepted bribes or told them to divert public money into his personal accounts.
Bo dismissed the accusations with disdain. He called Tang a "lying mad dog" and said Gu's testimony was "comical and ridiculous". Bo admitted he and Gu had grown apart since 2007.
But the disgraced politician reserved the worst of his wrath for Xu, the Dalian businessman thought to be his "money man".
Bo showered Xu with sharp questions during the crossexamination session. The court official in the after-trial press conference described the exchange as "confrontational".
Bo dominated the trial and almost appeared to be enjoying what could be his last public show. Some observers were surprised by how the hearing differed from other well-choreographed public trials.
But a person with direct knowledge of the case said it showed the new leadership was prepared to take a hard stance.
"As long as the case can be concluded before the meeting of the third plenum of the Central Committee, it will be a good ending for the leaders," he said.
Five of Bo's family members - including his brother Bo Xiyong and elder son Li Wangzhi - attended the trial. But his younger son Bo Guagua did not appear.
His elder son Li gave a statement to the last night, saying he was proud of his father.
"He faced tremendous pressure but he still held up to his belief. History will prove the truth," he said.
The trial continues today.
Video: Bo Xilai makes televised appearance in court
This article appeared in the South China Morning Post print edition as: Bo defiant in dock