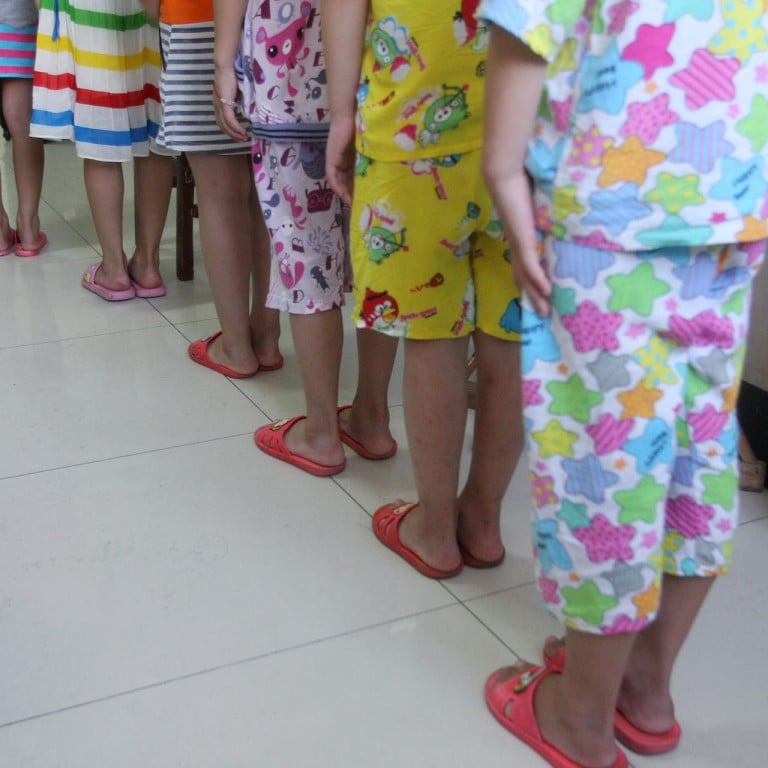 Left behind and sexually abused: the peril of China's migrant children
Molestation of Jiangxi girls highlights peril faced by millions of migrants' children left to fend for themselves as their parents seek work in richer areas
Six schoolgirls molested and given sexually transmitted diseases by their teacher in Jiangxi say they only want two things: They want to see their mums. And they want the man responsible for their suffering sent away so he cannot hurt anyone ever again.
Those two things are "most beautiful things" they can imagine, they say.
All six are "left-behind children" who have been cared for by their grandparents since infancy while their parents work in more affluent coastal cities, earning roughly three times what they could make back home.
The incident has shocked the nation and served as a wake-up call about child sex abuse in the country, particularly involving left-behind children.
"Left-behind children are psychologically disturbed to begin with, even without having to bear the burden of sexual abuse," said Dr Lin Xiuyun , an associate professor of psychology at Beijing Normal University. "They face a much tougher road to recovery than regular kids.
"The traumatic impact is worse, as they are often neglected and lack parental love. They tend to develop trust and intimacy issues and often lack a sense of security."
For at least five months, the Jiangxi girls have been suffering from genital warts containing a strain of the human papillomavirus (HPV) after being subjected to continual sexual abuse by their teacher for nearly two years.
As a result, doctors say, they are at an increased risk of cancer if they do not receive proper treatment.
The girls told the that they were made to line up outside the teacher's office, waiting to be abused one by one.
"He always put his two chalk-tainted fingers inside me. It hurt so much even to walk," one victim said after the case was exposed. She said she still has nightmares about the abuse.
The city government said seven girls were sexually molested by the teacher between September and May, although parents say a seventh has switched schools. The girls and their parents say they know of at least one more victim, making eight.
According to central government statistics, more than one-fifth of the country's children - roughly 61 million - have been left behind. Growing up with little supervision, they are more likely to become victims of sexual abuse, drowning, traffic accidents and child trafficking.
The mainland media has reported on dozens of cases of child sex abuse since May, when a principal and government official in Wanning city, Hainan , were convicted of taking Primary Six girls to hotel rooms for sex.
Lin attributed the high occurrence of sexual abuse to China's "culture of shame" that keeps "ugly incidents" from being discussed.
"Victims are often discriminated against, rather than being shown compassion and accepted by society," she said, adding that the children of migrant workers were particularly vulnerable to attacks.
The classmates in Ruichang city, aged eight and nine, do not have much. They have never had a Happy Meal. They are generally content just skipping with long rubber bands - not ropes, which are too expensive. Experts say what they really need is the love of their parents.
In Jiangxi, one of the victims' father said that he was sorry he was not there to stop the abuse sooner. "If we were around the girls, things wouldn't have progressed to such a stage," said Wu Xueren , 30.
The All-China Women's Federation analysed hundreds of cases of sexual abuse at schools and found that 60 per cent of such incidents occurred at village-level schools.
The Jiangxi abuse was not discovered until one of the girls was reunited with her parents during summer break. Parents reported the case to police on July 4. Their teacher, Tao Biaogong, 62, was detained the next day.
Ruichang officials say the teacher would be charged with molestation. The local government has covered the victims' medical fees and provided each of their families a daily living subsidy of 100 yuan (HK$126).
Parents of three of the victims have also accepted donations from the public. Dr Kwok Ka-ki, a Hong Kong-based urologist, has offered to provide the girls treatment in Hong Kong, but it was uncertain if they will be able to make the trip.
Parents of the other three victims signed a non-binding contract with the government agreeing not to pursue further action after accepting 50,000 yuan and subsidised rental apartments from city authorities.
Wang Yu, a Beijing lawyer retained by three of the victims' parents, said they wanted to pursue criminal charges and seek civil damages from the school.
Wang said a seventh victim switched schools after police ignored her case. An eighth victim's family has refused to come forward or speak with the media.
"We did not know this until the mother visited these girls in hospital a few days ago," Wang said. "I'm extremely shocked and angry to learn that nothing was done in the past year and that the six girls suffered in silence."
Wang said it was common for government officials in China to sweep some abuse cases under the rug. Particularly when the children cannot convey details about the assault clearly.
Their families, especially grandparents who look after these left-behind children, often do not report the incidents out of fear of discrimination or harming the children's reputations.
Migrant parents are often put in tough situations of having to raise a family financially, while being physically distant.
"I feel awful and guilty for not being able to take care of my child at home," said a 32-year-old mother of one of the victims, speaking on condition of anonymity.
"I want to save more money to buy an apartment in the city so my girl can go to a better school," said Wen Taisong , 30, a father of one of the victims. He worked in a garment factory with his wife in Hangzhou , Zhejiang .
"There's nothing I can do. I can't bring her back to Hangzhou - it's too expensive. We wouldn't save any money that way," he said. "Leaving her behind is us thinking about our family's future."
This article appeared in the South China Morning Post print edition as: Left behind and sexually abused