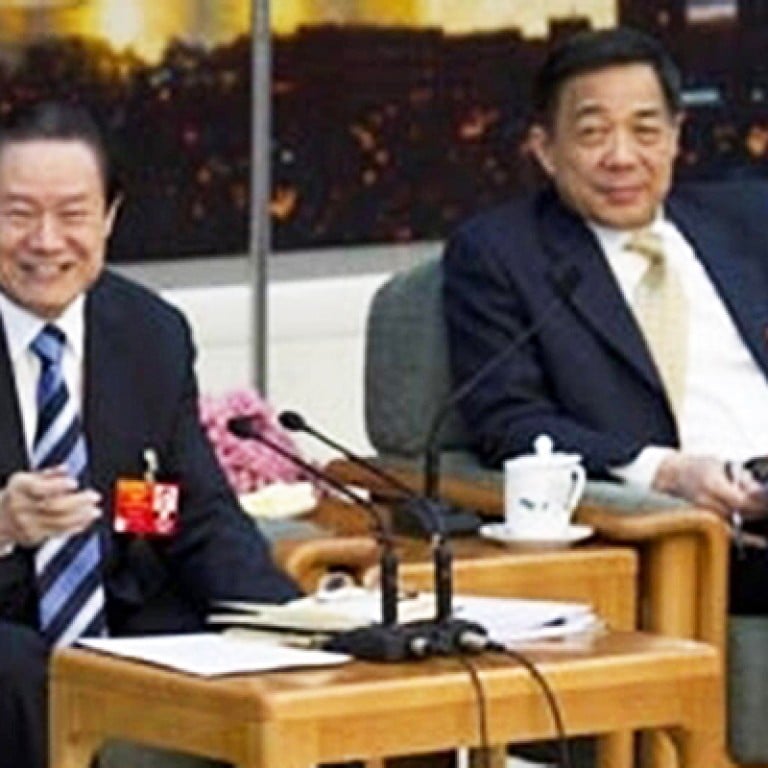 Exclusive

|
Zhou Yongkang, former security tsar linked to Bo Xilai, faces corruption probe
Top Communist Party leaders have agreed to open a corruption investigation into former security tsar Zhou Yongkang, one of China's most powerful politicians in the past decade.
Top Communist Party leaders have agreed to open a corruption investigation into former security tsar Zhou Yongkang, one of China's most powerful politicians in the past decade.
The move against Zhou - a retired member of the Politburo's all-powerful Standing Committee - could send even bigger political shockwaves through Beijing than the trial of Bo Xilai, who was widely considered a key Zhou ally.
Current and retired top leaders endorsed the decision earlier this month during the secretive annual party meeting at the resort of Beidaihe in Hebei province. According to sources familiar with the leadership's thinking, President Xi Jinping and his administration are determined to use the case to galvanise the anti-graft campaign.
No Politburo Standing Committee member - retired or sitting - has been investigated for economic crimes since the end of the Cultural Revolution nearly 40 years ago.
Sources said top leaders made the decision in view of the rising anger inside the party at the scale of the corruption problem and the vast fortune that Zhou's family has amassed. Xi ordered officials in charge of the case to "get to the bottom of it".
By investigating Zhou, who is one rank higher than Bo in the power structure, Xi would be seeking the biggest scalp in the party's campaign against graft.
The investigation of Bo was launched last year under Xi's predecessor Hu Jintao.
Speculation about a possible investigation into Zhou and his family began circulating on the internet even before he retired from his party position at the party's national congress in November.
The speculation increased in December, when party graft investigators began detaining dozens of cadres and businessmen in energy-rich Sichuan province, where Zhou was party boss from 1999 to 2002.
In June, former deputy Sichuan governor Guo Yongxiang - a former secretary to Zhou - was detained.
Authorities also revealed this week a probe into China National Petroleum Corporation (CNPC), which Zhou joined as a senior manager in the early 1990s. Four top managers at the company have been named as being under investigation in recent days.
It is understood the new probe will centre on Zhou's time in Sichuan and at CNPC.
In particular, investigators will examine whether Zhou and his family benefited through numerous questionable oilfield and property deals facilitated by his son, Zhou Bin , and other allies, sources said.
They added it was too early to say whether Zhou - who controlled legal and law enforcement affairs for 10 years from 2002 - would face public prosecution or just an internal party probe.
Corruption investigations involving senior officials must first be conducted by the party's Central Commission for Discipline Inspection. The case may or may not then be transferred to the government for follow-up.
Because of the scale and far-reaching implications of the Zhou case, the investigation may not be publicised before the keynote meeting of the party elites in November.
The move against Zhou, however, was deemed unlikely to trigger a factional war within the party, sources said.
Former president Jiang Zemin - a political patron of Zhou's - gave Xi's decision his full backing, sources said. Jiang similarly moved against the now-convicted Shanghai party boss Chen Liangyu - another ally - when presented with concrete evidence against him. Zhou has been seen as an ally of former Chongqing party boss Bo, who is awaiting a verdict on corruption charges.
Before Bo's fall from grace last year, Zhou reportedly worked behind the scenes to have him installed as his successor.
Zhou has maintained a public profile since his retirement. As late as Wednesday, his name appeared among top state leaders who sent wreaths to the funeral of a respected scientist. In July, state media publicised a visit by Zhou to his alma mater, Suzhou Middle School in Jiangsu province. But the timing of the publication - more than two months after the visit - only fed speculation about Zhou's status.
Zhou Yongkang inspects the Special Police Academy of the Chinese People's Armed Police Force in Beijing, July 14, 2011.
Before party leaders took the decision to probe Zhou, anti-graft investigators spent months collecting evidence.
Party investigators typically sweep up top aides and underlings of primary targets first, weakening their political bases and preventing collusion between key suspects. Li Chuncheng , a former deputy party secretary in Sichuan, became the first senior official targeted in Xi's anti-graft drive.
He was placed under investigation for breaching party discipline in December.
Earlier this month, overseas media reported that graft investigators had detained Sichuan businessman Wu Bing - who is widely believed to have financial connections to Zhou - after tracing him in Beijing. The report could not be verified, but Wu has not been seen in public since.
On Monday, Xinhua reported that Wang Yongchun , a CNPC deputy general manager, was being investigated for "gross violation of party discipline".
Zhou Yongkang's career:
This article appeared in the South China Morning Post print edition as: Target at the top