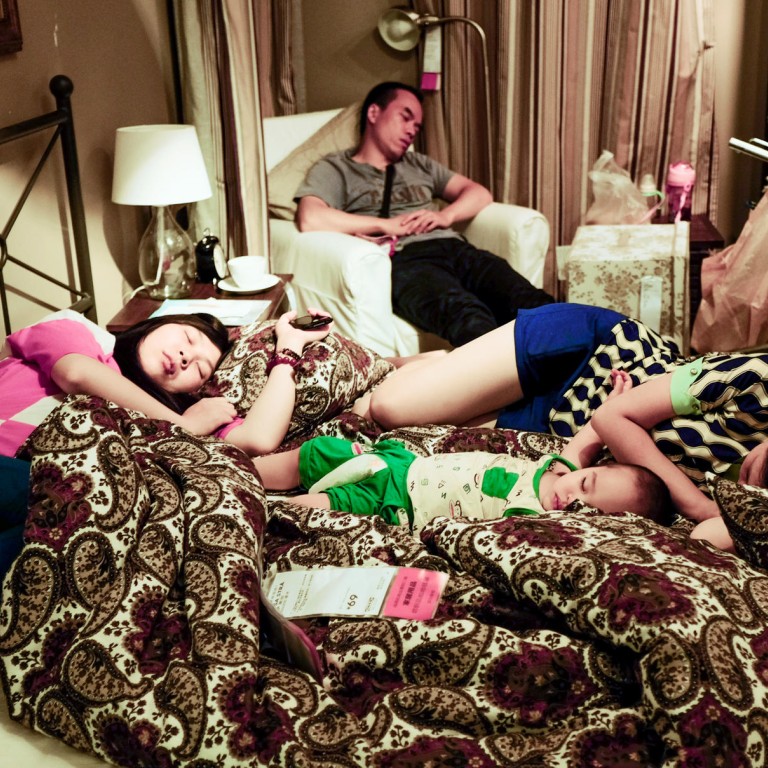 Ikea at last cracks China market, but success has meant adapting to local ways
Furniture giant has bent over backwards to accommodate Chinese keener on sleeping than shopping, and is now seeing rapid sales growth
On a recent Saturday afternoon, Ikea's flagship mainland store - one of the world's largest - is abuzz with people. Walkways guiding visitors from one showroom to the next feel more congested than the road outside, and almost all 660 seats in the canteen are occupied. Yet the lines to the cashiers are refreshingly short - most are not here to shop.
The store is gripped by a kind of anarchy that would rarely be seen, or tolerated, in its country of origin. There are picnickers everywhere - their tea flasks and plastic bags of snacks lining the showroom tables. Young lovers pose for "selfies" in mock-up apartments they do not live in. Toddlers in split pants play on model furniture with their naked parts coming in contact with all surfaces.
On a king-size bed in the middle of the largest showroom, a little boy wakes from a nap next to his (also sleeping) grandmother. When the old woman casually helps the boy urinate into an empty water bottle, dripping liquid liberally on the grey mattress under his feet, most passers-by seem not to mind or even notice. The exception is a young woman who elbows her disinterested boyfriend: "Look, he's peeing into a bottle!"
Most endemic, however, is the sleeping. After a few, rare clear days, the city's notorious heavy smog has returned, and is made worse by a sticky, dusty heat wave striking northern China. Weeks earlier, a photo of people napping in a Shanghai shopping centre to escape the searing heat went viral, but in the capital, it is Ikea's cool, conditioned air that is salvation for tens of thousands of its inhabitants.
The bedroom and living room sections on the store's third floor are the most popular. Virtually every surface is occupied by visitors appearing very much at home. Older people read newspapers or drink tea; younger visitors cuddle or play with their phones. Most, however, are sound asleep.
On an average day, the 42,000 square metre store lets 28,000 visitors through its doors - though this day might be particularly busy. And every day, Jason Zhang, who works in the bed section, patiently wakes up about a hundred of them.
"Excuse me, you can't sleep here," he says politely but firmly, waiting for the verbal abuse that often follows as he redirects them to a designated section near the canteen. "Other customers need to try the product. The resting area is just over there."
His efforts are mostly in vain. In the bedroom section, the few customers actually interested in buying mattresses struggle to find space to try them. Almost all the beds have people sprawled on them, or tucked in under colourful duvets, their shoes kicked off on the floor. In one showroom, two women and a baby are fast asleep in a bed, with a man, presumably the father, knocked out in an armchair next to it.
"I think it's just that shopping behaviour in China is very different," says Zhang, shrugging at the mayhem around him.
The Chinese approach to Ikea has long intrigued expatriates and domestic internet users alike, with bizarre incidents regularly topping the news on social media. Judging from online testimonies, it seems fairly common to leave kids alone to play and nap in the children's showrooms while the parents run other errands. In Shanghai, it was rumoured that a speed-dating club of 50 to 60 members gathered weekly in a store over free coffee provided courtesy of the group leader's Ikea club card.
While the free-riding may not seem like an immediate recipe for profit, Ikea is exceptionally patient about it. "We welcome anyone to visit our stores - today's visitor could very well be tomorrow's customer," says Linda Xu, public relations manager for Ikea China, adding that China is one of the company's most important markets.
Yet it is obvious that Chinese consumers making themselves right at home in the store put a strain on staff. In keeping with Ikea's focus on self-service, the store has relatively few employees on the shop floor, explains Yvonne Yin, a PR spokeswoman at a Shanghai branch.
"The sleeping behaviour does create extra work," Yin admits. Sheets have to changed every other day or so. "We have mixed feelings about it. On one hand, it's great that they love Ikea, but you think: why can't they do things like that elsewhere?"
Ikea has tried hard, in its own way, to adapt to the Chinese market. Initially, it was not a smooth ride for the privately held, Swedish-founded, Dutch-domiciled company. The first two mainland stores opened in 1998, and it took another eight years before other branches were added.
But now it seems Ikea's patience with what may be its most challenging market is paying off after 15 years in the country. The company recently became the largest foreign commercial landowner in China, with 12 stores covering a total of 640,000 square meters. In fiscal 2012, turnover exceeded 6 billion yuan (HK$7.5 billion). It saw more than 15 million visitors - 7.3 million of whom visited the Beijing flagship store.
And it is expanding aggressively. On Thursday, a third store opened in Shanghai, while Beijing will get its second later this year. Land has also been bought for another three stores in Chongqing, Wuhan and Hangzhou.
According to Tom Doctoroff, an expert on Chinese consumer psychology and author of the recent spike in Ikea's popularity is mostly due to a dramatic change in pricing strategy. The average cost of Ikea products has fallen 50 per cent in the past decade.
The main problem was that, until recently, people were not willing to pay Ikea's prices, Doctoroff says. For Chinese consumers, products for domestic consumption are secondary to the more visible status offered by Western brands such as cars, watches or even Haagen-Dazs ice cream and Starbucks coffee. "They finally got the price-value equation right," he says.
For many, going to Ikea may not be too dissimilar to visiting a theme park. Generally, Doctoroff explains, Chinese people tend to take a more recreational approach to consumption. "Shopping in China is far more about the experience itself than it is in the West," he says.
Sometimes, it's simply something you do to escape the heat and enjoy a good nap. Unperturbed by the commotion around her, a young woman slumbers peacefully on a bed in a showroom until her friend, awake at the foot end and checking her phone, gently pokes her. She sits up and casts a sleepy eye around her.
"I was just tired," Xujin, 18, replies when asked about her choice of napping spot, seemingly confused by the question. "I don't mind all the other people. It was very comfortable."
This article appeared in the South China Morning Post print edition as: Not taking success lying down