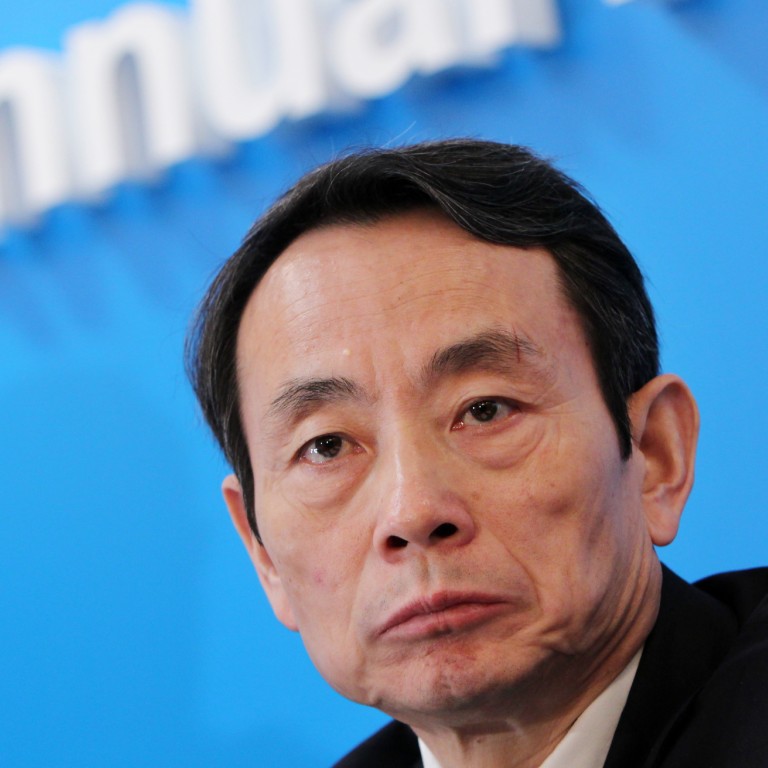 Detained top official Jiang Jiemin was probed over Ferrari crash in Beijing
Later inquiry focused on Ferrari accidentand funds to the families of injured women
Jiang Jiemin , the latest in a string of top mainland officials detained for corruption investigations, was last year questioned by party officials in relation to a Ferrari crash in Beijing, though the cases appear unrelated.
The accident claimed the life of the only son of Ling Jihua , a top aide to then party general secretary and president Hu Jintao .
Sources had told the that the probe over Jiang focused on a large sum of money - several tens of millions of yuan - that was transferred from state-owned China National Petroleum Corp (CNPC) to the families of two women injured in the single-vehicle accident.
The driver killed in the accident was Ling's son, Ling Gu. He lost control of a black Ferrari on Beijing's North Fourth Ring Road in the early hours of March 18 last year and slammed into a wall. He was found dead at the scene, half-naked.
Two young women - one naked and the other semi-clothed - who were with him in the car were seriously injured.
The Ferrari scandal may explain Jiang's absence from the public eye in August last year that led to speculation that he had fled abroad.
The 58-year old chairman of the State Council's State-owned Assets Supervision and Administration Commission (Sasac) - the ministry-level agency that oversees about 70 trillion yuan (HK$88 trillion) of non-financial state assets - has spent his entire career in the oil industry.
Before his move to Sasac in March, Jiang was chairman of CNPC, the country's biggest oil and gas producer, and the former chairman of its Hong Kong listed unit, PetroChina.
His detention comes after four senior executives of PetroChina were arrested over corruption investigations and at a time when Beijing has agreed to open an investigation into former security tsar Zhou Yongkang.
Jiang was reported by mainland media to be a close ally of Zhou, who is alleged to have unfairly benefitted from oil deals.
Jiang was born in Yangxin, Shandong , in 1955, according to the Sasac's website.
He graduated from Shandong University in industrial economics management and spent almost his entire career with CNPC.
His major political appointment was as deputy governor of Qinghai province from 2000 to 2004, before being appointed deputy head of PetroChina in 2004 and later becoming chairman of both CNPC and PetroChina.
Under his leadership, Jiang aggressively expanded overseas. Jiang said last year that PetroChina would spend at least US$60 billion this decade on overseas resources.
But he was criticised for his poor management. In November 2011, the State Council gave Jiang and several of his deputies warnings or "demerit" marks affecting their chances of promotion after four accidents at CNPC, including a pipeline explosion in the northeast port of Dalian in 2010 that caused a major oil spill. It caused a direct economic loss of 223.3 million yuan.
This article appeared in the South China Morning Post print edition as: Jiang rose fast under Zhou at state oil giant