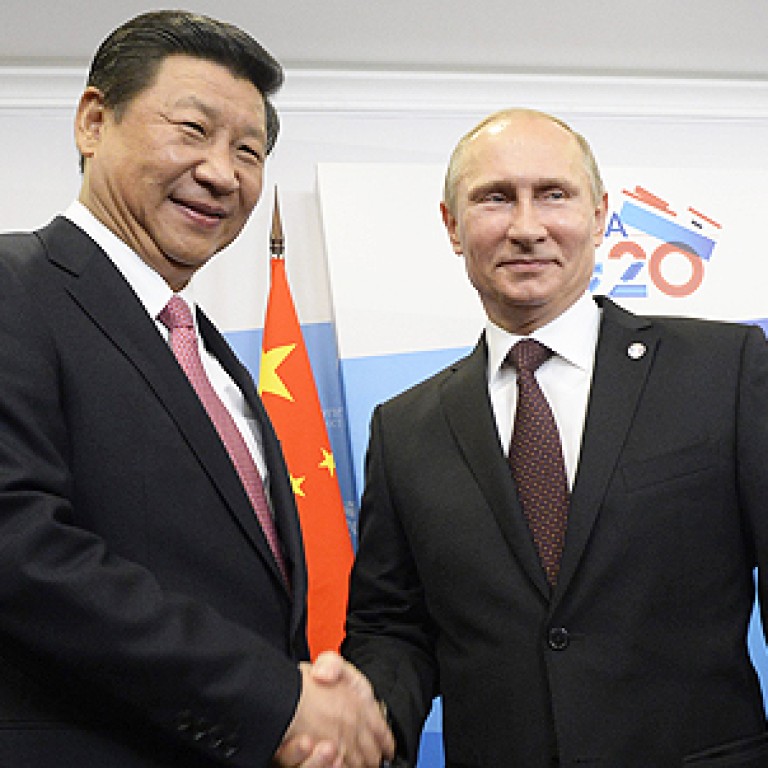 China backs Russia over Syria at G20 summit
China warned on Thursday that military intervention in Syria would hurt the world economy and push up oil prices, reinforcing Vladimir Putin's attempts to talk US President Barack Obama out of air strikes.
The rift over Syria could overshadow a summit of the Group of 20 (G20) developed and developing economies in St Petersburg at which global leaders want to forge a united front on growth, trade, banking transparency and fighting tax evasion.
The club that accounts for two thirds of the world's population and 90 per cent of its output is divided over issues such as turmoil in emerging markets and the Federal Reserve's decision to end its programme of stimulus for the US economy.
But no rift is wider than the one between the US and Russian leaders on possible military intervention in Syria to punish President Bashar al-Assad over a chemical weapons attack that killed hundreds of people on August 21.
Putin was isolated on Syria at a Group of Eight meeting in June, the last big meeting of world powers, but now has China to back him at the G20 summit in Russia's former imperial capital.
"Military action would have a negative impact on the global economy, especially on the oil price – it will cause a hike in the oil price," Chinese Vice Finance Minister Zhu Guangyao told a briefing before the start of the G20 leaders' talks.
In Beijing, Foreign Ministry spokesman Hong Lei reiterated that any party resorting to chemical warfare should accept responsibility for it but said unilateral military actions violate international law and would complicate the conflict.
Like Moscow, one of Syria's main arms suppliers, Beijing has veto powers on the United Nations Security Council. Obama is unlikely to win Security Council approval for military action but is seeking the approval of the US Congress.
France echoed Obama's call for action over the gas attack, which Washington blames on Syrian government troops and Moscow says may have been carried out by rebels trying to oust Assad.
"The position of France is to punish and negotiate," Foreign Minister Laurent Fabius told France 2 television before travelling to St Petersburg, where Putin is hosting the summit in a tsarist palace on the coast.
"We are convinced that if there is no punishment for Mr Assad, there will be no negotiation," he added. "Punishment will allow negotiation, but obviously it will be difficult."
Fabius, whose country is preparing to support the US military action with own forces, said Syria would be discussed at the summit even though it is not formally on the agenda.
Putin has said he would like to hold one-on-one talks with Obama but a Kremlin spokesman said no such meeting was planned. Last month, Obama pulled out of talks with Putin that had been scheduled for Wednesday, and US-Russian ties are in freefall.
Foreign ministers from key states in the G20 – which includes all five permanent UN Security Council members – will also discuss Syria on the sidelines of the meeting.
Any G20 decision on Syria would not be binding but Putin would like to see a consensus to avert military action in what would be a significant – but unlikely – personal triumph.
Obama used a visit to Sweden on Wednesday to build his case for a military response, saying: "The international community's credibility is on the line." Putin increased the volume as well, accusing Secretary of State John Kerry of "lying" by playing down the role of the militant group al Qaeda with rebel forces.
The G20 achieved unprecedented co-operation between developed and emerging nations to stave off economic collapse during the 2009 financial crisis, but the harmony has now gone.
There are likely to be some agreements – including on measures to fight tax evasion by multinational companies – at the summit in the spectacular, 18th-century Peterhof palace complex, built on the orders of Tsar Peter the Great.
An initiative will be presented to leaders on refining regulation of the US$630-trillion global market for financial derivatives to prevent a possible markets blow-up.
Steps to give the so-called 'shadow banking' sector until 2015 to comply with new global rules will also be discussed.
But consensus is proving hard to achieve among developed economies as the United States takes aggressive action to spur demand and Europe moves more slowly to let go of austerity.
Meanwhile, emerging economies in the BRICS countries – Brazil, Russia, China and South Africa – are divided over the role of the US dollar in the world economy. And there has been no sign of them rallying behind the fifth BRICS member, India, after it called on Friday for joint currency intervention.
Russia and China also joined forces in warning about the potential impact of the Fed ending its bond-buying programme to stimulate the economy. Zhu urged the United States to be "mindful of the spillover effects and work to contribute to the stability of the global financial markets and the steady recovery of the global economy".
The International Monetary Fund will call at the meeting for strengthened global action to revitalise growth and better manage risks, according to an IMF document.
But with the United States and other advanced economies picking up speed, the IMF said it still expected global growth to accelerate next year from this year, helped by the highly accommodative monetary conditions in the rich world.
Further friction on the fringes of the summit could be caused by Obama's plans to meet human rights activists including members of a gay rights group which staged protests against a law Putin signed banning "gay propaganda" among children.