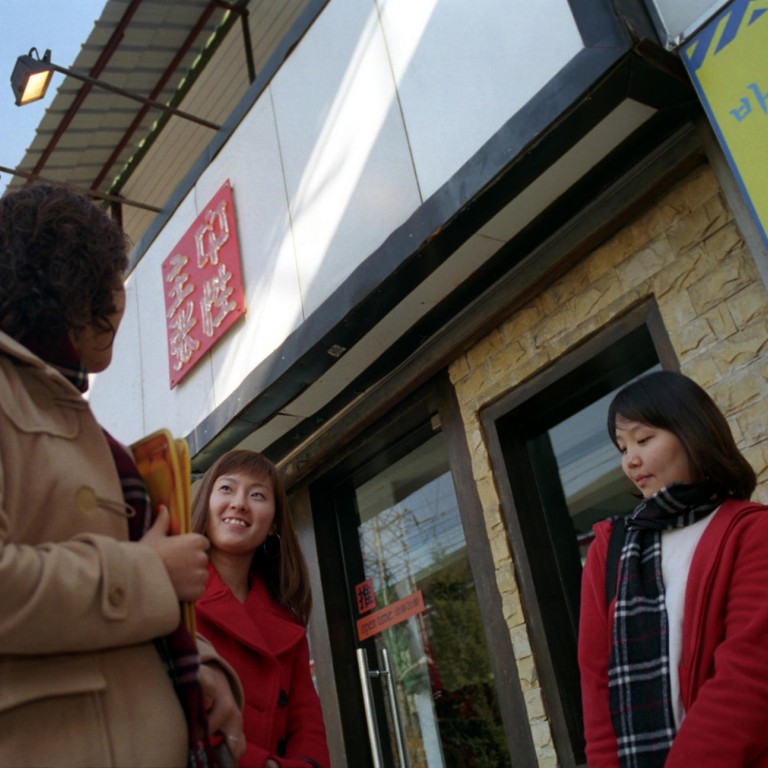 South Korean students turn to China colleges for career edge
With an eye on expansion, Seoul's big firms are choosing graduates who speak Putonghua and can tap personal networks on the mainland
Two years ago, Lee Eun-yul made an unusual choice for a South Korean student: to do her master's degree in Shanghai instead of the US. She says the decision helped land her a job at Samsung Electronics, the top choice for graduates.
"I chose China over the US as China is the future," said Lee, 36, who studied at China Europe International Business School. "My experience in China opens more exciting opportunities and I expect more challenging work when I join" Samsung this month.
Lee is at the forefront of a trend in South Korea, Asia's fourth-largest economy, that is steering students towards China to boost their prospects in an increasingly competitive employment market. The number of South Koreans studying in China more than doubled to 62,855 in last year from 2003, according to South Korea's Ministry of Education. The number of US-bound students grew 50 per cent to 73,351 in the same period.
"It's only the beginning in the shift in Korean's appetite for education towards China from the US," said Cho Jin-pyou, head of Seoul-based Wise Mentor, which provides education and career-path advice. "A flood of Korean students will follow companies going to China for jobs."
The focus on Chinese language mirrors South Korea's strengthening ties with the world's second-biggest economy. Trade with China climbed an average 20 per cent per year between 1992 and last year, faster than the 6 per cent growth with the US, according to the Korea Customs Service. That is causing a sea change in the way Korean students approach one of the world's most competitive job markets.
English was at the core of those extra classes traditionally, a reflection of the nation's export-based economy and close political and economic ties with the US. Now, English has become so ubiquitous that it doesn't give applicants an edge.
"English has become such a common product now here that it can no longer guarantee a decent job," said Cho at Wise Mentor. "Studying in China offers another language skill and human network, a qualification that sells well to companies expanding their Asia businesses."
The rise in education spending, and resulting increase in choice of graduates, means the nation's big industrial groups like Samsung or Hyundai rely less on the output of a few top universities such as Seoul National. About 42 per cent of university students were "excess supply", overqualified for the jobs available, according to a May 2012 report from Samsung Economic Research Institute in Seoul.
South Korean employers increasingly were evaluating new hires based on skills rather than where they received their education, said David Swan, managing director in Tokyo for London-based recruiter Robert Walters. "There is … a changing trend towards more consideration of Asian degrees," Swan said. "People are being evaluated for the skills that they have as opposed to being educated in a particular university. The trend is people being able to actually do the job."
According the South Korean government, Koreans make up the largest proportion of the international students studying in China. Last year, there were more than twice as many South Korean students in China than from the US, according to Chinese Ministry of Education.
Koreans made up the largest international group at her school, Lee said. Her experience at China Europe International Business School made her more attractive to employers for more than just the language skills.
"I was able to understand a lot about China in terms of how people behave," Lee said. "This is something you can't learn without living there. At the same time, you can build a network with your potential Chinese business partners, an invaluable asset in your career."
Koreans are not learning Chinese just to do business with Chinese companies. Nam Ga-hee, 23, says the language skills she honed in China helped her gain a job in one of Korea's top medical facilities.
"You would think that learning Chinese has nothing to do with what I do, but it helped me greatly in the job market," said Nam, who works as a nurse at Samsung Medical Centre in Gangnam, Seoul. "I was able to differentiate myself from other nursing graduates because I could speak Chinese."
The number of Chinese patients coming to Korean hospitals for treatment rose more than fivefold to 31,472 in last year from 4,725 in 2009 and overtook the number from the US last year, according to the Ministry of Health and Welfare data.
Medical tourism is growing in countries such as South Korea and Singapore, which offer patients high-quality staff and facilities at lower prices than in the US.
While more students are favouring China for part of their education to gain an employment edge, for some Korean students the US remains the choice destination for an overseas degree, with top colleges such as Harvard and Yale heading the wish list.
"The US is still the best place for top degrees needed to become an expert or scholar," said Cho at Wise Mentor.
The US Department of State issued 9,673 work visas to South Koreans in last year, according to the Bureau of Consular Affairs.
"South Korea used to catch a cold when the US sneezes, now it's China that dictates the course for the South's economy," said Dr Yoon Deok-ryong, senior research fellow at the Korea Institute for International Economic Policy.
That didn't stop Lee Ja-eun, 24, from heading to Shanghai in 2008 to study finance. "People started to realise China's potential," said Lee, who is now working on her master's degree.
"I study finance in China because it's a country where its financial industry needs a lot of development which means it will offer various opportunities."
This article appeared in the South China Morning Post print edition as: Koreans turn to China colleges for career edge