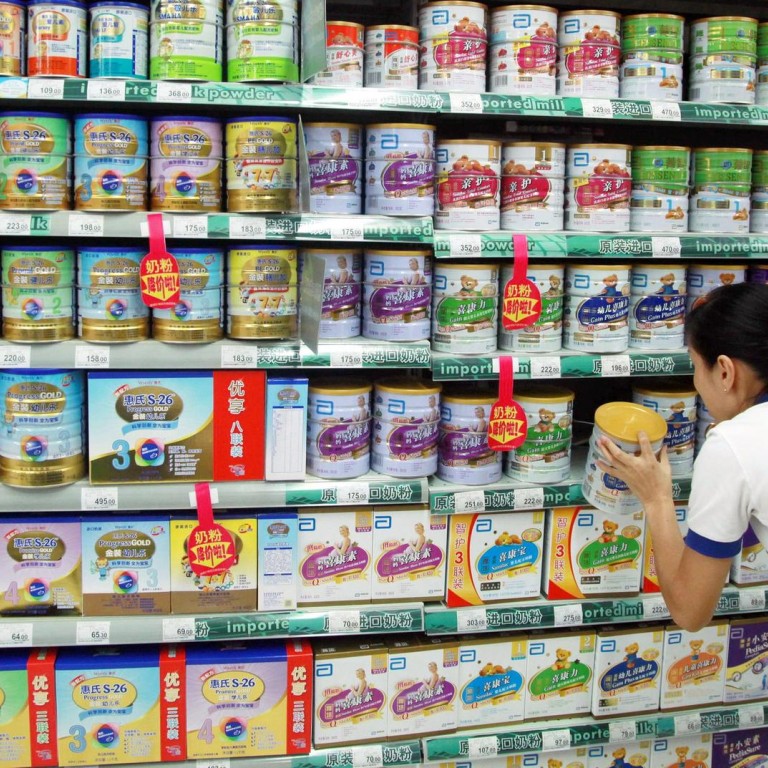 Why Chinese parents pay more for infant formula
Beijing fined foreign firms for exploiting distrust of local brands, but despite some improvements, parents outside China often get better deals
To the delight of parents across the mainland, recent fines imposed by the National Development and Reform Commission on six international suppliers of infant formula appear to have had an immediate impact on retail prices.
Since the fines were introduced, prices have dropped by nearly 20 per cent for many well-known brands as suppliers seek to reduce the likelihood of further sanctions after being accused of price-fixing and violating the country's anti-monopoly laws.
Comparative data prepared by the Post show that prices of infant formula on the mainland are now almost the same as those in Hong Kong.
However, parents in Hong Kong and the mainland are still paying a hefty premium compared with parents overseas. Price comparisons with Europe, the United States and Southeast Asia indicate that local consumers are paying up to double for the same brand.
An 820-gram tin of Abbott Comfort Similac Level 1 costs HK$358 in Hong Kong according to Consumer Council data. The same brand name retails for the equivalent of HK$236 in Malaysia. Meanwhile a 900-gram tin of Wyeth S-26 Gold costs HK$298 in Hong Kong, but only HK$180 in Thailand.
The difference stems from widespread distrust of locally produced infant formula after a number of health scandals on the mainland. Foreign-made formula is seen to be higher in quality and more trustworthy, and manufacturers have not been shy about capitalising on this.
Data from China Market Research Group (CMRG), a mainland-based firm, suggest foreign brands hold 50 to 55 per cent of the infant-formula market even though locally made formula often sells for considerably less and foreign brands are themselves not immune to health scares. There were recent recalls of several brands, which had used a batch of whey powder that had been feared to contain botulism-causing bacteria sourced from New Zealand-based dairy giant Fonterra. It was later found to be a false alarm.
Until recently, one side effect of the price differential was the constant flow of traders and tourists visiting Hong Kong and buying formula at reduced prices. After complaints about supply constraints, the Hong Kong government in March set an individual cap of 1.8kg per person for mainland buyers, with harsh fines for flouting it. This only pushed the trade elsewhere, with supermarkets and pharmacies in Europe soon noticing empty shelves and increased interest from Chinese visitors. Some European supermarket chains have since limited customers to two tins per visit.
Price analysis by the Post suggests the infant-formula market is both a lucrative and stable industry to be in. Gross profit margins for foreign-brand formula sold on the mainland are 60 to 70 per cent, according to separate research by CMRG and consumer-market analyst Mintel.
This compares with margins of 40 to 50 per cent for formula sold in developed economies.
On average, mainland food-product suppliers operate on less than 30 per cent gross profit margin, says CMRG. But the gap between gross profits masks relatively similar net margins. Separate estimates by CMRG and Jyske Bank suggest net margins of 10 to 20 per cent in China and 10 to 14 per cent in Europe.
While in absolute terms, formula sold on the mainland generates more income due to the higher prices, analysts say the similarity of net profit margins in China and Europe is partly due to the higher cost of distribution and marketing in the mainland, with multiple middlemen, kickbacks, advertising and fees to get on to supermarket shelves.
To maintain margins, international formula suppliers have to cut back on their marketing or raise prices on other products.
"The forced down-pricing will obviously have a negative impact on revenue gains. This opens potential opportunities for the smaller formula companies to be able to compete with the big ones on a more equal footing," said David Huang, research manager for China at Mintel.
For some time, local suppliers in China have been trying to improve their image. Increased focus on brand positioning have included several prominent spots in Hollywood films.
"They are working hard to build brand and improve quality," said Leo Wang, analyst at CMRG. "These are the drivers for price competition."
In the absence of further government intervention, this may be the only effective way to bring prices down for formula brands.
This article appeared in the South China Morning Post print edition as: Infant formula prices still very hard to swallow